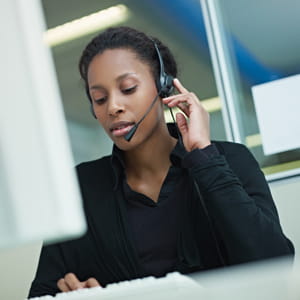 THE coronavirus outbreak has given GP practices little choice but to change the ways in which they normally operate, while also contending with the need to reduce the risk of exposure to both staff and patients. An effective telephone triage system is clearly an essential tool in this new way of working.
The GMC recently published a statement outlining how it will support doctors during the pandemic and how it will continue to regulate during this time. The statement recognises that "some doctors may need to depart, possibly significantly, from established procedures in order to care for patients". The GMC has also acknowledged that appointment allocation may have to be changed to a telephone triage system with the option of remote consultations, which means that good communication with patients is necessary to reduce uncertainty or resistance to what may or not be temporary measures.
We would encourage practices to share with patients any significant changes to existing service arrangements promptly, both through traditional communication channels and also via your social media presence (if applicable), website and electronic text messaging. Practices can also manage their risk by producing guidance and specific training for reception staff on operating an effective and safe telephone triage system. This should include how to prioritise calls based on their urgency and how to recognise when patients require clinical advice, either over the phone or with a face-to-face appointment.
We know there are well-documented risks in using non-clinical members of staff to facilitate entry into the triage process and efficiently directing patients to the most appropriate member of the clinical team. Common triage risks include:
patients unable to access the service despite multiple attempts
patients with existing health issues being triaged inappropriately
important symptoms not being recognised.
A safe triage system will have clear protocols and guidance for staff on recognising red-flag symptoms, as well as for escalating a request to a clinician where indicated. Non-clinical staff should never be placed in a position where they are exercising clinical judgment but rather should be guiding the patient through a defined triage process. GPs can help by agreeing on specific questions or algorithms for receptionists to follow.
Non-clinical staff must also be made aware that even casual inferences or 'chats' involving symptoms, advice or reassurance can be perceived as 'medical advice' by a patient when given in the context of their practice role.
Where doubt exists, staff should always feel confident and able to seek an immediate clinical view. This can depend on the "culture" within a team around the availability, accessibility and approachability of individual doctors and nurses. Any system of work is only as good as the individuals who work with it, or against it.
It is a requirement by the GMC for doctors to keep adequate records of any advice they give to patients. This not only helps with continuity of care for the next doctor who is reviewing the patient but also provides evidence of what the patient has been told. The same need to document applies to all staff who have contact with patients.
In addition to written information and communication regarding the practice triage system, the patient should also be told at the start of the process what to expect and what is expected of them in return. This will help educate and reassure that any further information requested from the receptionist is purely to benefit the patient and to ensure they are triaged appropriately. Examples might include explaining steps in the telephone triage process, timescales for call-backs and what to do in the case of worsening symptoms.
Some patients may be concerned about disclosing personal information to a non-clinical member of staff, so it may be useful to remind them that all practice staff follow the same confidentiality principles.
Once formulated, staffed and managed appropriately, telephone triage can be a valuable system for both patients and the practice, facilitating speedier access to the most appropriate member of the clinical team. The key to a safe system lies in each member of staff being aware of their responsibilities and limitations, and being fully trained and equipped with the knowledge of how to provide an effective and robust service.
Active signposting has also come to the fore in recent years with the intention of releasing capacity by reducing avoidable telephone consultation bookings, recognising that there are occasions when the patient could be signposted to self-help or offered an alternative service. This is distinct from a formal telephone triaging service but also requires reception staff to follow a set of protocols when booking-in patients. Patients who do not require a GP to deal with their query are actively signposted by reception staff to other allied healthcare professionals, non-medical staff or an alternative service, such as the NHS coronavirus information hubs.
How can you ensure the safety and effectiveness of your triage system?
Triage and call-back procedures need to be structured. Patients requesting a remote consultation should be given a clear timeframe within which they can expect to hear back from a healthcare professional and when to re-contact the practice if they have not been contacted. This serves as a safety net for any technical issues or potential misunderstandings – for example if the patient's phone number has been incorrectly recorded.
Practices should ensure patient contact details are correct and this could mean introducing a process whereby personal details are checked and updated routinely.
Ensure that those undertaking triage calls have clear guidance on initiating and pursuing call-backs and how many attempts should be made before recording a failed contact. In the current situation it may be prudent to be more flexible and make further attempts to call back than in normal circumstances, especially if your patients have not previously been familiar with telephone triage.
Manage remote appointment allocation equitably to ensure that the most assertive patients are not prioritised at the expense of others who may actually have more serious problems. This may require further training and awareness-raising for non-clinical staff.
Alan Frame is a risk adviser at MDDUS
This page was correct at the time of publication. Any guidance is intended as general guidance for members only. If you are a member and need specific advice relating to your own circumstances, please contact one of our advisers.