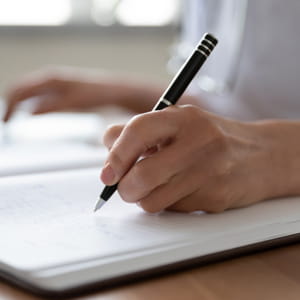 HEALTHCARE professionals all over the UK have changed the way they consult with patients – this represents one aspect of the "new normal" in healthcare provision. Many patients are now being triaged over the telephone and offered initial phone or video consultations if a face-to-face appointment is not considered appropriate or safe. NHS Digital statistics captured from practice systems in the first week of March 2020 reveal that 80.6 per cent of GP appointments were face-to-face, with only 14.8 per cent conducted remotely, compared to the first week in August 2020 when 52.2 per cent of appointments were face-to-face and 43.9 per cent remote.
The true figures may be much higher. The RCGP claims that only one in four consultations in primary care have been face-to-face since the pandemic started. Many healthcare professionals have adjusted and adapted well to the increased use of remote consultations but there are some who have found not physically seeing patients particularly challenging. MDDUS has seen a rise in calls from members concerned about treating patients safely in remote consultations, with anxiety over managing the increased risk.
MDDUS would like to reassure members about the overall safety of using remote consulting at this challenging time. It is a sensible approach that allows patients access to new or on-going medical or dental advice, while protecting themselves, other patients, staff and clinicians from possible exposure to the virus – but healthcare staff do need to be aware of the risks and take practical steps to mitigate these and avoid patient safety issues. One key area where members can reduce risk and improve patient safety is by ensuring that their record keeping is clear, sufficiently detailed, accurate and contemporaneous.
No one expects a clinician to remember every part of a consultation but your documentation can provide an essential summary of the clinical encounter with a patient. Good, clear and accurate medical records can assist fellow colleagues if management/treatment plans need to be reviewed or if the patient has been triaged by you and then booked in to speak to or see another clinician. Unfortunately, even during a pandemic, claims and complaints will still arise and in times like these, your documentation can really help demonstrate the appropriate level of care you provided to your patient.
The GMC advise that you record your work clearly, accurately and legibly (Good Medical Practice). GDC guidance on good record keeping is also clear. Your history, examination and management plan may be sensible and logical but if you haven't made good clear notes, the patient record may not reflect the quality of your consultation. When engaging in a remote consultation, it is crucial to ensure your documentation demonstrates that all aspects of the patient's history and any visual examination were taken into consideration in the absence of a physical examination. The GMC recommend that notes are made at the same time as the consultation or as soon as possible afterwards.
Clinical records should include:
relevant clinical findings
any salient negatives
decisions made and actions agreed
who is making the decisions and agreeing the actions
information given to patients
any medication prescribed
other investigations or treatment
who is making the record and when.
any other relevant information for the ongoing care of your patient.
The method of the remote consultation undertaken and the fact that it was undertaken during the pandemic should be clear. Finally, you should document any information you shared with the patient as part of safety netting.
Not physically seeing the patient may have some limitations and may deviate from your normal practice, but telephone/video consultations can be appropriate and safe if thorough and backed up by a good standard of record keeping.
SUMMARY POINTS
Remote consultations are safe and may be appropriate for a wide range of clinical presentations or complaints.
In the absence of a face-to-face assessment, your clinical notes are key.
Clinical notes should be clear, accurate, reflect your consultation with the patient and be written at the time the consultation occurred.
In the event of a claim or complaint, your notes will be reviewed and it is essential they provide a summary of your consultation with the patient.
It is often harder to explain and justify something that happened if it isn't documented in the notes.
Contact your medical defence organisation for advice and support if you have any specific concerns in regard to a remote consultation.
RESOURCES
Dr Roopinder Brar, medical adviser, MDDUS
This page was correct at the time of publication. Any guidance is intended as general guidance for members only. If you are a member and need specific advice relating to your own circumstances, please contact one of our advisers.