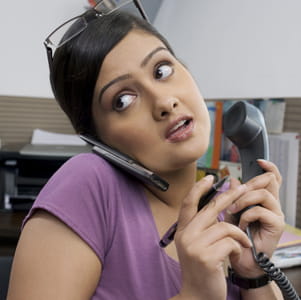 MISSED general practice appointments are an enduring source of frustration to practice managers and indeed all primary care staff in the UK. Over 15 million appointments (around one in twenty) are missed each year in England alone, with an estimated cost to the NHS of around £216 million.
Dr Richard Vautrey, BMA GP committee chair, recently commented: "Every appointment at a GP practice is precious, especially at a time when GP services are struggling to cope with rising patient demand, staff shortages and inadequate budgets."
But missed appointments are not simply a matter of cost or inconvenience – a recent study published in BMC Medicine linked GP DNAs (did not attend) with a higher risk of death in patients, particularly those with mental health problems. Authors of the study used data from 136 GP practices in 11 different health boards within Scotland and found that "around five per cent of patients who missed more than two appointments a year over a three year period had died within a year of follow-up". The cause of death was commonly "non-natural" and often suicide.
This research suggests that missed appointments (in addition to other factors) could assist GPs in identifying those patients most at risk of premature death. Patients with long-term health issues require regular and specialised input from clinicians to manage their condition and prevent further complications. Even something as simple as a five-minute medication review could have significant implications if missed.
CAUSATIVE FACTORS
Practices bear an obvious responsibility in ensuring patients do not miss appointments. MDDUS has seen an increase in claims being made against GPs where a missed appointment has played a factor in patient harm and sometimes in early/unexpected death.
It is important you can demonstrate that you have given your patient all relevant information relating to their treatment, including the risks associated with not engaging. GMC guidance on Consent states: "You should not make assumptions about: (a) the information a patient might want or need; (b) the clinical or other factors a patient might consider significant, or (c) a patient's level of knowledge or understanding of what is proposed."
Patients with alcohol and drug misuse problems, or those with cognitive impairment such as dementia, may lack motivation or capacity to cancel or rearrange their appointment. There may be other mental health issues, such as anxiety or phobias that prevent patients from engaging. It is important doctors realise that their duty of care extends to ensuring that patients fully understand the reason for appointments and the consequences of not attending.
Certainly competent adults have a responsibility to ensure they attend scheduled appointments – though there may be genuine reasons for non-attendance, such as being unaware of the cancellation process or simply forgetting. However, with vulnerable patients or those undergoing ongoing care for a chronic condition, practices are expected to be more proactive in understanding and mitigating any factors behind non-attendance.
PREVENTING DNAs
Existing primary healthcare appointment systems may not be effective for everyone, and practices are being urged to develop interventions to reduce non-attendance. Obvious suggestions include ensuring you have up-to-date contact details for each patient and that they are aware of the importance of cancelling appointments they cannot attend.
Practices and clinics should also review their policies and protocols for missed appointments and ensure that all staff are trained and clear on these. This should include a system which checks contact information and flags patients failing to turn up for review appointments, allowing clinicians to follow-up those that habitually do not attend or those at higher risk. Once the practice has taken measures to make contact with the patient and rearrange an appointment, it is important to keep accurate records of these steps and follow a set protocol of further engagement, which would include letting the GP know if the process has ended without reaching the expected outcome.
Patient reminder text messages that include the cost of missed appointments have proven to be successful in reducing DNAs. This method is also popular within the NHS, being low cost, easy and efficient. Patients should be told that the practice is sending out text reminders for appointments and this should be clearly stated in your privacy notice (with patients reminded at all appropriate opportunities). The messages must relate only to their medical care (i.e. not for marketing purposes) and a generic note of the cost of missed appointments could be added to these texts.
Practices could also use e-communications to reinforce routine reminders for review (as long as patients are aware of the process in advance and it is displayed in your privacy notice). These could include alerts to patients regarding the availability of test results and further action required, for example: "Please contact the practice within the next seven days as your results have been received and the GP wishes to consult with you".
When a GP or other healthcare professional has initiated a request for a patient to book an appointment for review or further treatment, there should be a system to check these appointments have been made and also that the patient has indeed attended. Including information in the appointment slot when the patient is booked-in can allow the receptionist to take action when a patient calls to cancel that appointment – this might be as simple as a prompt to re-appoint during the call or a simple message to alert the requesting GP of the cancellation. The clinician is then prompted to assess whether the patient requires further follow-up or any other action.
For practice-initiated follow-up appointments, it is advised that clinicians and other healthcare support workers check the appointment slot for information to assess what the reason for the follow-up was and therefore whether further follow-up is required.
It could also be useful to consider how accessible the practice is for all patients. Could there be alternative ways of reviewing patients, particularly those with long-term conditions? Options might include telephone appointments, video consultations, extended hours clinics or even the choice of on-the-day appointments for the purpose of review if there is a risk of non-attendance with pre-booked appointments. Care Navigation* could be considered as an option for some patients, but this should not be offered as a substitute for GP appointments for the sake of time saving.
The BMA has recognised the need for patients also to take responsibility in tackling missed appointments. Dr Richard Vautrey said: "Practices will try many ways to address this problem, but ultimately patients do need to play their part. With the NHS finances under historic strain, it's vital that we don't waste the resources we currently have."
ACTION POINTS
Recognise that regular DNA patients may be vulnerable.
Make the effort to understand the patients' needs and be flexible with appointment types when requesting review with a patient.
Review policies and protocols for missed appointments.
Practice-initiated appointments should have prompts for further action if a patient calls to cancel or does not attend.
Keep clear and accurate records of all communications with patients.
Kay Louise Grant is a risk adviser at MDDUS
* Care Navigation refers to assistance offered to patients and carers in identifying and accessing the systems and support that are available to them within health and social care and beyond.
This page was correct at the time of publication. Any guidance is intended as general guidance for members only. If you are a member and need specific advice relating to your own circumstances, please contact one of our advisers.
Read more from this issue of Practice Manager
Practice Manager is published twice yearly and distributed to MDDUS practice managers and others with management responsibility in dental and medical surgeries. It features articles on employment law, health and safety, risk as well as profiles of practices across the UK. Browse our current and back issues below.
In this issue