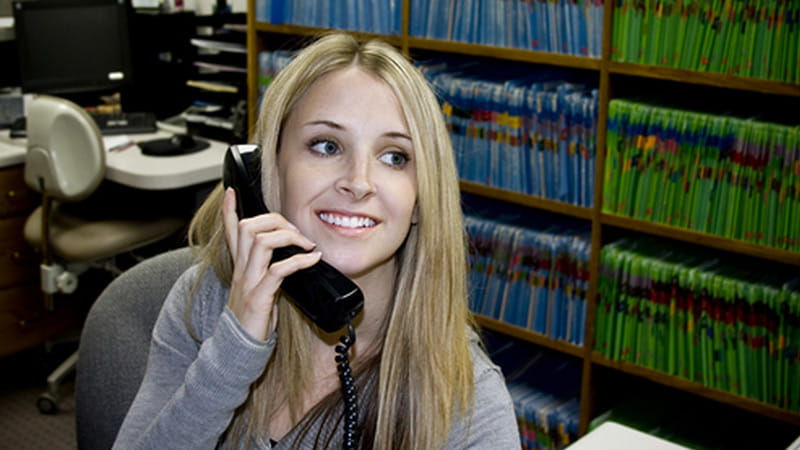 GPs may complain about bad press – but consider the lot of the medical receptionist. Perhaps no other figure in healthcare is more unjustly demonised for being rude, obstructionist or even ignorant.
In August the press highlighted yet another study examining how receptionists interacted with patients over the telephone, with the Times declaring: "Abrupt GP receptionists are suspected of filling up A&E".
It was reported that researchers at Loughborough University found a strong correlation between decreased practice satisfaction scores and patients feeling that their initial telephone requests were unmet: that they were "left hanging" or had to "push" for an alternative solution. The most effective receptionists (receiving high patient satisfaction scores) made alternative offers when the initial request could not be met, and in addition left the patient feeling clear about what would happen next.
It should be better recognised that the role of receptionist is a difficult one. Having to balance patient demand in an environment where free appointments are often scarce, while ensuring that patients feel that their personal needs are being met, and providing options and reassurance (without increasing risk) is not easy.
Telephone encounters with patients can be particularly fraught with jeopardy.
Receptionists who are not adequately supported by the clinical team may end up being drawn into giving advice to patients or indeed turning patients away who should have been seen by a doctor.
CHALLENGE AT BOTH ENDS
A significant proportion of patients who telephone a practice are likely to be fearful, worried about their symptoms, concerned that they might not be taken seriously and fully expecting to have to convince the receptionist that they are ill in order to secure an appointment. Ideally, they want the receptionist to ask what assistance they require, listen to their request and provide what they are asking for or something very close to this – but they probably expect the opposite.
On the other end, the receptionist may:
have very few options available in terms of appointments or clinician availability
fully expect that when they listen to what the patient wants they will be unable to satisfy those needs
have just rung off from another difficult call where a patient expressed their dissatisfaction
be aware that other patients are trying to get through on the phone – or indeed tapping their foot at the reception desk – meaning time pressure to get off the phone as quickly as possible. This can of course leave the patient feeling they have been dealt with abruptly.
Depending on the time of day, the receptionist's ability to easily and positively deal with a patient request may be even more diminished.
Reduced patient satisfaction or even formal patient complaints are not the only risks when practice access systems fail. MDDUS has dealt with cases where a receptionist's action or inaction has led to allegations of clinical negligence. These usually involve receptionists being unable to offer timely appointments or being unable or unwilling to access advice from a clinician even when the patient is persistent.
Receptionists who are not adequately supported by the clinical team may end up being drawn into giving advice to patients or indeed turning patients away who should have been seen by a doctor. This can lead to delayed examination, investigations or diagnosis and a subsequent claim against the practice.
SOLVING THE PROBLEM
The best way to achieve increased patient satisfaction and reduce the risk of a claim related to clinician access is via a team approach. This requires good leadership, a supportive team culture, effective problem solving in both planning and facilitating access, and encouraging staff to engage in empathetic and positive communication skills.
MDDUS has long experience in assisting practices with patient complaints and claims and my top advice would be to urge practice managers to spend time in reception to increase their understanding of how often receptionists encounter difficult patient interactions. Do your team members answer each call in a positive, welcoming tone? How often are the team quick to say things like; "I'm sorry I can't..." or "I'm afraid we have nothing available…" or "No, I'm not able to…"?
It is important for the team to address the patient's non-clinical (human) needs as well as their clinical needs. A positive tone, asking the patient how they can help and listening properly to the request are important to ensure the patient feels valued.
Research shows that in most cases, a positive experience for the patient from the start of an encounter can influence the way the patient feels at the end of the encounter – even when they have not been able to get exactly what they wanted.
If the receptionist cannot meet the patient's need (for example in providing "an appointment today") they should offer an alternative - for example: "I can offer you an appointment on Wednesday for Dr Smith." It is important that, if the patient expresses concern about a delay, the receptionist should be able to address that concern - for example: "If you can tell me more, including why you feel this cannot wait, I can ask the doctor if she is able to speak to you today?"
It is important that the receptionist does not offer health advice in lieu of an appointment and that they listen to the patient's concerns. Nor should the receptionist attempt to triage the patient if an acceptable solution cannot be found initially.
It is their job to stay in the encounter until a solution is identified and to take responsibility for passing concerns on to a clinician so that a decision can be made about what to do. This can be particularly difficult at busy times when the receptionist may be juggling other patient contacts and feeling pressured to end the call. At this point, agreed mechanisms for gaining advice from a clinician are essential to ensure patient safety is maintained. The receptionist should know the options available to them and should provide the patient with clear information on what will happen next and when.
Risk manage accessibility in your practice by taking time to ask your team which types of encounters are most difficult for them to deal with positively under pressure. Encourage them to imagine being in the shoes of the patient in order to identify practice-based, team solutions.
FINAL THOUGHTS
Interestingly, one mechanism many practices have put in place to increase the efficiency of receptionists could result in decreased patient satisfaction. Electronic patient checkin systems are intended to reduce the need for receptionists to interact with patients attending for appointments and allow them to answer calls faster. But practices should remember that for many patients a positive "live" contact with a member of the team can make them feel valued. Ensuring the team take time to nod or smile at patients when they enter or leave can be just the thing to bump up your scores!
If you would like to explore risks around access to clinicians with your team, a case study and discussion guide is available in the Risk Management section of mddus.com.
Liz Price is a senior risk adviser at MDDUS
This page was correct at the time of publication. Any guidance is intended as general guidance for members only. If you are a member and need specific advice relating to your own circumstances, please contact one of our advisers.
Read more from this issue of Practice Manager
Practice Manager is published twice yearly and distributed to MDDUS practice managers and others with management responsibility in dental and medical surgeries. It features articles on employment law, health and safety, risk as well as profiles of practices across the UK. Browse our current and back issues below.
In this issue