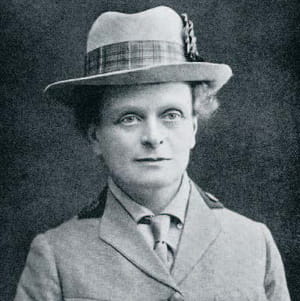 A CENTURY after her death, a memorial was unveiled to Dr Elsie Inglis in the Central Library of her native city, Edinburgh. The words on the plaque are simple, but they were Winston Churchill's who said of her: "She will shine forever in history". This pioneering Scottish doctor is lauded in other countries, but, like many before her, it has taken some time for her to be properly appreciated at home.
There were three overlapping strands to this remarkable doctor's work, each of which informed and influenced the other — her medical career, her support of women's suffrage and her work during the Great War. Any of these would have left a distinctive legacy; together they define her as a formidable force, more than deserving of Churchill's praise.
Inglis' father served with the East India Company and she was born in India while he was stationed there. Her parents were both enlightened and affluent. This afforded her the opportunity of a good private education, coupled with the encouragement to take her studies further. She began her medical education at Sophia Jex-Blake's Edinburgh School of Medicine for Women. This was a stifling environment and Inglis left three years later to join the new Medical College for Women, founded by her father and his friends, doubtless at her request. After qualifying in 1892, she further trained in Glasgow and moved to London to work at Elizabeth Garrett Anderson's New Hospital for Women and to Dublin to work at the Rotunda maternity hospital. She returned to Edinburgh in 1894 and founded a small maternity hospital on the Royal Mile called the Hospice. While running that hospital, she also held a consultant post in Edinburgh at the Bruntsfield Hospital for women.
Although she was active in the local women's suffrage movement in Edinburgh while she was a student, it was while working in London that she was exposed to the leading lights in the movement. From that point, the campaign for universal suffrage became a major driving force in her life. She deplored violence and took up public speaking on the movement's behalf, and on her return to Edinburgh she was a regular and powerful advocate of the cause. Her first-hand clinical experience of the effects of poverty and her commitment to everything she did allowed her to rise quickly through the ranks of the movement in Scotland.
With the outbreak of war in 1914, Inglis proposed the formation of mobile, all-female staffed medical units to serve on the front lines. Her idea was dismissed out of hand by the War Office. Undeterred, she gathered momentum and financial backing and was instrumental in establishing, through the suffrage movement, the Scottish Women's Hospitals for Foreign Service.
In December 1914, the first of these units was established — a 200-bed Auxiliary Hospital at the Abbeye Royaumont, north of Paris. In the following Spring, Inglis herself took the lead of a unit based in the Balkans. There, she worked particularly to improve hygiene and reduce the devastating impact of various infectious diseases, including typhus. By the summer of 1915, the organisation was responsible for more than 1,000 beds with 250 staff, including 19 women doctors. However, a major offensive that year led to her unit in Serbia being attacked, and many of the staff including Inglis were taken prisoner. She was released after negotiations and repatriated. While in the UK, she turned her efforts to renewed fund raising and in 1916 returned to the front with a new team to work in Odessa, Russia. By the signing of the armistice in 1918, there would be 14 Scottish Women's Hospitals in France, Serbia, Russia, Salonica and Macedonia.
After only a year in Russia, Inglis was evacuated with her team. She died the day after arriving home from Russia on 26 November, most probably from the cancer she had been suffering for the past year. Her funeral was held in St Giles Cathedral and was reported to be an "occasion of an impressive public tribute". Her work, however, carried on. The Scottish Women's Hospitals continued its work into the 1920s, and in 1925 its surplus funds were used to found the Elsie Inglis Memorial Maternity Hospital in Edinburgh. This small institution was for six decades affectionately known as "Elsie's" but closed in 1988.
Today there are streets in Serbia named after Elsie Inglis, the British Embassy residence in Belgrade is named in her honour and she has been commemorated on stamps and banknotes. And now she has a plaque in a library in Edinburgh, where appropriately her name is joined by the 14 other women who died as a consequence of their work on the Scottish Women's Hospitals.
Dr Allan Gaw is a writer and educator in Glasgow
Sources
McLaren ES. Elsie Inglis: the w oman with the torch. Macmillan Co, New York, 1920
National Archives http://discovery. nationalarchives.gov.uk/
Edinburgh Evening News. November 7, 2017
Photograph: The Wellcome Collection
This page was correct at the time of publication. Any guidance is intended as general guidance for members only. If you are a member and need specific advice relating to your own circumstances, please contact one of our advisers.
Read more from this issue of Insight
Insight (formerly Summons) is published quarterly and distributed to all MDDUS members throughout the UK. It provides a mix of articles on risk, medico-legal and regulatory matters as well as general features and profiles of interest to our members. Browse all current and back issues below.
In this issue