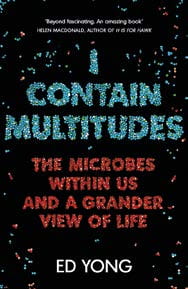 The microbes within us and a grander view of life
By Ed Yong
Bodley Head: £15.99 hardback, 2016
Review by Dr Greg Dollman, MDDUS medical adviser
IF you're fascinated by faecal microbiota transplants, read on. If not, maybe you'd prefer to go wash your hands!
In I contain multitudes, Ed Yong delves into the infinitesimal detail of our everyday lives and discovers the microbes within us – ushering them in from the "neglected fringes" ("visible only through the illnesses they caused") and onto centre stage, where he details their masterful performance from "cast as rogues, sooner to be eradicated than embraced" to saviours of humankind, and everything in between.
The average human swallows around a million microbes in every gram of food they eat. Fancy that! Every time we walk, talk, scratch, shuffle, or sneeze, we cast a personalised cloud of microbes into space. Yong writes about humans autographing the environment with around 37 million bacteria per hour. And your bacteria interact with mine, mine with yours, and with everyone and everything around us. This is the grander view of life that Yong explores.
Symbiosis can be defined as living together and sometimes with our greatest enemy. Yong returns to this concept throughout, comparing our interactions with the world at large to a human relationship, where good and bad, harmony and conflict are inevitable.
Yong has researched the science in its microscopic creepycrawly detail and presents his findings in a light-hearted and entertaining read. Do microbes affect our cravings? Do they affect our cognition as we age? What are the unintended consequences of antibiotic overprescription? How do microbes interact with everyday prescription drugs? What is the link with diabetes, mental health and cancer? Yong explores these and many more subjects, drawing examples from across the natural world – from the depths of the oceans to jungles to desert landscapes and importantly hospitals, "where the flow of microbes can mean life or death".
Yong celebrates "a new way of thinking about the microbial ecology of organisms". I contain multitudes explains that microbes are ubiquitous, they are vital ("they sculpt our organs, protect us, break down our food, calibrate our immune system" and the consequences are dire when the natural chain breaks) and they provide humans with the potential to live healthier and happier lives. The ecological opportunities when we are in a harmonious relationship are boundless.
This page was correct at the time of publication. Any guidance is intended as general guidance for members only. If you are a member and need specific advice relating to your own circumstances, please contact one of our advisers.
Read more from this issue of Insight
Insight (formerly Summons) is published quarterly and distributed to all MDDUS members throughout the UK. It provides a mix of articles on risk, medico-legal and regulatory matters as well as general features and profiles of interest to our members. Browse all current and back issues below.
In this issue