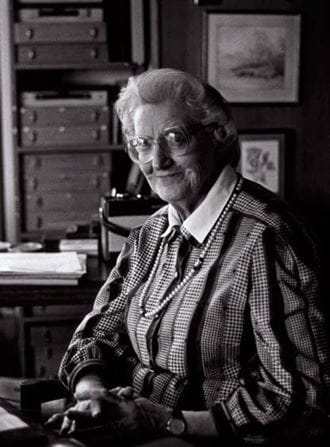 DAME Cicely Saunders transformed care of the dying – founding the first modern hospice – and was instrumental in establishing palliative care as an essential discipline in modern medicine.
Cicely grew up with two younger brothers in a country house to the north of London. Her father made his fortune as an estate agent and provided his family an upper class lifestyle. Cicely was intelligent, shy and pained by her mother's lack of affection.
At the girl's boarding school Roedean, she found music a comfort. After a failed attempt to enter the University of Oxford, a spell at a crammer gave her a place at the college that was the precursor to St Anne's to read PPE (philosophy, politics and economics). At age 20 she attended a retreat in Scotland and returned a fervent evangelist and from this time on Christianity became a source of strength.
The Second World War changed life for everyone. Cicely enrolled at the Nightingale Training School for Nurses at St Thomas' Hospital. There she made friends and became an admired, hard-working, efficient nurse. A back injury forced her to give up nursing but fortunately led to her learning other valuable skills. She returned to Oxford and in 1944 was awarded a degree and diploma in public and social administration. She qualified as a lady almoner and returned to St Thomas'.
At the end of 1947 she met a Polish émigré named David Tasma who was dying of cancer in Archway Hospital. He had no relatives in England, and although his grandfather was a Polish rabbi and he had a deep knowledge of rabbinic argument, Tasma was an agnostic. When Cicely visited him they immediately fell in love and spent long hours discussing how care of the dying might be transformed to a calm and pain-free experience. They realised that a more home-like place to nurse and treat patients could best provide this. On his death Tasma bequeathed Cicely £500, probably all he had, and the encouragement: "Let me be a window in your home".
Cicely now had a purpose. First she volunteered to work in the evenings as a sister at St Luke's – a 'home for the dying'. She discovered that she had a gift for calmly listening to the patients, hearing their worries and offering only as much information as they really wanted. It was not customary at that time to tell patients they were dying. One of the most important changes that she made was to let the patient have morphine orally as they needed it to prevent pain. She advocated adjustment of the dose by nurses who knew their patients well and were more available than doctors. Tranquil, pain-free dying was achieved in most cases.
Cicely was advised that she needed to be medically qualified to have the authority to realise her ambition for a hospice and to raise the huge funds for lands and building. Never afraid of hard work she pressed for a place in medical school and qualified as a doctor in 1952. Her first of many papers was on the care of the dying, published in St Thomas' Gazette. She gained further experience at the Roman Catholic St Joseph's Hospice, Hackney.
Now in her thirties and single, she fell in love with another dying patient, again a Pole. His death filled her with a grief that was augmented by the death of a lady patient who was a good friend to her and then by the death of her father. Finally, she was rewarded by the lasting love of a Polish artist Marian Bohusz. They lived together and eventually married.
Cicely continued to raise funds for a hospice outside of the control of the relatively young NHS. She inspired others and gradually secured substantial funds from city companies, charitable trusts and the public. Lecture tours in America also raised funds and spread her philosophy on care of the dying – speaking of her patients' lives and deaths.
In 1967 St Christopher's Hospice was opened in Sydenham, south London and received its first patients. Important to the design was a garden and a church spacious enough to accommodate beds. Patients were accepted regardless of their religion but Christian prayers were said daily in the airy wards. Cicely was the medical director.
Recognition came from all quarters with honorary doctorates, MRCP, FRCP, and DBE and the Templeton Prize for Progress in Religion. Cicely continued to write and teach until her death from breast cancer in 2005 at St Christopher's – the hospice she was so instrumental in founding.
Julia Merrick is a freelance writer and editor
Image: Dame Cicely Saunders. Photograph: Anne-Katrin Purkiss © National Portrait Gallery
This page was correct at the time of publication. Any guidance is intended as general guidance for members only. If you are a member and need specific advice relating to your own circumstances, please contact one of our advisers.
Read more from this issue of Insight
Insight (formerly Summons) is published quarterly and distributed to all MDDUS members throughout the UK. It provides a mix of articles on risk, medico-legal and regulatory matters as well as general features and profiles of interest to our members. Browse all current and back issues below.
In this issue