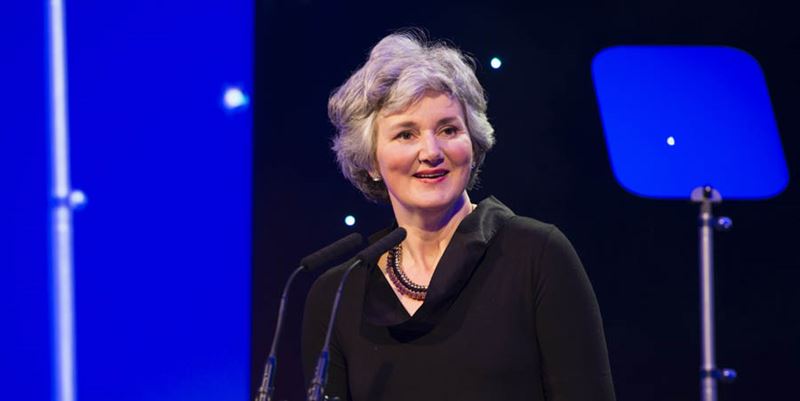 ASK FIONA GODLEE how she went from being a registrar in general medicine to editor of one of the longest-running and most influential medical journals in the world and she'll tell you it was all a bit of an accident.
To be fair, speaking to me down the line from Cambridge, where she did her graduate medicine and now lives, she's actually explaining how she came to work for the BMJ in the first place in 1990, after a year's placement turned into two years and then a full-time job. The placement – as editorial registrar – was set up as a "bridge" between the journal and young clinicians, who would bring a fresh injection of expertise and energy into the BMJ before heading back to the medical coal face. But for Godlee there was to be no return journey.
"It was very clear when I took the editorial registrar job that I wanted medicine as a career. It's not intended as a way out for doctors who are disillusioned. But it became very compelling, engaging, huge fun, very broad, wonderful people, all of that. I was drawn into it. So it happened by mistake really."
Fifteen years later – having in the meantime led the development of BMJ Clinical Evidence and, in a three year hiatus from the BMJ, established the open access publisher BioMed Central – her "accidental career move" paid its biggest dividend of all when she was named as successor to the legendary BMJ editor, Richard Smith. At 43, she was to be the first female editor in the journal's then 165-year history.
She had not been gunning for the role, she says, but she was ready for it. "Richard had been my mentor. He's very generous and creative and I'd learnt a vast amount working with him. We were all very sad that he went. But then someone needed to do the job and I thought I could do it."
MORE THAN ACADEMIC
Godlee was a new broom but she was not in the business of sweeping away the past. Her tenure, she says, has been a "natural evolution" of the direction of travel already in place. A key aspect of this has been to ensure the BMJ's output is actually read – so that it can contribute to the debate. Readers' feedback is that they want things that are short and punchy. More "magazine-y", as she puts it, "a pleasure read rather than a necessary work read". But, she says, "they also want credibility and care and accuracy. So to try to do both of those things is really the challenge."
This has meant professionalising the journalism, bringing in dedicated health writers and also using investigative techniques to shine a light into some of the darker crevices of the medical landscape. At the same time it has been crucial to maintain the academic standards of research which underpin the credibility of the BMJ's output. It is this combination of academic strength and journalistic enterprise that gives the BMJ its unique position, she says.
This twin-pronged approach has seen the BMJ getting together with the likes of the BBC, the Centre for Evidence-Based Medicine and Channel 4 News to investigate issues, such as the lack of evidence behind many costly add-on treatments for IVF and the costs and (lack of ) benefits involved in the switch from human insulin to analogues in the treatment of type 2 diabetes.
"Repeatedly it does seem to be that because the BMJ can be both of those things, it can be used as a sort of tool, if you like, to put a knife into the oyster and try to winkle it open," she says. "Over the 11 years I've been editor, it's become clear to me what the BMJ can do and what it can't do."
Readers of the BMJ want a pleasure read rather than a necessary work read…they also want credibility and care and accuracy
AN INDEPENDENT VIEW
Falling firmly into the 'can do' column is the belief that the journal should take strong positions in the key health debates, and the BMJ under Godlee wears its campaigning heart on its sleeve, with a page on the website dedicated to its current campaigns. Whether it's NHS funding, overdiagnosis and waste of resources, corruption in healthcare, the decriminalisation of illicit drugs, transparency in clinical trial data or the health impacts of climate change, the BMJ has tackled them all – and firmly.
A major priority for the coming year is the idea of patient partnership, putting the patient's voice into research and education of doctors. The BMJ has already done a lot of work on this, including its regular 'What your patient is thinking' series. Godlee explains: "It's the idea that you need to take the patient's perspective into account, not just because it's the right thing to do but because it actually leads to better decisions."
Of course, campaigns such as these are never one-sided affairs and there have been a few high-profile spats, including one with the editor of the Lancet over statins (the BMJ has been critical – unjustifiably so, says the Lancet). There was also a fundamental disagreement with her employer, the BMA, which owns the BMJ, over assisted dying.
"I initially argued the BMA should go to a neutral stance but I now think it ought to be a decision for society. If that was the case, I think society would probably vote for it." The BMA, on the other hand, is firmly against, though it has respected the journal's independence on this issue.
The decision to start talking about climate change as being a result of human activity and a risk to human health also provoked a considerable backlash. "A lot of it was, you're naive and stupid to think it's real – and even if it is real, what's this got to do with medicine? That seems extraordinary now but that was the initial response. I think it is a bit of a no-brainer now but it gets back to the question, what is the BMJ? What is a medical journal there for?"
These "skirmishes", as she calls them, are all part of the job, in other words. It is a question, she says, of "behaving well and reasonably" when putting your case. In this way the skirmishes are resolved and you move on.
FEW REGRETS
Another key challenge of the job, of course, is keeping your readership happy. On this score, with a global circulation of 122,000 for the print edition and 2.5 million hits every month on the website, her approach is clearly paying off.
There have been accolades from her peers, too, and in 2014 Godlee was named Editor of the Year at the Professional Publishers Association awards and the following year the BMJ was named Magazine of the Year.
So, despite all her success as a publisher, has she ever wished she had gone back across that bridge into medical practice? She was, after all, breaking with a firm family tradition: her father was an oncologist and all three of her siblings are GPs. Further back, her medical pedigree includes a great-great uncle who was none other than Joseph Lister, pioneer of antiseptic surgery.
"I did feel quite nostalgic at one point, when my children were young. I was living up in Lincolnshire and commuting into London and I used to think, 'Gosh what would a local life be like? Could I retrain as a GP?' There's something magical about the interaction with patients and I also love the community of working in a hospital, the social scene – and moving into an editorial office is a rather smaller environment."
But no, she confesses, the regrets have been few. After all, she is positioned at the very centre of the worldwide medical debate. She puts it succinctly, as she remembers that first move: "Medicine had been a vocation for me – and the BMJ, well, I wasn't going into just any old publishing."
Adam Campbell is a freelance writer in Edinburgh and a regular contributor to MDDUS publications
This page was correct at the time of publication. Any guidance is intended as general guidance for members only. If you are a member and need specific advice relating to your own circumstances, please contact one of our advisers.
Read more from this issue of Insight
Insight (formerly Summons) is published quarterly and distributed to all MDDUS members throughout the UK. It provides a mix of articles on risk, medico-legal and regulatory matters as well as general features and profiles of interest to our members. Browse all current and back issues below.
In this issue