IN his seventies, George Northcroft's middle child, William, recalled a procedure carried out decades before in his father's Harley Street dental practice. A drinking straw was inserted into each nostril, his eyebrows were greased and several pounds of wet plaster of Paris was poured onto his upturned face. Throughout, he was ordered to remain perfectly still, and as the plaster set, he would feel it become uncomfortably hot.
These face masks along with dental impressions were made every year on William's birthday until he was 21. The set of surviving casts represents a unique three-dimensional longitudinal record of a child, then an adolescent and finally a young man's developing facial structure and dentition.
George Northcroft was born in mid-Victorian Britain. He was schooled in England but received a scholarship to study dentistry in the United States, and in 1890 he graduated from the University of Michigan. On his return to England, he immediately enrolled in the London School of Dental Surgery in Leicester Square and graduated two years later with his Licence in Dental Surgery (LDS).
After several years working in Windsor, Northcroft put up his plaque in Harley Street where he would also live with his wife, Baroness Eva von Schlotheim and eventually their three children. There he became a society dentist, counting the British aristocracy and members of the royal houses of Europe amongst his clientele. But it was his interest in orthodontics and his role in the development of that discipline that was to be his legacy.
Like most of his contemporaries who were interested in orthodontics, Northcroft's interest was sparked by his time in the States. In the UK, at the time, there was no formal training or a professional basis to this emerging specialty. However, in 1907, Northcroft decided to change that by sending a letter to all similarly minded colleagues, inviting them to a meeting the following week at his Harley Street home. The 12 who attended became the founders of the British Society for the Study of Orthodontics (BSSO). Northcroft became the society's president in 1909 and again in 1929. He was also honoured in 1927 when he was elected president of the European Orthodontic Society, and five years later the president of the British Dental Association.
Northcroft was particularly interested in the causes of malocclusion and believed that little progress could be made without first understanding the nature of normal development. Thus, he embarked on the study of his own children. All three became his subjects, and he began taking casts from as early as 25 days of age, but only 12 casts from the series taken of his son, William, survive.
Northcroft was highly esteemed in his lifetime. He was awarded an OBE for his work on facial injuries during the First World War and was also a founder of the London Hospital Dental School. In addition to his Harley Street practice, he worked at the hospital for many years. Indeed, it was through his professional connections there that he became involved in helping to unravel a celebrated case of forensic archaeology in 1933.
The professor of anatomy at the London, William Wright, was tasked with examining the contents of an urn from Westminster Abbey, reputed to contain the mortal remains of the Princes in the Tower. He chose to bring the urn to Northcroft's practice in Harley Street where it would be unsealed, and the bones X-rayed and analysed. These studies revealed the remains to be mainly human but incomplete, and to include those of two children of approximately the same age as the princes. However, little further conclusive information could be gleaned and to this day the identity of the bones remains a mystery.
Since 1947, an annual memorial lecture named for Northcroft was delivered at the BSSO, and this continued when that organisation was subsumed into the British Orthodontic Society in 1994. In 1988, when the leading orthodontist Professor Jim Moss was selected to deliver the lecture, he chose to make Northcroft himself the subject. He even contacted his son and made a new cast of his face after more than 50 years, using state-of-the-art laser scans. Several further scans were performed on William when he was in his eighties, thus completing the series, and all confirming that the positions of our teeth continue to change throughout life.
George Northcroft's contribution to the study and practice of orthodontics is rightly regarded as highly significant. However, it also seems appropriate to acknowledge the contribution made by his long-suffering son, who from infancy to his ninth decade, remains one of the most studied individuals of all time in terms of facial and dental development.
Sources
Moss, J.P. Northcroft Revisited. Br J Orthodontics, 1989; 16: 155-67.
Holland, C. That great palace of truth. Br Dent J, 2007; 202: 762-3.
http://www.bos.org.uk/museum-and-archive/key-individuals/george-northcroft/. Accessed 15 Aug 2023.
Allan Gaw is a writer based in Scotland
Love & Other Diseases
Read Allan Gaw's new book of poetry – Love & Other Diseases
The collection of 50 works range from subtle poems of love and loss through to eerie personifications of the diseases that have ravaged humankind. Published by Seahorse Publications
"… a fresh voice in contemporary verse exploring with crafted perception and emotion the connections between self and the things of the world around him."
Jim Mackintosh, poet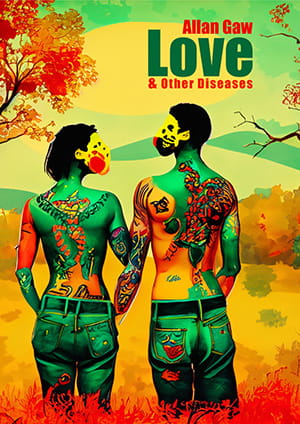 This page was correct at the time of publication. Any guidance is intended as general guidance for members only. If you are a member and need specific advice relating to your own circumstances, please contact one of our advisers.
Read more from this issue of Insight Primary
Insight Primary is published quarterly and distributed to MDDUS members throughout the UK who work in primary care. It provides a mix of articles on risk, medico-legal and regulatory matters as well as general features and profiles of interest to our members.
In this issue