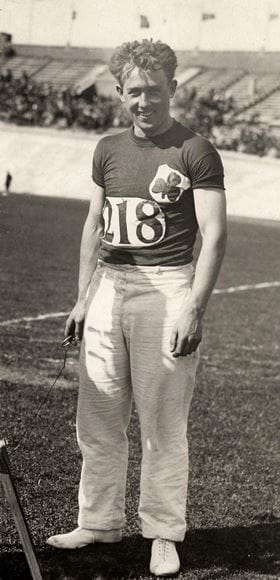 ON a summer's day in 1928, a young Irishman stood in the Olympic stadium in Amsterdam. Filled with emotion, he watched while the tricolour was raised as the strains of his national anthem were being played for the first time at such a ceremony.
Pat O'Callaghan was born in North Cork into a farming family with strong sporting links. His two brothers were gifted athletes, and it was unsurprising that he would be too. However, initially it was his brains rather than his brawn that brought him to notice.
Academically he was precocious, starting school at age two, winning a place at a prestigious academy at 15 and passing the matriculation examination at 16, enabling him to begin his medical studies at the Royal College of Surgeons of Ireland, in the same year that his homeland became the new Irish Free State. He graduated at the age of 20 but was considered too young to practise in Ireland, so he joined the Royal Air Force Medical Service and worked abroad.
All his life he had been a keen sportsman and was an all-round athlete, enjoying particular success in hurling and football, but it was the hammer that caught his interest. He was strong and tall – it is said that men from his area were descended from a race of giants – and he took to wielding and throwing the great weight further than anyone. His first hammer was a cannon ball, liberated from Macroom Castle, to which a local blacksmith was persuaded to weld a chain. He competed with this home-made hammer even though it was much heavier than those used by his rivals, but this did not prevent him from winning every competition he entered.
Only 13 months after he started throwing the hammer, he had won the Irish title and was on his way to represent his country at the Olympics in Amsterdam. As a relative unknown, he progressed through the heats and going into the final he was in third place behind his main rival, the Swede Ossian Skiöld. For his final throw, O'Callaghan borrowed the Swede's hammer. He won with a throw of 51.39m beating his own career best to date by a remarkable 51cm and his nearest rival on the day by 10cm. The crowd of 20,000 in the stadium watched as history was made with Ireland winning its first-ever gold medal.
He returned home to a hero's welcome but quickly resumed his medical practice, being appointed as Assistant Medical Officer at Clonmel District Mental Hospital in Tipperary. However, he did not neglect his sports and in the 1930 National Championships he won not only in his Olympic discipline but also took the prizes in shot-putt, discus and high jump.
Two years later, O'Callaghan was the proud flag bearer for the Irish team as they entered the stadium in Los Angeles for the 1932 Olympics. He was there to defend his title but got off to a rocky start. He had come with spiked athletic shoes ready for the usual clay or grass hammer circle.
However, a cinder circle was provided in LA and his shoes caught on it preventing him from pivoting as he turned. Despite this, by the final round, he was in second place. As his competitors made their throws, he spent his time filing down his spikes at the side of the field and with his final attempt, O'Callaghan made a throw of 53.92m to earn his second Olympic gold.
While in LA he was invited by MGM to play the lead in the next Tarzan movie, an offer he declined, preferring to return home to Ireland and to medicine. However, he would return to America in the summer of 1938 to the professional wrestling circuit, lured doubtless by the hugely lucrative deals he was offered when he was billed as 'Dr Hercules' and the 'Adonis from Erin.' He was successful but quickly found that professional wrestling was more about show business than sport, and he returned home once more.
In 1934 he set up in general practice in Tipperary where he would work for the next 50 years. He was a much-loved character being a renowned raconteur, fisherman and poacher, firmly believing the rivers and everything in them belonged to the people. He maintained a lifelong interest in athletics and in the Olympic movement.
When he passed away aged 85, he was mourned not just by his community, but also the Irish nation and the world of sport, and he was fondly remembered as a 'gentle giant' who was 'always accessible' and 'ordinary in his greatness'.
Reflecting on that day in 1928 when he made history, O'Callaghan said of his Olympic triumph that he was glad of it, "not for…myself, but for the fact that the world has been shown that Ireland has a flag, that Ireland has a national anthem, and, in fact we have a nationality".
Dr Allan Gaw is a writer based in Scotland
Sources
International Olympic Committee. www.olympics.com
Riordan, B. Irish Examiner, August 1, 2018
Browne, B. Irish Independent News, December 19, 2020
Hannigan, D. Irish Times, June 10, 2021
This page was correct at the time of publication. Any guidance is intended as general guidance for members only. If you are a member and need specific advice relating to your own circumstances, please contact one of our advisers.
Read more from this issue of Insight Primary
Insight Primary is published quarterly and distributed to MDDUS members throughout the UK who work in primary care. It provides a mix of articles on risk, medico-legal and regulatory matters as well as general features and profiles of interest to our members.
In this issue