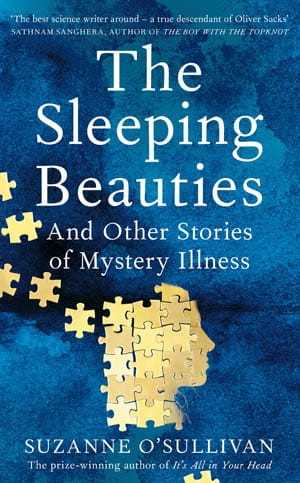 SUZANNE O'Sullivan is a Wellcome Prize-winning neurologist. In her latest book, she continues to explore the workings of the brain and mind – this time turning her attention to unexplained conditions that have appeared across the world, or which we may encounter in clinical practice.
The Sleeping Beauties delves into the mystery of psychosomatic and functional conditions (she uses the terms interchangeably throughout for lay readers), chronicling O'Sullivan's travels to meet individuals and communities who have experienced or encountered mystery illnesses.
The book's title references people with 'sleeping illness' (as is seen in resignation syndrome, with one example being the now well-publicised case of the children of asylum-seeking families in Sweden) and other stories of individual and mass psychogenic illness from Nicaragua to Kazakhstan, and Columbia to Cuba.
While the stories make for fascinating reading, O'Sullivan's consideration of them gives weight to the book. She shares her own experiences (of working as a clinician in London) when seeking to unravel the mysteries.
We know that disease is an objective pathology, while illness is a perception of how one feels (and so is not necessarily associated with the disease and may be a cultural phenomenon). O'Sullivan explores the concept of "normal behaviour" – recognising the individual's need or wish to be normal and often society's expectation of this. Certainly, 'normal' depends on the community in which we live.
She argues that biological and psychological explanations for these conditions are often reductionist. The mystery illnesses she describes are often an embodiment of a sociocultural phenomenon.
O'Sullivan considers also Western medicine's trend to over-diagnose, cautious not to 'miss something', along with patients wanting an explanation for their condition to 'make it real'. She also explores the inclination to apply labels, the factors driving this and the potential consequences of doing so. Is it that every aspect of our lives are at risk of becoming medicalised?
"Our brains hate chaos and are soothed by answers", O'Sullivan notes and that we can adopt different approaches in order to achieve calm or an absence of distress (or 'a cure'). This may take the form of, possibly, medicalisation or spirituality. O'Sullivan ponders whether such conditions should be "cured", as they often give a voice to those experiencing them – they can be "a language much more powerful than words".
The final chapters of the book recognise the move in modern times to a focus on the individual. O'Sullivan concludes that those who she encountered with mystery illnesses had a better outcome without medicine. They had achieved "recovery through ritual". She reminds the reader of the importance of 'community' as well as the power of incorporating into society those afflicted rather than casting them out.
The Sleeping Beauties certainly challenges the reader's thoughts on how they make sense of the world (and those mysterious illnesses we may encounter in everyday practice), and more than ever provides a reminder of the importance of community
This page was correct at the time of publication. Any guidance is intended as general guidance for members only. If you are a member and need specific advice relating to your own circumstances, please contact one of our advisers.
Read more from this issue of Insight Primary
Insight Primary is published quarterly and distributed to MDDUS members throughout the UK who work in primary care. It provides a mix of articles on risk, medico-legal and regulatory matters as well as general features and profiles of interest to our members.
In this issue