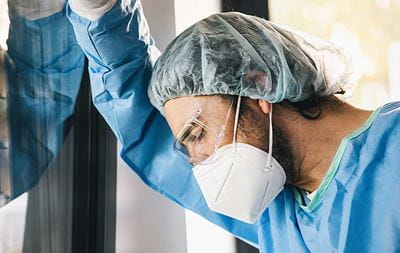 DOCTORS are no strangers to hard work, stress and working in challenging environments. That being said, the impact of the coronavirus pandemic was something that none of us could have predicted or planned for.
COVID-19 has changed life for many of us. Some of us may have been deployed to another specialty or department, some may be consulting patients remotely, some may be treating critically unwell patients with coronavirus, some struggling with the lack of personal protective equipment (PPE) and some trying to deal with their colleagues falling prey to this virus. In times like these, looking after your mental and physical health is paramount. Even if you can't get to the gym, go out with friends or fully relax, there are practical things you can do to look after yourself:
Talk to your family and friends. It's important to stay connected with the people you care about.
Seek support from colleagues. They may feel the same as you and speaking about your feelings and worries can be therapeutic for you all. Keep an eye out for each other. Ask how your colleagues are and, if someone is struggling, reach out and offer support.
Take regular breaks. We are being overwhelmed by information and patients may have several concerns or questions about COVID-19 and the impact this is having on them. To avoid feeling stressed or burnt out, make sure you have regular breaks away from patients, your phone, your computer and all things COVID-19 related.
Don't keep things bottled up. If you are finding things tough, know that help is available. There is a confidential and free helpline run by Hospice UK for NHS workers suffering from trauma or bereavement on 0300 303 4434. Speaking to someone early on, can really help.
Exercise. There are plenty of ways you can get your daily exercise, even if you can't leave the house. Whether it's online yoga, a workout DVD or vigorous housework, even a small amount of exercise can really improve your mental health and wellbeing.
Sleep. It may be difficult, but try to schedule some wind-down time away from screens and work to give yourself the best chance of a good night's sleep.
Eat and drink. Do your best to stay wellhydrated and eat regular healthy meals. Missing meals may affect your mood and increase stress levels.
Ditch the vices. Avoid using tobacco, alcohol and other drugs as a way of coping. If you are becoming reliant on any of these, it may be time to seek help.
Look after your physical health. Doctors need to be well and healthy in order to look after their patients. Take your medication, attend your routine appointments or telephone consultations and if you're struggling, know you can always seek advice from your own GP.
Be kind to yourself. It's OK not to have read all your emails, not to have done all the allocated schoolwork, not to be on top of the housework and to take some well-deserved time out to sit, relax, have a cuppa and reflect. Normal life will resume at some point, until then it's OK to focus on what you need to get you through each day.
I can assure you that I am taking my own advice. During these times, I have been much better at taking time out for myself. Giving myself time for me has helped me stay positive, focused and able to prioritise my daily tasks. I am baking more, watching TV (this is rare for me!) and call one person I know every day, just to say hello. The support I have received from my colleagues, family, friends and patients has been overwhelming. There have been good days and some not so good days, but I have always felt able to express my feelings and reach out for support.
The nation as a whole fully appreciates the work that doctors and other key workers are doing to keep the country going. Despite this support, it is normal to feel the pressures of working and living during this crisis. The impact of COVID-19 may last for some time after the pandemic ends, but be assured that you are not alone and there is always support available.
Seeking support is the only way we can ensure that our own health is not compromised by the work we do. We can only really care for our patients when we know how to care for ourselves.
For more advice on health and wellbeing – including short video interviews with our advisory team – visit our member wellbeing and mental health resource
This page was correct at the time of publication. Any guidance is intended as general guidance for members only. If you are a member and need specific advice relating to your own circumstances, please contact one of our advisers.
Read more from this issue of Insight Primary
Insight Primary is published quarterly and distributed to MDDUS members throughout the UK who work in primary care. It provides a mix of articles on risk, medico-legal and regulatory matters as well as general features and profiles of interest to our members.
In this issue