AFTER a five-year closure and a redevelopment costing £4.6 million, the Hunterian Museum of the Royal College of Surgeons of England (RCS England) reopens its doors to visitors in May 2023.
Named after its 18th century founder, John Hunter, the museum boasts a display of over 2,000 anatomical preparations from his original collection, alongside instruments, equipment, models, paintings and archive material. These trace the history of surgery from ancient times to the latest robot-assisted operations.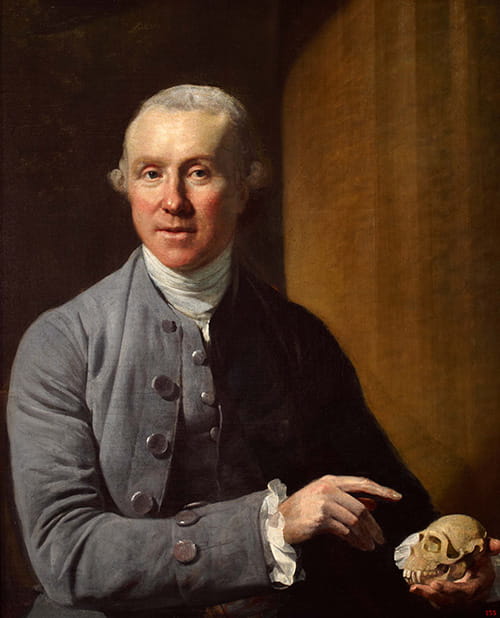 Surgeon and collector
John Hunter was the youngest of 10 children and was born near Glasgow in 1728. His elder brother William had already left home when John was still a boy, but the two would later be reunited in London.
John travelled south at the age of 20 and began work as an assistant in his brother's anatomy school in Covent Garden. William by this time was already an established physician and obstetrician in the metropolis. John quickly learned human anatomy and became adept in the preparation of specimens. His brother, recognising his potential, arranged for him to study under eminent surgeons, and in 1760 John was commissioned as an army surgeon.
He spent three valuable years extending his education and experience in the battlefield. In 1763, he returned to London and began building his own practice. All his professional life, he was a collector. Even when he was abroad, he was collecting specimens of unusual lizards, and his efforts were redoubled as he became successful and acquired more resources and importantly more space to display his precious specimens.
This august temple
The poet Samuel Taylor Coleridge visited Hunter's collection and noted with awe, "the magnificent museum", "this august temple", in which he saw evidence of the works of "the Creator" but which were there "presented to us in a more perfect language than that of words – the language of God himself, as uttered by Nature".
What Coleridge and countless others saw in the late 18th and early 19th centuries was a collection of almost 14,000 exhibits amassed by Hunter. Preparations of more than 500 different species of plants and animals were displayed including, of course, a large number of human anatomical and pathological specimens.
Hunter originally housed his collection in his large home in Leicester Square where he used it as a teaching museum. However, when he died in 1793, he left instructions that his collection was to be sold in its entirety to the government for the public benefit. This was only realised six years later when a sum of £15,000 (around £1.2 million today) was paid.
The government immediately gave the collection into the safekeeping of the Corporation of Surgeons (later the RCS England) for medical education and training. A new building erected in Lincoln's Inn Fields to accommodate the collection in purpose-built galleries first opened in May 1813 and remains its home to this day.
During the Second World War, the building took a direct hit and bomb damage resulted in the loss of almost two-thirds of Hunter's original collection. Despite this, the museum still houses England's largest public display of human anatomy.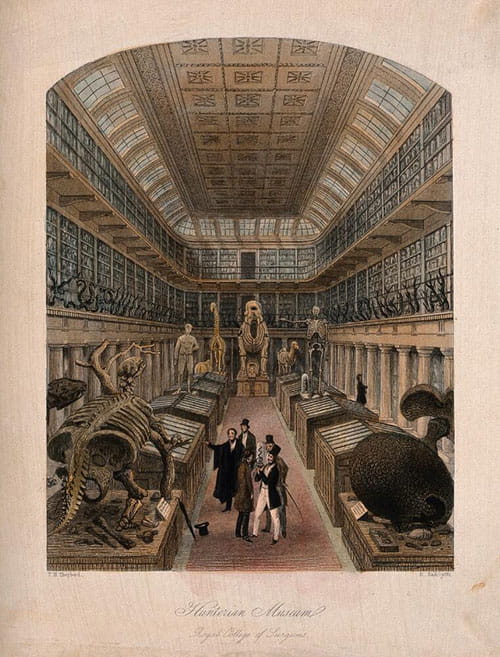 Changing attitudes
The collection and public display of human remains have become the subject of much discussion in recent years. The value of anatomical and pathological specimens for medical education and training has never been in doubt. However, questions have been asked about the appropriateness of displaying such exhibits to the public.
Some have argued that jars containing preserved body parts constitute nothing more than a freak show and their display is profoundly disrespectful. Others counter this with claims that the educational value of such exhibits far outweighs any suggestions of impropriety.
In the years since Hunter amassed his collection, attitudes as well as laws have changed. With the passing of the Human Tissue Acts, the display of human samples has become much more tightly regulated. This legislation, however, does acknowledge the value of historical specimens and exempts anything older than 100 years from the need for documented consent or authorisation.
One famous exhibit from the original Hunterian collection does exemplify the need to go beyond the bare minimum demanded by legislation. That is the skeleton of Charles Byrne, known in his lifetime as the "Irish Giant". Byrne had an undiagnosed pituitary adenoma which resulted in gigantism and acromegaly. He was 7'7" (2.31m) tall and, although he made a living exhibiting himself around the country, he asked his friends to ensure he was buried at sea to save him from the anatomists. When he died in 1783, his friends disregarded his wish and sold his corpse to Hunter who exhibited the skeleton in his museum three years later.
Because of its age, the display of the skeleton would be exempt from current legislation, even though there is some historical evidence that consent was withheld during the subject's life. Nevertheless, the Board of Trustees of the Hunterian Collection have carefully considered the contemporary ethical implications and have chosen not to include this specimen in their public display. The fame of the Giant's skeleton in Hunter's lifetime was such that Sir Joshua Reynolds' portrait of Hunter has it as a backdrop. Although the skeleton itself will no longer be on show, the painting is now displayed in the new museum for the first time in over 200 years.
Surgical story
A visit to the Hunterian Museum is a startling and enriching experience even for those in the medical professions. In addition to the Hunterian specimen collection, visitors will see a wide range of artefacts that tell the story of surgery's history. On display are Joseph Lister's surgical instruments as well as his carbolic spray donkey engine. There are the recently conserved 17th century anatomical tables, known as the Evelyn Tables, which were made in Padua in the 1640s. And more up to date, Harold Hopkins' prototype endoscope from 1961 marks the start of minimally invasive surgery.
Throughout the new galleries, we are confronted with our medical past and are offered glimpses of the future. We witness some of Hunter's own surgical work, we see his own patients in the flesh, and we are challenged by how little some things have changed in over 200 years, and at the same time how much we have progressed.
On this theme, Dawn Kemp, Director of Museums and Special Collections at the RCS England, said: "The history of surgery is dramatic and often unsettling with stories of terrible human suffering. Yet historic medical collections, like the Hunterian, are also incredibly valuable in giving us a better understanding of our own health and wellbeing and the complex issues that have arisen in the development of the art and science of surgery."
Difficult genius
Ultimately, the museum which bears his name is Hunter's most tangible legacy. However, his contributions to medical and surgical practices go much further. The esteem in which he was held not only by his contemporaries but also those who followed in his footsteps is perhaps best exemplified by his own posthumous journey.
Sixty-five years after his death, Hunter's body was exhumed and re-interred in Westminster Abbey where he still lies under a brass plaque placed there by the RCS England. This memorial notes that he was born in "N.B." (North Britain) and goes on to "record their admiration of his genius as a gifted interpreter of the Divine Power and Wisdom at work in the Laws of Organic Life, and their grateful veneration for his service to mankind as the Founder of Scientific Surgery".
Hunter was a remarkable man, but he was also, like many other hugely successful individuals, a difficult man. One of his assistants described him as "warm and impatient, readily provoked, and when irritated, not easily soothed". Indeed, his temper was legendary and proved to be his downfall. He died, probably of a heart attack, while engaged in a heated argument at St George's Hospital over the admission of students to surgical training.
Hunter was an empiricist, and in his lifetime, he was regarded as the leading teacher of surgical practice. Today, he is indeed remembered principally as the "Founder of Scientific Surgery" and the museum that bears his name, now appropriately refurbished for the 21st century, is a fitting tribute.
Images: Engraving of Hunterian Museum: Wiki Commons; Portraits of John Hunter: Royal College of Surgeons England
Sources
Moore, W. J R Soc Med. 2009; 102: 394–6.
Human Tissue Authority, Code of Practice, Public Display 2021.
Royal College of Surgeons of England, Hunterian Collections
Westminster Abbey: John Hunter
This page was correct at the time of publication. Any guidance is intended as general guidance for members only. If you are a member and need specific advice relating to your own circumstances, please contact one of our advisers.
Read more from this issue of Insight Primary
Insight Primary is published quarterly and distributed to MDDUS members throughout the UK who work in primary care. It provides a mix of articles on risk, medico-legal and regulatory matters as well as general features and profiles of interest to our members.
In this issue