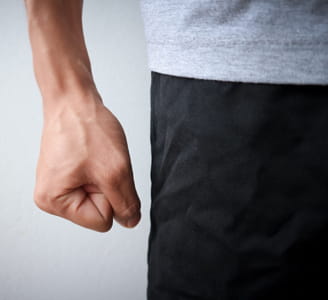 BACKGROUND
PRACTICE manager Ms G contacts MDDUS to ask for advice about writing a warning letter to a patient, Mr L, who has been abusive towards staff. Ms G encloses a draft of the letter she plans to send to Mr L and asks for a medical adviser's help as to what it should include.
In the letter, Ms G briefly outlines how Mr L had been seen by one of the practice GPs to discuss a change to his medication. She says Mr L then returned to the practice that afternoon "in a distressed state" and queried the proposed changes with the admin team. The letter accuses Mr L of being "abusive" to staff and of persistently speaking over them.
In the draft, she reminds the patient of the practice's zero tolerance policy towards physical and verbal abuse that he would have agreed to at registration. She also points out that the NHS does not tolerate abuse towards staff, and patients risk prosecution for doing so. Ms G warns Mr L that any further abusive behaviour would leave them with no choice but to de-register him from the practice.
ANALYSIS/OUTCOME
An MDDUS adviser reviews Ms G's draft letter and suggests some amendments. She encourages Ms G to add more detail to the letter so that the patient can clearly understand what happened in each stage of the encounter and how his behaviour was perceived.
The adviser suggests describing in more detail how staff had tried to help the patient with his request and what they planned to explain to him at the time.
The adviser also suggests adding more specific detail as to what Ms G means by "abusive" behaviour. It is suggested the manager cites any specific types of behaviour that she felt was aggressive, for example finger pointing, raised voice, leaning in towards staff. Were any particular phrases or words used that the team found threatening? Did they feel intimidated by Mr L's behaviour?
To conclude the letter, the adviser suggests emphasising to the patient that physical or verbal abuse will not be tolerated and that the practice may consider further action should patients not comply with this. Finally, she suggests clearly stating that, should the patient repeat behaviour perceived to be intimidating or abusive following this warning letter, then the practice may take steps to remove him from the practice list.
KEY POINTS
Removing a patient from the list is a measure of last resort after appropriate warnings have been given and attempts to restore the professional relationship have failed.
Document the incident, any discussions with colleagues and communication with the patient.
Send a written warning letter and offer to discuss the matter, making it clear that the unacceptable behaviour must not be repeated.
Warning letters should clearly set out details of the perceived abuse, including specific descriptions of behaviour or language used.
Contact MDDUS for more detailed advice on drafting a patient warning letter.
See GMC guidance.
This page was correct at the time of publication. Any guidance is intended as general guidance for members only. If you are a member and need specific advice relating to your own circumstances, please contact one of our advisers.
Read more from this issue of Insight Primary
Insight Primary is published quarterly and distributed to MDDUS members throughout the UK who work in primary care. It provides a mix of articles on risk, medico-legal and regulatory matters as well as general features and profiles of interest to our members.
In this issue