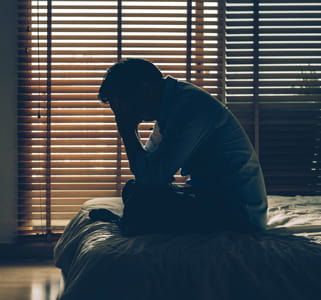 BACKGROUND
Mr K is a 34-year-old salesman and attends his local surgery complaining of episodes of faintness and a "bad taste in his mouth", accompanied by a racing pulse. He mentions a history of epilepsy in the family. The GP – Dr A – finds nothing abnormal on examination, and in the patient notes he speculates on the possibility of reflux triggering the tachycardia. He prescribes omeprazole.
Two weeks later Mr K is back at the surgery with the same symptoms. Dr A orders blood tests and arranges for a 24-hour ECG. He asks Mr K to return in two weeks or sooner if no better.
Mr K attends for follow-up and still reports having periodic "dizzy" episodes, sometimes two or three times almost daily. He also reports feeling unfocused at work and under significant stress, and this has led to low mood and inability to cope. The 24-hour ECG and blood tests have come back normal.
Mr K returns to the surgery two months later still suffering from dizzy spells with a racing pulse. He also reports feeling pins and needles in his right arm. Dr A orders repeat blood tests but Mr K demands a neurology referral.
A referral later is sent from the practice to a consultant neurologist and Mr K attends an outpatient clinic and the clinical notes record: Patient complains of paroxysmal events with rising epigastric sensation followed by neurological symptoms, including dizziness and headache.
Mr K is diagnosed with simple partial seizures and an MRI scan is arranged. This shows a tumour in the left temporal lobe, later identified as an astrocytoma grade 2. Management options are discussed Mr K opts to have the tumour excised. His future prognosis is uncertain as it was not possible to remove the entire tumour and recurrence remains a possibility.
A letter of claim is received by Dr A alleging clinical negligence in failing to make an urgent neurological referral when Mr K reported recurrent symptoms. It further alleges that the delay allowed the tumour to progress from stage 1 to stage 2, leading to a worse prognosis. Mr K has also suffered severe anxiety over the uncertainty caused by his symptoms.
ANALYSIS/OUTCOME
MDDUS acting on behalf of Dr A commissions reports from an expert GP and a neurosurgeon.
The expert GP is critical of Dr A's record keeping in regard to the patient's symptoms – noting a lack of basic details including frequency, duration and extent of the dizzy episodes over time. He also opines that Mr K's recurrent symptoms at the time of the second consultation do suggest a diagnosis of simple or complex partial seizures and thus requiring a neurological referral. Not to do so could be considered a breach of duty of care.
The expert neurosurgeon offers comment on causation (consequences of any breach of duty). He advises that low-grade gliomas are usually managed conservatively by way of surveillance, but even immediate surgery around the time of the first consultation would not have made a difference to Mr K's long-term prognosis, as (on the balance of probabilities) the tumour would still not have been completely resected given its diffuse nature.
The expert also disputes the claim the tumour progressed from grade 1 to grade 2 as a result of the delayed diagnosis. In his view a tumour of that size would have been present for years prior to onset of the simple partial seizures – given the slow growth of grade 2 astrocytomas.
A letter of response is sent to solicitors representing Mr K acknowledging breach of duty but asserting that clinical negligence is not proved as causation has not been established. Lack of causation in relation to the overall prognosis is later accepted by Mr K but he still maintains that there was clinical negligence in that the delay in diagnosis caused avoidable anxiety and suffering.
MDDUS in agreement with Dr A offers to settle in regard to this element of the claim.
KEY POINTS
Claims of clinical negligence require proof of both breach of duty of care and resulting injury and loss (causation).
Ensure clinical notes reflect a clear summary of the history presented, symptoms complained of and justifications behind management choices.
This page was correct at the time of publication. Any guidance is intended as general guidance for members only. If you are a member and need specific advice relating to your own circumstances, please contact one of our advisers.
Read more from this issue of Insight Primary
Insight Primary is published quarterly and distributed to MDDUS members throughout the UK who work in primary care. It provides a mix of articles on risk, medico-legal and regulatory matters as well as general features and profiles of interest to our members.
In this issue