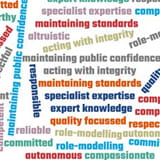 IT almost goes without saying that dentists must behave in a professional manner. But ask any random group of clinicians what "being professional" means and you will likely receive a wide range of opinions. The definition includes, but is very much not limited to, the technical ability to do the job competently. Views can be influenced by many factors, such as the point they are at in their career, their specialty, whether or not they have an educational or training role, and whether they work as an independent practitioner or are employed.
Recently there has been an increased focus on professionalism within both the medical and dental sectors. In their work with Oxford University in 2018, the Royal College of Physicians (RCP) concluded that: "With the changes in the way healthcare is delivered, and doctors are perceived, we need to update what we understand by the term professionalism." In August this year, the General Dental Council (GDC) published the results of its own research study* on professionalism and the findings reinforce the concept that professionalism is multifaceted and context-dependent. Expectations about professionalism are also different for dentists and for patients, with some areas fairly clear cut and others less so.
In the 20 years I've worked at MDDUS I have certainly noticed a considerable evolution in the expectations of dentists (in both their professional and personal lives), regulators and patients.
Some of this is related to societal change. Patients nowadays have access to far more information and options, and so are more likely to shop around. The recent GDC findings show that for patients, particularly those with children, clinical competence and safety is of primary concern. Social media has led to more readily available ways to seek and share views about a particular dentist, their practice or their services and can be the primary source of information to patients or potential patients about a dental practice.
Social media also plays a greater part in dentists' personal and professional lives – whether they actively engage or not. If you have a personal social media profile, I'd be surprised if you have never been approached in this way by a patient, perhaps prompting you to consider the issues associated with blurring your personal/professional boundary with that individual.
For practice owners, the financial, legal, regulatory and ethical issues associated with running a business can also come under scrutiny in ascertaining a dentist's professional values, behaviours and relationships. Exchanging money for a service adds a dimension of challenge to professionalism and in some cases the pressure to maximise income can conflict with the best interests of the patient.
All of this means dentists must regularly review the way in which they practise 'professionalism', not only to stay up to date with the latest regulatory guidance, but also to remain in tune with the prevailing expectations of society, and their colleagues.
Exploring professionalism
In our online member courses on professionalism, we explore these challenges in three parts:
the responsibilities of a dentist when things go wrong
the expectations set out on personal conduct
maintaining professional boundaries with patients and colleagues.
Firstly, as professionals, dentists have a duty to raise concerns about patient care, even if this may be difficult. This may relate to a clinical task/responsibility and perhaps also to a colleague's mental/physical health or behaviour. Doing the right thing is not always easy.
In the event of a patient safety incident, a dentist's professional duty of candour requires that responsibility is accepted, lessons are learned and that patients are informed/supported. If you are employed, you will likely have to engage fully to meet any contractual or organisational requirements in relation to the statutory duty of candour, particularly in the event of more serious incidents. In these circumstances, it is important to seek advice from MDDUS to mitigate any personal or regulatory risk.
Secondly, dentists must not forget their professional duties relating to personal conduct. There are instances outside the workplace where you are required to self-report to the GDC in line with Principle 9 of their Standards guidance.
Prime examples include matters involving:
probity health
drug misuse (particularly in the case of self-prescribing) performance
criticism by an official inquiry in relation to convictions.
There are pitfalls for dentists in relation to personal or professional use of social media, including dealing with criticism of your own practice and that of colleagues.
Maintaining boundaries is another key area of professionalism. Common causes of complaint include a failure to manage professional and patient relationships appropriately. Accepting gifts from patients can also be fraught with difficulty.
Across all of these requirements, understanding how to communicate effectively is key to mitigating risk. 'Effectively' in this context includes the use of empathy and challenge, as well as clarity to ensure situations are understood by all.
Leader's role
For those in a leadership role, you have an additional responsibility to create conditions within which dentists and other members of the team are supported to behave professionally. In my experience, barriers to professional behaviour include:
professional isolation
challenging team and organisational cultures, leading to diminished resilience fear of raising concerns
discomfort about reflective practice.
By offering our members access to online courses on these topics, we can remove another of the biggest barriers to meeting regulatory professional standards: lack of awareness.
If you would like further advice or guidance, contact our advisory team on advice@mddus.com
Liz Price is senior risk adviser at MDDUS
*GDC. Professionalism: A mixed-methods research study. August 2020
This page was correct at the time of publication. Any guidance is intended as general guidance for members only. If you are a member and need specific advice relating to your own circumstances, please contact one of our advisers.
Read more from this issue of Insight Dental
Insight - Dental is published quarterly and distributed to MDDUS members working in dental practice throughout the UK. It provides a mix of articles on risk, dento-legal and regulatory matters as well as general features and profiles of interest to dentists.
In this issue