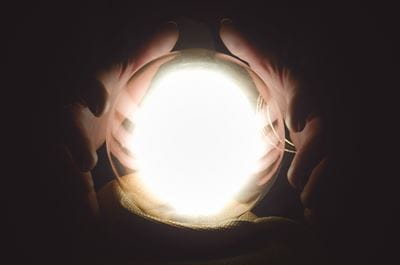 MANAGING MDDUS is a job that encourages both looking backwards and looking forwards.
We talk about offering lifetime protection. So that means having a lifetime perspective, not just in terms of the financial adequacy of the company but about all the legal and healthcare changes that happen over the full length of our members' careers.
Looking to the past
We have to look backwards because so many of the claims and regulatory affairs that our members bring to us happened some considerable time in the past. Piecing together precisely what happened is not always easy. And, quite often, it's not a matter of simply piecing together the facts of the individual clinical interaction. We need to know the context in which it occurred. Organisations may have changed in the intervening period. So might protocols and regulatory expectations. What would be considered normal and reasonable now might not have been a legitimate expectation not too far away in the past.
Predicting the future
But we also need to look forward as well. How do we think medicine and dentistry will evolve? We don't mean just at the level of new treatments, but healthcare management generally. Will doctors and dentists do less routine work which might be passed to nurses, physician associates, technicians and hygienists? If that happens, what will be the expectations of supervision and who will be in the frame when claimants' solicitors allege that something has gone wrong? What changes to legislation might be on the cards and how might they affect our subscriptions?
So, for that reason, we spend a fair amount of time crystal ball gazing. It's why having a mixed board of directors comprising equal experience from clinical professionals and commercially experienced people is so important to bring different perspectives to bear. It's why we seek to learn from best practice internationally. James Parker, our finance director, and I were recently in Salt Lake City for the annual conference of the Medical Practitioner Liability Association, which was, amongst other things, considering the potential impact of telehealth and big data, both of which absolutely start to crystallise questions of who precisely is responsible for precisely what, as between individuals and organisations. US litigation trends can quite easily cross the Atlantic, so this provides invaluable early warning to us.
Challenges of the present
There is a danger, however, that in looking back and forward, we forget our members' experience and challenges in the present. Should we ever be tempted to do so, however, the results of our recent members' survey absolutely bring us up short. In my almost 40 years in and around healthcare, the law and insurance, I can fairly say that I have never seen a time when the professions face the level of stress, aggression and exhaustion that our survey records.
We have long Covid at an institutional and systemic level. But the psychological consequences of the pressures of the pandemic are also taking a long time to play out for individuals. That's why we have put our new YourHalo wellbeing service in place. It's why we continue to press both government and regulators to maintain their helpful, but not yet well communicated, stance of ensuring their complaints and regulatory hearings properly reflect the conditions at the time of the pandemic. And it's why we also join the BMA in pressing for action to learn the practical lessons about organisation, supply and workforce impact, especially in relation to minority staff groups, so that the system as a whole is far better prepared for the future.
So, while we have to look both back and forwards in order to support you as effectively as we can, we won't ever let that important intellectual work get in the way of doing what we do best: providing the support you need today in the way you need it, with both the clinical and legal expertise to hand – and the new pastoral resources also there to be used in a way that may not have been essential in the past, but certainly is today.
This combination of lifetime perspective and comprehensive support is what we at MDDUS offer in a way that certain commercial insurance competitors never can.
This page was correct at the time of publication. Any guidance is intended as general guidance for members only. If you are a member and need specific advice relating to your own circumstances, please contact one of our advisers.
Read more from this issue of Insight Dental
Insight - Dental is published quarterly and distributed to MDDUS members working in dental practice throughout the UK. It provides a mix of articles on risk, dento-legal and regulatory matters as well as general features and profiles of interest to dentists.
In this issue