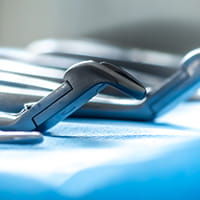 BACKGROUND
A software engineer Ms R attends her dental surgery complaining of pain in her upper right jaw. Dr C examines the patient and notes gingival swelling around UR8. A periapical radiograph reveals tooth decay and Dr C advises extraction.
Dr C notes that the roots of UR8 show a slight distal curve and are in close proximity to the maxillary sinus. The radiograph also shows some bone loss suggestive of gum disease. Ms R is nervous but agrees to extraction and attends five days later for the procedure. Sedation is offered but the patient opts to have local anaesthetic.
Dr C undertakes the extraction but during the procedure the maxillary tuberosity fractures and the tooth cannot be extracted without extensive damage to the surrounding tissues. An offer is made to splint the teeth together and arrange an urgent referral to an oral surgeon. Ms R opts to phone a friend and is driven to A&E. She is advised to bite down to keep the tooth and tuberosity in position.
Notes from A&E record a mobile upper right wisdom tooth and palatal laceration. A review appointment is arranged for the next day. An OPG (plain rotational tomogram) radiograph confirms extensive decay in UR8 and a fractured tuberosity. A further attempt at extraction is advised under the care of a specialist oral surgeon.
A week later Ms R attends the dental hospital. Local anaesthetic is given and UR8 is removed along with the attached fractured tuberosity.
A review appointment six weeks later finds that the area has "healed well with no signs of oroantral communication and full gingival closure at the extraction site". Ms R reports some post-operative pain but this is "as expected".
A letter is later received by Dr C from solicitors acting for Ms R and claiming clinical negligence in her care. It is alleged that Dr C breached his duty of care in failing to obtain informed consent for extraction of UR8. The letter states that Ms R should have been given specific warnings regarding the risk of a fractured tuberosity and there is no evidence in the records that such risks were discussed.
It is further alleged that had proper information been provided Ms R would have insisted on being referred to an oral surgeon for the procedure and the tuberosity fracture (and associated pain and distress resulting from this and the necessary second procedure) would have been avoided.
ANALYSIS/OUTCOME
MDDUS commissions an expert report from a dental surgeon. He reviews the patient records, letter of claim and a statement from Dr C. He concludes that the fractured tuberosity was an unfortunate and unforeseen complication of what was otherwise generally accepted to be a routine procedure, and the complication was managed appropriately.
However, the expert does question whether Dr C should have been more explicit in his discussions with Ms R regarding warnings of potential complications, including the possibility of an OAF (oroantral fistula) or tuberosity fracture.
The expert cites the ruling in the 2015 case of Montgomery v Lanarkshire Health Board which addressed the legal requirements around the consent process. The judgment states that a clinician is "under a duty to take reasonable care to ensure that the patient is aware of any material risks involved in any recommended treatment, and of any reasonable alternative or variant treatments".
The expert considers that the possibility of tuberosity fracture is a material risk of the procedure and therefore should have been discussed with Ms R during the consenting process. Given that Dr C cannot recall the specifics of his discussion with Ms R regarding potential risks and the absence of any record of such discussions within the patient notes, it is agreed that (in protecting the reputation of Dr C) MDDUS has no alternative but to negotiate a modest settlement of the case with no admission of liability.
KEY POINTS
Ensure patients understand the "material risks", benefits and alternatives of treatment options, making a good record of the conversation in the patient records.
Adequate patient understanding in discussions of consent is judged from the perspective of a "reasonable person in the patient's position".
Not all claims can be defended. Where a breach of duty is obvious or the case is likely to be difficult to defend due to a lack of evidence in the records, it can be prudent to negotiate an early settlement to prevent legal costs becoming excessive and disproportionate and also to provide closure for the dentist involved.
This page was correct at the time of publication. Any guidance is intended as general guidance for members only. If you are a member and need specific advice relating to your own circumstances, please contact one of our advisers.
Read more from this issue of Insight Dental
Insight - Dental is published quarterly and distributed to MDDUS members working in dental practice throughout the UK. It provides a mix of articles on risk, dento-legal and regulatory matters as well as general features and profiles of interest to dentists.
In this issue