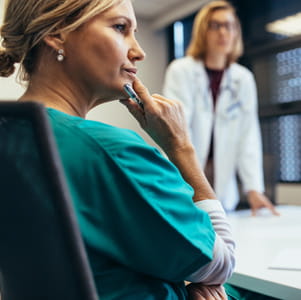 MOST of us don't like to be criticised or challenged about our performance or behaviours. Despite our best intentions, such encounters can quickly disintegrate into defensive and unhelpful interactions. While avoiding potentially awkward discussions with colleagues might seem like a good idea, failing to speak up can harm patient care.
Evidence suggests that in teams where regular positive and negative feedback is given across the group:
difficult issues are addressed earlier
individuals are more likely to disclose problems and receive swift help
people are less afraid to challenge
effective relationships are built up more quickly.
These are important factors in delivering safer patient care.
Doctors have a responsibility to raise concerns if patient safety is at risk. Whilst it can be difficult, most clinicians find the courage to challenge colleagues when there is an imminent clinical error. Behaviours that are most difficult to address are often those which are less immediate, but more pervasive in terms of their effect on you, the team, or patients. This article will explore how to plan your approach to maximise the chance of a successful outcome. It will also look at how best to deliver feedback as a junior doctor, including the tricky dynamic of raising issues with senior colleagues.
Assessing risk
As a junior doctor, you will have received feedback about your performance, and perhaps been challenged about your behaviours: "you were too abrupt with that patient" or "you didn't consent the patient properly and that wasted our time". Consider how the feedback was given – was it valid? Just? Constructive? What were your emotional and cognitive responses – did it make you feel uncomfortable, or even angry? Did you leave the encounter understanding what was expected of you? It's likely that not all of your feedback experiences will have been pleasant.
To decide on whether or how to address issues, ask yourself these questions:
How much do you want to tell the person about your concerns? Is the issue making you unhappy or causing you/others to underperform? If it is not important in relation to patient care, is it your responsibility to raise the issue? If it's not, decide whether the risk of a negative response is worth taking.
Is there a culture of providing feedback within the team or do individuals tend to avoid challenging each other, meaning your feedback is then more likely to cause surprise? Providing regular praise has been shown to make it easier to accept criticism. Has a senior colleague asked for feedback in the past? Ideally, clinical leads would give juniors a safe space or "permission" to offer feedback. If they have at least mentioned it, they are likely to understand the value of receiving feedback from a junior colleague – even if they find it hard to swallow in the moment.
What is your level of trust with the individual? If high, it is more likely that feedback will be valued and responded to positively - even if only after they have time to reflect.
Do they seem like the type of person who would retaliate if they don't like what you have to say? Maintaining a good working relationship is important. You may have observed that they are happy to receive feedback on some areas of work/behaviour but not others. Concern about this is not a valid reason to avoid challenging your colleague but it's crucial to do it carefully.
Constructing feedback
What we might classify as "constructive feedback" can still be hurtful to someone who feels they are trying their best while working under pressure. It is essential to "construct" a feedback encounter with care. You should:
Think about when and where you will have the conversation. As soon as possible after an incident or issue arises is good practice. Ensure it is done privately and when the person is less likely to be distracted or exhausted.
Start by asking if it would be okay to share some thoughts or insights with them. Alternatively, you could say that you would like to have a chat about something, and ask if you can schedule a time to talk.
Find a way to acknowledge the positive aspects of your relationship or normal behaviours.
Avoid subjective feedback and generalisations. Do you have specific evidence or recent examples to back up your position?
Resist spontaneity unless a positive feedback culture is already in place or there is a high level of trust between you. Choose your words carefully and focus on the specific evidence, aspect of the task, or behaviour that is causing the problem. Focus on the future, not the past. It can be useful to write down and rehearse in advance what you plan to say.
Be selective in what you choose to raise and stick to the issue(s) that matter. If a feedback culture is in place there's more likely to be only one thing that is being raised. This can be less threatening - particularly against lots of positive feedback encounters.
Focus on problem solving and actions. Use 'I' statements such as "I would appreciate more support in…." or "When you are telling me about X, could you also include Y details, as this would stop me having to bother you with minor questions".
Encourage the person to articulate any points of disagreement with the feedback. It may not be obvious how much pressure or other issues they are experiencing.
Highlight a potential personal benefit for the senior colleague in changing behaviour if you can. For example, a change by them might prompt a change in others' responses to them, or their ability to perform more effectively, which will make their own life easier.
Stick to your script. Allow the other person to process what you're saying but try to politely bring them back round to the issue at hand before the encounter ends.
Learning to give feedback is an important aspect of developing your skills as a doctor. Carefully considering the nature of your feedback as well as how, where and when it is delivered using the suggestions above will help. You may not always get the response you would have liked in the moment, but you will perhaps get the person thinking and possibly open an ongoing dialogue. This will help the personal development of all parties, fostering a better working relationship, and potentially improving patient care.
Liz Price is senior risk adviser at MDDUS
This page was correct at the time of publication. Any guidance is intended as general guidance for members only. If you are a member and need specific advice relating to your own circumstances, please contact one of our advisers.
Read more from this issue of Insight Primary
GPST is published twice a year and distributed to MDDUS members in GP training throughout the UK. It provides a mix of articles on risk, medico-legal and regulatory matters as well as general features and profiles of interest to trainee GPs. Browse all current and back issues below.
In this issue