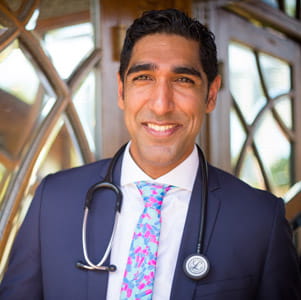 AHMED Kazmi was struggling. A UK general practitioner working then in Perth, Australia, he had just lost his father to lung cancer. The grief combined with the weight of professional expectation – the "juggling act" of clinical duties and a lack of support – began to take a toll. He decided it was time for a change.
Ahmed reduced his working hours to take up a "hobby unrelated to my vocation" – stand-up comedy.
"Well, I had many patients who would say to me 'You are really funny'. And I had always used humour in my consulting style. So I thought why not make that a springboard?"
To most that might seem a fairly slim limb on which to risk a major life change (and only "after unsuccessful attempts at becoming a pole dancer and instagrammer respectively," he adds) – but then Ahmed Kazmi is certainly not lacking in confidence or talent.
He decided to create a stand-up routine based around being a doctor: "something playful and entertaining while remaining respectful to patients and the profession".
"I would write down anecdotes, stories, concepts and distil them into spoken word segments. Then I would read them out loud with friends and decide which lines to keep."
His debut was pitched as a charity gig "so even if it was terrible, something positive would come of it".
The result was the comic persona Dr Ahmed, with his comedy cabaret Doctor in the House: What your doctor really thinks.
"It debuted in this tiny back room of a restaurant in Perth to around 80 people – and it went really well. I got amazing reviews. People were queuing outside the door. I had to extend the season."
The routine included things that "drive doctors up the wall" like patients wearing skinny jeans when they need a knee examined, or consulting Dr Google for un-vetted "lifestyle" websites offering medical advice.
"That's like using a tabloid newspaper to revise for an economics exam."
He also writes: "If I had a dollar for every time someone wanted a repeat medication but didn't know the name of their medication, I would not be driving a 1997 Toyota Corolla. Describing your medication as 'white and round and with a line down the middle' doesn't help me either."
Dr Ahmed later embarked on tours in Australia and the UK, appearing at the Melbourne International Comedy Festival and the Edinburgh and Bristol fringe festivals, with sell-out shows raising over £12,000 total for various cancer charities.
Comic healing
Ahmed did not come from a particularly "funny" family – or so he claims. He was born in Canada to "migrant" parents. Both were professional people although artistic.
"Everyone in my family has a performance side. Both my parents were poets in Urdu and they actually published books. I have three siblings; two of them play instruments in bands. But they have gone on to have normal sensible jobs. I was the only who was like – I want this to be more than a hobby. I was very academically focused when I was younger but then later I thought: life is about balance and if you have the desire to pursue performance art there should be no obstacles to that."
Ahmed had studied medicine at the University of Birmingham and spent his junior doctor years in London before completing GP training in his home county of Warwickshire. His move to Australia in 2014 was in part due to disillusionment over NHS policy towards general practice – but he returned to London in 2016 to work as a GP and specialty doctor in dermatology in a clinic at Ladbroke Grove.
Buoyed by his success on the fringe circuit, Ahmed set about planning a London debut. A venue was booked, new material written, music arranged – and then two weeks before the gig, tragedy struck his practice community. Less than a kilometre from the clinic, fire gutted Grenfell Tower with the loss of 72 lives.
Ahmed later wrote: "I struggle to describe what I saw without getting emotional…The pathology is on a community level. How do you treat an entire community for bereavement? I did not receive that lecture at medical school. Grenfell bleeds into every consultation, whether they come for a repeat prescription, for backache, or for insomnia."
He described weeping with patients expressing their joy at finally being released teeth and bones to bury.
Ahmed also faced another dilemma. Should he cancel the performance? "All the patients I spoke to said 'we want you to do the show and we think it will bring some joy to us'."
So he decided to invite Grenfell residents and the emergency services who helped during the incident as guests of honour. In the show he paid tribute to everyone affected, including the talented photographer Khadija Saye who tragically died in the fire. All the profits from the event went to the Grenfell dispossessed fund and raised over £2,000.
"It was this really beautiful evening of healing and bonding and laughter."
Love heckling
Playing such a gig would certainly daunt most comics but it was in many ways not so far removed from the basic intention in Dr Ahmed's brand of comedy.
"I love humour with a point. I want people to be entertained and happy but there has to be some sense of purpose. I want to make doctors more three-dimensional, to connect with people outside the consulting room.
"I played a few different venues at different time slots and realised that late-night slots don't suit my humour. They tend to be more drunken. I don't really swear… So it's a bit wholesome, like family humour.
"I get loads of hecklers but I call it love heckling. People usually shout out nice things, fun things, praise."
Does he worry about any conflict with the professionalism required in the day job, given the "edgy" nature of most comedy?
"I market myself as a doctor-comedian – I feel like I am representing my profession as well as myself. And I'm still practising medicine which is different from some of the other medical performers out there.
"So I've always crafted my show and my style such that people would still want to see me as a doctor after the show, or feel proud that I was their doctor or medical colleague. No one would feel like their story had been divulged or manipulated."
Confidentiality is certainly a big issue for Ahmed. "In my show I don't discuss any real-life individual circumstances. They are all general anecdotes. I am not discussing any real individual cases."
No guilt
Another issue Ahmed feels passionate about – and one that resonates with his own experience – is that of wellbeing and the weight of expectation on the profession. He is often asked to speak on the topic at conferences, medical schools, GP training schemes, LMCs and other organisations. He is also contributing to a formal wellbeing initiative with the RCGP.
"I love medicine and I love my career but I feel that when you're younger no one says that you are allowed to balance that with your own needs. I have learned that lesson myself getting older and now I feel a bit evangelical about it.
"I want to tell other doctors and colleagues that you are allowed to craft a path for yourself that is good for the healthcare system and good for you. The two things can coexist.
"There is no guilt in taking a day off or going on holiday. There is no guilt in finishing on time. None of these things mean you are giving poor care.
"I like to remind people gently that if I want to be a singing, dancing, comic, GP dermatology doctor, that's fine."
Jim Killgore is an associate editor at GPST
Image: Jeff Robson
This page was correct at the time of publication. Any guidance is intended as general guidance for members only. If you are a member and need specific advice relating to your own circumstances, please contact one of our advisers.
Read more from this issue of Insight Primary
GPST is published twice a year and distributed to MDDUS members in GP training throughout the UK. It provides a mix of articles on risk, medico-legal and regulatory matters as well as general features and profiles of interest to trainee GPs. Browse all current and back issues below.
In this issue