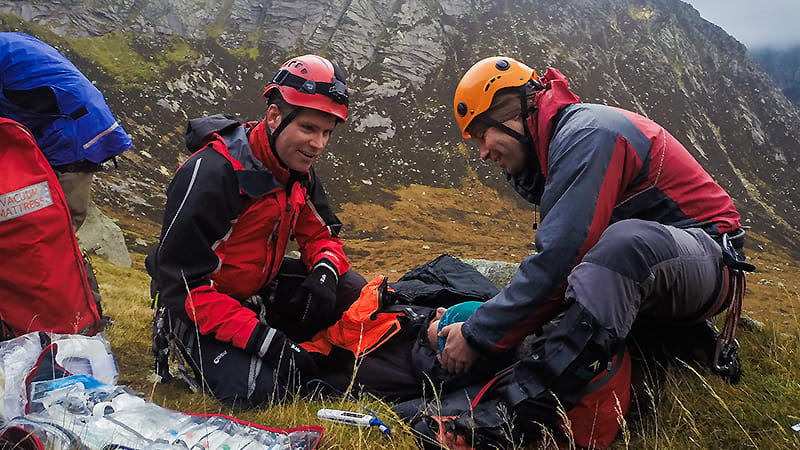 WHAT'S the difference between the skeleton of a seal's flipper and a human foot? With a new-found respect for the range of anatomy required by vets (not just one species!), this is the question I found myself entering into Google at the end of a busy Saturday on call.
Such is rural practice. We provide a wide spectrum of medical care on Arran. It's hugely stimulating, often challenging and occasionally daunting. The limitations imposed by being the only doctor on-call, or by transport logistics of ferry or helicopter, are relatively blatant. However, our patients tend to be understanding – whether residents or visitors – and an acceptance of the need to find common sensibility in dealing with medical uncertainties can be a helpful element of pragmatism from which to manage patient expectation.
Unusual find
This particular day had been sunny, and that meant people getting out, exploring Arran's many caves, mountains, lochs and bays. These days tend to be enjoyable, the medical variety plentiful. Numerous minor injuries with folk falling off things. The occasional forgotten medication. A cyclist or two with fractured clavicle or similar.
So whilst I was keen to get home, a walk along Kildonan Beach at the end of the day under my role as (deputy) forensic medical examiner wasn't too taxing. It's a role we all share as GPs here. We don't profess to be forensic experts (higher tariff forensic examinations are transferred to those who do it more often) and we are careful to work within our competency. The police had been alerted to a 'human foot' discovery by a passing nurse. Such finds have, I understand, not been too uncommon: Kildonan Beach is in a perfect tidal position for attracting various fishing and yachting paraphernalia - along with the occasional body part (animal or otherwise). However, it's also called 'Seal Shore' for the hundreds of seals who make it home each year.
Thankfully I had been given some intelligence. Since the initial police response, they reckoned the body part belonged to a sadly deceased seal pup. But they wanted 'the doc' to provide official confirmation of this. Google is great for situations like this.
I arrived on site to find a scene similar to those on the TV series Taggart. A 200 metre exclusion zone had been set up with police tape to preserve any evidence and an officer escorted me to the offending part. There was the trousersuited CID detective whose team had come over on the earlier boat. She seemed slightly amused with the incongruity of her attire, having trekked the short distance off the beaten track. The police photographer had at this point changed his focus from capturing the evidence on film to taking some great landscape shots from the beach, presumably for his personal collection.
There was relief all round – albeit with an air of respectful sympathy – when I confirmed quite confidently that the article was indeed from a young seal. Likely to have suffered its demise through disease or a fight.
Wide-ranging care
Rural practice is a hugely privileged way in which to stretch yourself across many different medical situations. It is not unusual for a day to involve providing end-of-life care whilst a baby is being delivered upstairs in our community hospital, along with dealing with several minor and perhaps a more major trauma situation. And this after a typical day in general practice, with all the QOF points, ASSIGN scores, ideas, concerns and expectations that it brings.
Rural practice has been described as "being the doctor you wanted to be"; it allows an implicit connection with your community, including an understanding it's fine to be 'normal' and to buy crisps, beer and wine in the local supermarket without fear of criticism, or being seen occasionally looking worse-for-wear after a busy nightshift. Ninety per cent of what we do is the same as any other GP practice, but the other 10 per cent frequently extends into uncharted fringes of general practice that don't easily sit in the MRCGP curriculum.
The flexibility and autonomy that this brings is particularly rewarding. Procedures are done because they make sense, and often when there is no alternative. My first hip block, below-knee backslab, intranasal diamorphine, ultrasound scan and helicopter retrieval escort were all borne through necessity. No one else was around to do them and, helped by a supportive relationship with our mainland A&E and other secondary care colleagues, sometimes you can do good without risking harm. This isn't for the protocol-obsessed nor medical-lawyerfearing practitioner. We're not cavalier, but we do feel that we can do things because we have a generalist approach which isn't easy to find in centres with wider access to resources. I am the doctor I wanted to be.
Our students and trainees pick up on this too. One recent student had been on placement at Scotland's busiest A&E unit. He commented – admittedly on a particularly demanding afternoon – that our community hospital was the busiest department he had seen in his university experience.
But it's not all like that. Living amongst some stunning scenery is a big draw - we have an adventure playground on our doorstep, with opportunities for sailing, mountain biking, paragliding, canoeing, golfing and more. There is the frustration that sometimes we're looking at this playground whilst tethered to a pager or phone signal - but what a place to be based for this work. We have a good team on Arran, so our on call is "one in eight" and the good links to the mainland allow for a relatively easy escape to the world of enhanced consumerism and the opportunity to buy pitta bread crisps which haven't made it to Brodick Co-op yet.
Continuity
Integration is integral to our work. It's interesting to compare our community hospital interface with that of secondary care. If our GP appointments are not accommodating enough to same-day concerns, patients will end up at A&E - but as we provide that service too, we're quick to feel the brunt of this. Fortunately, the control we have in designing our GP service gives us autonomy to find a decent fix. Similarly, it is not uncommon to discharge our patients (perhaps after cholecystitis, pneumonia, exacerbation of asthma or unstable angina) with a GP appointment to come and see the same admitting doctor a week or so later. It remains normal to witness the trajectory of illness here, for example from home visit, to A&E, to admission, to discharge, to community follow-up. As a teaching resource this is very powerful stuff.
Our patients do receive an excellent service and I suspect that is fuelled perhaps by an increased level of accessible accountability. We're reliant on some of our patients for car mechanics, banking or dentistry, so a reciprocal reliance exists which means that any superficial service is quickly scratched away. Personal experience is that an honest mistake (and a commitment to learn from it) will attract support and understanding of the perils of medical uncertainty, and not (yet) the "no-claim-no-fee" lawyer's letter which threatens to make medicine hugely defensive.
The scope of rural practice is truly rewarding and there are opportunities such as the GP Rural Fellowship scheme which can offer supported and helpful stepping stones from GPST to rural medicine.
The answer, by the way, is that a seal's flipper has interdigital tendons which in the above case confirmed the fact that the body part was not human. Rural practice, in partnership with Google!
Dr David Hogg is a GP principal at Arran Medical Group
Find him on twitter @davidrhogg, and at RuralGP.com
This page was correct at the time of publication. Any guidance is intended as general guidance for members only. If you are a member and need specific advice relating to your own circumstances, please contact one of our advisers.
Read more from this issue of Insight Primary
GPST is published twice a year and distributed to MDDUS members in GP training throughout the UK. It provides a mix of articles on risk, medico-legal and regulatory matters as well as general features and profiles of interest to trainee GPs. Browse all current and back issues below.
In this issue