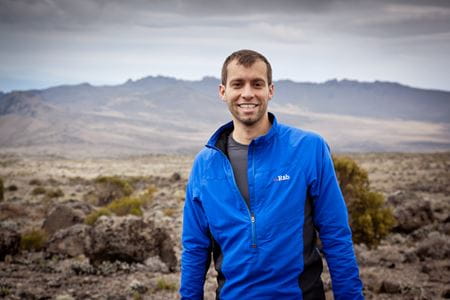 PARAGLIDER and aviation fanatic Dr Matt Wilkes really is flying high. Not only do his own adventurous pursuits take him skyward but his career does too, having worked as a flying doctor treating patients across Africa and jetted to far-flung countries for his remote medical missions.
It was whilst studying at medical school 15 years ago that Matt, then aged 21, enjoyed a life-changing research trip to Bolivia. It was there he realised he could combine his zest for adventure with his professional ambitions by pursuing a career in remote medicine.
Just days after returning from a three-month stint in Nepal, the registrar from Edinburgh tells FYi: "I was delighted you could mix medicine with adventure and science, so through university, and ever since, I have made that my focus."
Privilege
Now in year five of seven of his anaesthesia training, the doctor – who has taken two career breaks – has been to New Zealand, Africa, Bolivia, India, Colombia and Nepal.
During one memorable trip, he helped to evacuate peacekeeping troops from Somalia while working as a flight physician with East Africa's AMREF Flying Doctors. Matt describes it as a "dream job" and recalls flying in three different types of aircraft to 13 countries, including to Mogadishu and the Kenya-Somalia border. "I was able to see an aspect of medicine that I would not have seen otherwise, not being a military doctor, " he says.
The tough conditions are a far cry from his work in NHS hospitals and, Matt says, serve as a "constant reminder of how privileged we are." The experience also hones his skills as a doctor. "Practising in different places helps clarify what works and what we do simply according to tradition," he says. "Working in different contexts highlights the elements of practice that are universal and effective."
Worthwhile work
While in Nepal as a volunteer doctor with the International Porter Protection Group (IPPG) his main remit, along with that of his GP wife Ellie, was to treat trekking porters in the Everest region. The group was set up in a bid to improve the working conditions of porters, who are often poorly equipped and paid a minimal wage.
The common theme of his work there was high altitude illness – and everything from coughs, colds and travellers' diarrhoea, to treating local children.
Matt says: "The porters carry up to 30kg but most are lowlanders rather than Sherpa, so are no more adapted to altitude than you or I. They can get really sick, so it felt like worthwhile work."
During one dramatic night, he had to care for an 18-year-old porter who was brought unconscious to the room where Matt and his wife were sleeping at 3am.
Matt says: "He had fluid on his brain, causing it to swell and increasing the pressure within his skull. Left untreated it could have been fatal. My wife and I gave him medicines and oxygen and about 90 minutes later, he was talking again. We were then able to evacuate him further down the mountain."
Unpredictable
"Extremely fortunate" is how Matt feels when he reflects on the direction medicine has taken him. However, his expeditions are not always without personal difficulties. At the end of his Nepalese adventure, he was struck down with such severe diarrhoea and vomiting that he ended up in hospital. Playing down the experience, he says: "I got excellent care in Kathmandu and it didn't last very long."
Though he has found himself in risky situations, Matt says he has never felt directly in danger, because he always makes sure he is with "people who are also interested in their own self-preservation."
An interest in self-preservation may not have been particularly obvious when Matt applied to join the medical team on an ambitious charity trip that was to see 110 paraglider pilots and almost 700 porters climb Mount Kilimanjaro, camp on the summit and then paraglide off the top to a nearby town. The 2014 Wings of Kilimanjaro project raised $1,000,000 and presented Matt with an enormous logistical challenge.
He was tasked with assembling a medical team and drawing up an expedition plan for tackling altitude illness, infectious diarrhoea, logistical problems and trauma. Medically the trip was a success, but bad weather ultimately forced the cancellation of the paragliding.
Despite the disappointing outcome, Matt describes it as "a huge learning experience" that did much to set him and his colleagues up in the world of expedition medicine. It also underlined the motto of one of Matt's fellow adventurers who told him: "It's not an adventure if you know how it is going to turn out."
Time out
When he is not adventuring, Matt is a registrar in anaesthesia and critical care in Edinburgh. His pathway to becoming a consultant has been delayed by his expedition work, but the 36-year-old has no regrets.
He says: "I left training at ST5 as I couldn't fit my interests in remote medicine around NHS training. Had I not done all the adventurous stuff, I would have finished three years ago.
"I am delighted with my decision – my mum isn't!" he laughs. "I think some colleagues take pity on me because I have not achieved the traditional career milestones, but most have been really supportive."
Regularly asked for career advice, Matt and Ellie launched the website and online magazine, Adventure Medic, to showcase the wide range of opportunities for healthcare professionals. From a first-person piece by a doctor who cycled across six continents to looking after veteran broadcaster Sir David Attenborough on a hot air balloon trip to the Swiss Alps, the features are as diverse as the couple's own careers.
For those inspired to take their medical career in a different direction, Matt says: "Have an honest think about what you would genuinely like to do. There is so much expectation from other people, it is often hard to tease out what you really want out of your life and career.
"I think we suffer from 'CV-itis' in medicine, we do so many things because we think it will be good for the CV, but are you actually going to enjoy the process? And will it be good for you? Speak to as many people as possible – they will almost always be more approachable than you think."
In the short-term Matt is working on a PhD in altitude physiology (part of the Free Flight Physiology Project), while Ellie is planning a trip to Africa to work in women's health. Longer term, he will return to finish his specialty training.
"I am living my life in a way that I believe to be fulfilling and worthwhile and I would hugely recommend taking time out of training to anyone with similar goals – just don't expect to become a consultant any time soon!"
Kristin Ballantyne is a freelance writer based in Glasgow
PHOTO: Dr Matt Wilkes on Mt Kilimanjaro (courtesy of Matt Wilkes)
This page was correct at the time of publication. Any guidance is intended as general guidance for members only. If you are a member and need specific advice relating to your own circumstances, please contact one of our advisers.
Read more from this issue of FYi
FYi is published twice a year and distributed to MDDUS members in Foundation Year 1 and Foundation Year 2 training programmes and final year medical students throughout the UK. It provides a mix of articles on risk, medico-legal and regulatory matters as well as general features and profiles of interest to trainee doctors. Browse all current and back issues below.
In this issue