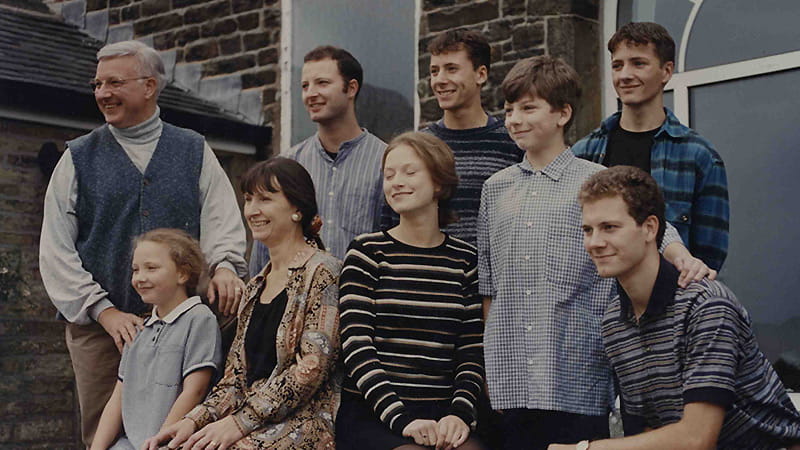 GEORGE Lye knew he wanted to become a doctor at the tender age of 16 when he first watched his father perform surgery to remove a brain tumour.
Now a 26-year-old foundation year 2 doctor at St George's hospital in London, George still remembers observing his dad, the neurosurgeon Mr Richard Lye, from a viewing area at the Royal Preston Hospital. It was an experience that cemented his desire to study medicine and helped steer him on his path towards one day becoming a surgeon himself.
There seems to be an almost hereditary element to the practice of medicine in some families – a desire passed down from parent to child like a family heirloom. George Lye grew up surrounded by medical influences and his choice to take up the profession seemed to him only natural. It was not just his accomplished father (sadly deceased in 2000) who inspired George but also his cousin Rachel Blackshaw who is an anaesthetist, his grandfather John Archibald who worked as a GP near Manchester and also served in the army medical corps in World War 2, and his great-grandparents who were both GPs in Glasgow in the early 20th century. George also qualified at Glasgow University and is now looking to start work as a specialist trainee in the field of head and neck surgery.
"When I was growing up, my dad always made it clear to me and my four brothers and two sisters how tough it could be as a doctor," says George. "He never wanted to glamorise it, but I knew fairly early on that I wanted to study medicine.
"I remember one Christmas when I was only about five-years-old and my dad took some of us into the hospital during his ward rounds to let my mum, Nanette, get on with things in the house. We would see all these patients with really bizarre contraptions on their heads. It was quite a sight for a kid, but it never put me off. I was about 16 when I knew I really wanted to be a doctor, so he let me observe a couple of surgeries and I would watch procedures like brain tumours being removed.
"My dad didn't get to see me start medical school but he knew that was where I was headed and I think he'd be pleased that one of his children is in medicine."
Generations of care
Four generations of doctors is exceptional enough but one of Britain's longest-running medical dynasties recently came to an end in the town of Marlborough, Wiltshire. There has been a Dr Maurice serving the community there for 217 years. But when Dr David Maurice stepped down from his post as GP last August, this remarkable tale of dedication came to a close. Dr Maurice's family have had a surgery in Marlborough for six generations, but he has decided to finally hang up his stethoscope to focus on his other vocation as an ordained deacon in the Church of England.
The first Dr Maurice set up a practice in the small market town in 1792 – back when bloodletting was still routine and more than 150 years before the creation of the NHS.
And while the current Dr Maurice has a medically-qualified son, James, he has decided to work as a hospital doctor instead of a GP. Dr Maurice senior admits to having mixed emotions about his retirement. "It is sad, but I am enjoying it less," he said. "There is also an aspect of the way that we have to work now, the financial incentives are something that I am less comfortable with. But I will miss the patient contact and relationships that have built up over the years."
One of the oldest medical dynasties in Britain must surely be the Beaton family of Highland physicians who served the clan MacLeod and the Lord of the Isles, possibly from around the 14th century until the 18th century. A Beaton travelled with James VI's court to London and their story is detailed in David Hamilton's book The Healers – A History of Medicine in Scotland. Also mentioned in the book are the O'Connachers, a medical family who served the Argyles and held land in Lovat, while the McDonalds employed a family of McLeans as hereditary physicians.
Elsewhere, Fovant in Wiltshire had its first medical dynasty in the 18th century. A Dr Foot served the village for several generations from 1763, beginning with Dr Henry Foot of Broadchalke. He was followed by a Dr Henry Mitchell Foot of Donhead who was the father of Dr Robert Foot (senior surgeon of Fovant) who died in 1805. Dr Henry Foot (junior) of Broadchalke and Stephen were sons of Robert. It was Henry of Donhead who 'discovered' Foot's Cathartic mixture which, in an undated contemporary advertisement, was reputed to be a cure for "Inflamation in the Bowels And Intestines. Indigestion and all Bilious Complaints" and half-pint bottles sold for 5s/.
Records from the village list four different doctors from 1800-1855, but three generations of Dr Clay also served Fovant from 1855-1970. Dr Robert Richard Clay was the first, followed by his son Challoner, who was village doctor and also surgeon to the Provident and Medical club. His son Richard Challoner Cobbe Clay took over the practice in 1917 until his death in 1971. Since then, six other doctors have gone on to serve the village.
An army of medics
Medical dynasties are not just a thing of the past. Noted cancer specialists and identical twins, Professors Trevor and Ray Powles may well have started a medical dynasty of their own. The 70-year-olds decided to pursue a career in medicine at the age of 18 when the NHS saved their lives after both had contracted tuberculosis. Ray had planned a career in the Army, but said: "When I spent seven months in hospital I fell in love with the idea of medicine."
His twin felt the same and both trained at St Bartholomew's School of Medicine in London. Trevor and Ray became two of the most eminent doctors in their fields. Leukaemia and myeloma specialist Ray carried out Britain's first bone marrow transplant in 1973. Meanwhile, Trevor became the country's first breast cancer physician and pioneered the use of Tamoxifen. They were both awarded CBEs in 2002 for services to medicine.
Now, 50 years after they qualified the twins have proudly seen four sons go on to do the same. Trevor's sons followed in his footsteps with James, 38, now an ear, nose and throat consultant at Torbay Hospital and 37-year-old Tom an oncologist at Barts and the London Trust. Ray's identical twins Sam and Luke also entered the family business after qualifying from Barts. With such a medical pedigree there must be a fair chance the Powles family is a medical dynasty in the making.
Joanne Curran is associate editor of FYi
 Main picture: The Lye family, with the late Mr Richard Lye, surgeon (top left) and George Lye (top right) now an FY2 doctor (Courtesy of George Lye)
This page was correct at the time of publication. Any guidance is intended as general guidance for members only. If you are a member and need specific advice relating to your own circumstances, please contact one of our advisers.
Read more from this issue of FYi
FYi is published twice a year and distributed to MDDUS members in Foundation Year 1 and Foundation Year 2 training programmes and final year medical students throughout the UK. It provides a mix of articles on risk, medico-legal and regulatory matters as well as general features and profiles of interest to trainee doctors. Browse all current and back issues below.
In this issue