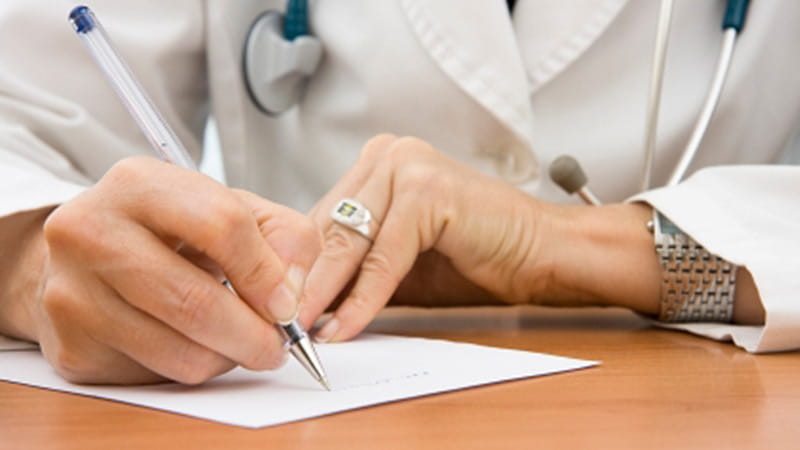 TICKING boxes and form-filling are routine tasks in busy practices, but recent research at MDDUS has revealed some surprising risks.

I recently analysed closed GP claims which revealed that in cases where a communication error was present, 10 per cent involved a doctor simply ticking the wrong box on an assessment report form and thus providing inaccurate or wrong information.

This flawed information is then accepted in good faith by the recipient. After all, it has come from a GP who should know what they're talking about.
So why do these errors happen and what are the potential consequences?
The fact is, filling in lengthy forms is never fun. Last year I had the misfortune of having to renew my driving licence photo card. What I thought would be an easy online task eventually turned into a debacle lasting several frustrating hours. Part of the process involves the retrieval of a unique number found on the back of the card, which unfortunately on older cards is of microscopic print proportions.  It's retrieval required the assistance of reading glasses, the intervention of my wife, who was also frankly 'stumped',  and eventually the services of a magnifying glass with a careful digit by digit cross-check.

A saving grace with this process is that you retain the option of completing a traditional application form, which you can then take along to a post office where some nice people will check that you have done things properly and not made any silly mistakes.

Having a second opinion can make such a tricky process easier, but when did you last afford yourself the luxury of having a colleague check over the insurance pro-forma or DVLA questionnaire that you completed for a patient before firing it off to the relevant agency?

I suspect the answer will be rarely if at all.

Lapses in concentration and poor attention to detail are known enemies to quality and safety. The chance of a simple error occurring increases as we undertake tasks that may be repetitive and routine in nature. One recent case brought home to me the potentially catastrophic consequences of this, where a GP simply ticked the wrong box on an insurance application report for one of his patients.

The patient in question, Mr B, was being treated for both a physical injury and depression which left him unfit for his work as a taxi driver. Financial worries led him to apply for payment protection insurance on a personal car loan, prompting the insurance company to request a report from the man's GP. The doctor duly completed the report and returned it to the insurers.

Problems arose, however, when it was discovered the doctor provided inaccurate information regarding Mr B's  sickness dates, which resulted in his application being refused. Before matters could be sorted out, the finance company sent some chaps round to the man's home to repossess his car. Mr B had just returned from a visit abroad when faced with this situation.

Things escalated to the point where the police were called and Mr B was arrested and ultimately convicted of an offence, ending up with a criminal record. His ordeal didn't end there either. The finance company then sold the car for a knock-down price and launched a court action against Mr B to recover the car's value. The patient then lost his job and his marriage broke down as a result.

And all of this stemmed from a simple tick in the wrong box.

This is admittedly a pretty extreme case, but it demonstrates how a simple avoidable error can have very serious outcomes, and for someone who had reasonably expected his doctor to provide accurate information. Once the doctor was notified of the error he sought to rectify it as quickly as possible, however an unstoppable chain of events had been set in place.

MDDUS sought a legal opinion, which suggested that the doctor's mistake had sparked a clear chain of causative events and would be difficult to defend. A compensation payment was offered and accepted by the patient. While this served to restore him financially to the position he was in before the mishap occurred, no amount of money could correct the personal consequences he endured.

Wider analysis of MDDUS case files indicates that occurrences like this are not isolated events and shows that as much care needs to be taken in the extended services provided to patients by GPs as in the practice of medicine itself.

Getting a completed form or report checked by a colleague before sending it out is one possible risk reduction measure to consider. Otherwise, there is little that can be introduced as a system control when completing such reports.

There is always going to be a risk of human error in these activities and I would encourage doctors to think about where and when they carry out such work to minimise the risk.

Is it immediately after a consultation where available time is limited? Is it during a lunch break when, really, you should be having a break? Is it at the end of a busy day when your concentration levels are exhausted? Is it after you have just signed off 50 repeat prescription requests? Or are you working in a main office surrounded by noise, distractions or interruptions?

The study of error shows us that people are most likely to make simple mistakes or have lapses in concentration after being interrupted on unrelated matters. You can deal with the unrelated matter, but it's when you return to the original task at hand that mistakes happen.

If you have developed personal strategies to manage risk, it would be interesting to hear about them here as this could help others 'tick the right boxes'...


This page was correct at the time of publication. Any guidance is intended as general guidance for members only. If you are a member and need specific advice relating to your own circumstances, please contact one of our advisers.