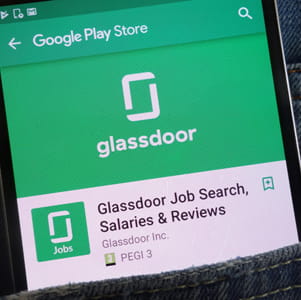 MOST of us spend a considerable proportion of our lives at work – and therefore we value a workplace that is friendly, supportive and rewarding. So it comes as no surprise that the use of employer review sites is becoming increasingly popular.
Websites such as glassdoor.com or indeed.com encourage employees to leave reviews on their experience of working for employers. These can be useful resources for job seekers wanting to research a potential new employer.
However, for healthcare professionals there are risks in posting reviews to such sites, and doing so could possibly breach regulatory guidance on the correct channels to report feedback to employers in order to allow them to put things right.
On most employer rating sites the reviews tend to be negative and can include comments about bullying, poor team work and even possible malpractice. A quick search for healthcare organisations revealed reviews like the following:
Anonymous (former employee) – Jan 2019
1.0 star out of 5.0
Poor management, poor infection control, no career progression, long shifts with no breaks and staff exhausted!
Although it is vital to be open about these kinds of issues, employer review sites may not be the best place for regulated professionals to raise them. In order to allow management to take action you must follow your organisation's procedures on raising concerns internally. When posting a negative review on an employer rating site you not only put at risk the credibility of your concern by not raising it in the appropriate way, but you also risk breaching regulatory guidance.
In Good Medical Practice the GMC states: "You must follow the procedure where you work for reporting adverse incidents and near misses."
The GDC is also very specific in its guidance. Focus of Standards states:
8.1.1 You must raise any concern that patients might be at risk due to: the health, behaviour or professional performance of a colleague; ... or someone asking you to do something that you think conflicts with your duties to put patients' interests first and act to protect them.
The GDC also states:
You should not publish anything that could affect patients' and the public's confidence in you, or the dental profession, in any public media, unless this is done as part of raising a concern. Public media includes social networking sites, blogs and other social media. In particular, you must not make personal, inaccurate or derogatory comments about patients or colleagues.
Both regulators would expect professionals to raise concerns with a line manager or another appropriate person via approved reporting channels. Some may feel discouraged to raise concerns internally as they may believe that nothing will be done and that to do so would be a waste of time and energy. It is therefore essential that those in senior clinical or managerial roles have clear responsibilities/guidelines in responding to concerns, and they must take such concerns seriously and investigate where appropriate.
Posting anonymously or under a pseudonym doesn't mean you can't be identified and the GMC is very clear about your responsibilities as a doctor to identify yourself by name online:
If you identify yourself as a doctor in publicly accessible social media, you should also identify yourself by name. Any material written by authors who represent themselves as doctors is likely to be taken on trust and may reasonably be taken to represent the views of the profession more widely.
ACTION POINTS
Follow your organisation's policy on raising concerns.
Remember regulatory guidance on posting on the internet and the risks in doing so anonymously.
Those responsible for acting on concerns must be aware of the standards expected of them.
Kay Louise Grant, risk adviser at MDDUS
This page was correct at the time of publication. Any guidance is intended as general guidance for members only. If you are a member and need specific advice relating to your own circumstances, please contact one of our advisers.