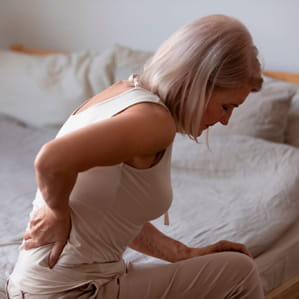 BACKGROUND: Mrs F is 60 years old and has recently attended an outpatient clinic at hospital for a bone density (DEXA) scan. She phones the practice to ask about the result and is told by a receptionist that she has osteoporosis. Mrs F then asks whether she needs to make an appointment to speak to a doctor and is told this is not necessary if she has no symptoms.
A few weeks later Mrs F attends the surgery for a different matter. A GP happens to notice the investigation result and provides the patient with appropriate management of the condition. Mrs F writes a letter to the practice manager complaining that she had been informed that follow-up was not necessary and only found out that this information was incorrect by chance.
ANALYSIS/OUTCOME: The PM investigates the matter and finds that Mrs F's results had been reviewed by a GP locum who had commented simply "osteoporosis". Non-clinical staff at the practice do not access patient test results and the receptionist assumed that the lack of comment meant there was no need to book a further appointment.
The PM writes a letter of response and contacts MDDUS to ask for a medical adviser to review the draft. The finalised letter offers an apology for the incomplete information initially provided and for the delay in offering Mrs F the correct medical advice. It states that the practice will conduct an SEA (significant event analysis) to review how the GPs assess test results and communicate necessary action to reception staff for onward transmission to patients – the objective being to implement clearer guidelines in future and to ensure that such results are not lost to follow-up. The review will also consider the need for additional training for reception staff in relation to discussion of test results with patients.
The PM offers to meet with Mrs F to discuss the matter further if desired and provides contact details for the ombudsman, if this outcome is not satisfactory.
KEY POINTS
Ensure test results are annotated to include any necessary follow-up and that a system is in place to ensure that these are actioned.
Empower reception staff to question unclear or incomplete communications from the clinical team in relation to test results.
Ensure that reception staff clearly understand the extent to which test results can be discussed with patients and when to seek clarity from the clinical team.
This page was correct at the time of publication. Any guidance is intended as general guidance for members only. If you are a member and need specific advice relating to your own circumstances, please contact one of our advisers.