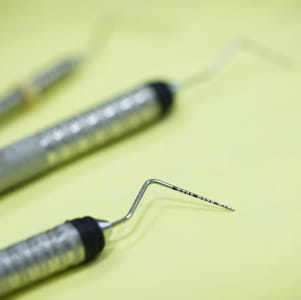 BACKGROUND: A 46-year-old businessman – Mr T – attends his dental surgery complaining of generalised mouth pain. His last appointment was over two years ago for a check-up and scale/polish and the records show no clinical issues at that time. Dr W undertakes a dental history and reviews Mr T's completed medical history questionnaire. The dentist notes that Mr T smokes 30 cigarettes per day and is a social drinker.
Mr T states that he recently heard on the radio that amalgam fillings had been banned in Europe due to mercury toxicity. He has numerous large "NHS fillings" in his back teeth and insists that these are poisoning his mouth and causing dental pain. He wants the fillings replaced.
Dr W carries out a detailed oral examination, noting calcified deposits and associated gum disease. A BPE is undertaken, with a score of 333/333 recorded in each sextant. Appropriate radiographs demonstrate loss of supporting bone, particularly around the front teeth, but do not demonstrate the presence of dental decay. Peri-apical radiographs taken of two teeth (as suspected sources of pain) do not reveal any apical disease.
The dentist informs Mr T that he has periodontal disease and this is causing his mouth pain. He explains ongoing treatment will be required to prevent eventual tooth loss. But Mr T insists that he has always looked after his teeth, brushing twice a day. He believes the pain is clearly associated with mercury "leeching into his gums".
Dr W explains that there is no evidence in the clinical literature of any connection between amalgam fillings and gum disease – and no European or UK guidance calling for the removal of old amalgam fillings. The new legislation refers mainly to a general "phase down" in the use of dental amalgam aimed primarily at reducing the release of mercury in the environment. But Mr T is adamant that he wants the old fillings removed and the discussion becomes heated.
Dr W again advises regular appropriate periodontal treatment and asks the patient to make a follow-up appointment for next week but states that he is not prepared to electively remove his fillings. Two days later the practice receives a three-page complaint letter. It cites numerous articles on mercury poisoning found on the internet and accuses the dentist of disregarding Mr T's concerns and implying that he is ignorant. Dr W phones MDDUS to ask for assistance in dealing with the complaint.
ANALYSIS/OUTCOME: Dr W formulates a response letter and this is reviewed by an MDDUS adviser. In the letter he expresses his regret that Mr T is dissatisfied with the treatment advice and states that he in no way intended to be dismissive of the patient's concerns. He reminds Mr T that he is free to seek a second opinion on the matter – but restates that the removal of the existing fillings is contrary to his clinical judgment and will not be carried out in the surgery.
Mr T does not respond to the letter but remains a patient at the practice with ongoing treatment of his periodontal condition.
KEY POINTS
Ensure you engage patients in shared decision making, with reasoned two-way discussion.
Do not feel pressured to carry out treatment against your clinical judgement.
This page was correct at the time of publication. Any guidance is intended as general guidance for members only. If you are a member and need specific advice relating to your own circumstances, please contact one of our advisers.