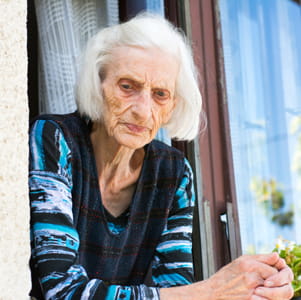 BACKGROUND: Mrs M is 92 years old and a widow living at home. She is frail with progressive heart failure but mentally competent. A carer arrives one morning to find Mrs M confused and in distress, having wet the bed. She calls her son who lives nearby and he contacts the local GP surgery requesting a home visit.
Dr G attends late in the morning and examines the patient, noting that Mrs M has a slight temperature. The GP suspects a urinary tract infection and says he will arrange for an ambulance. In subsequent discussion he mentions the option of full-time care for Mrs M in a residential care home. She overhears his comment and becomes very upset. This has been a topic of discussion with her son and Mrs M is adamant about wanting to remain at home.
Dr G returns to his car and phones for an ambulance and just as he finishes writing up his notes from the home visit the ambulance arrives in front of the house. He has a quick word with the paramedics and then departs for another house call.
Two days later a letter arrives in the practice from the patient's son complaining of insensitive treatment in the care of his mother. He says it was not appropriate to raise the question of her ongoing care in those circumstances, when his mother was clearly distressed and suffering mild delirium in association with her UTI. He also states that Dr G left the house without informing them an ambulance was on the way.
ANALYSIS/OUTCOME: The practice manager contacts MDDUS on behalf of Dr G to ask for help in dealing with the complaint. First she is advised to ensure that Mr M has consent from his mother to deal with the issue. A simple mandate can be sent to Mrs M to sign and return stating clearly that aspects of her medical records may have to be disclosed in order to respond to her son's concerns.
Dr G then drafts a response and this is reviewed by the practice manager and an MDDUS medical adviser. In the letter he expresses his regret for the distress felt by Mrs M and acknowledges that he could have been more discreet in his discussion of her ongoing care.
He also offers an apology over the misunderstanding as to his intention to return to the house after phoning the ambulance. Ordinarily he would do so but that morning he had a number of visits to make.
Dr G offers to meet with Mr M to further discuss the complaint and also informs him of the right to further recourse to the ombudsman. Nothing more is heard from Mr M and his mother remains a patient at the practice.
KEY POINTS
Competent patients should be involved in any discussion about their care.
Ensure patients/carers understand what follow-up you are planning to arrange.
A sincere expression of regret often prevents complaint escalation.
This page was correct at the time of publication. Any guidance is intended as general guidance for members only. If you are a member and need specific advice relating to your own circumstances, please contact one of our advisers.