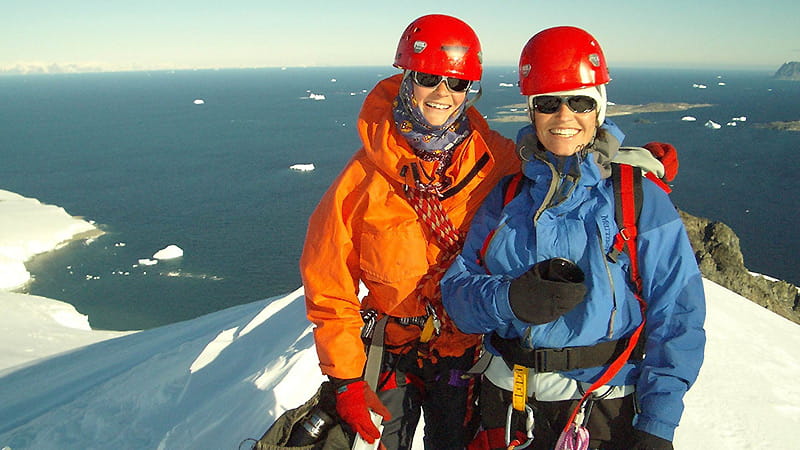 IF you were asked to describe a normal dentist's everyday job, it would be unlikely to involve braving temperatures of -20C or close encounters with wild crocodiles. Yet these are exactly the kind of challenges Penelope Granger has faced throughout much of her career.
'Home' for Penelope and her three-year-old daughter Elika is an even split between Edinburgh, Scotland and Östrand, Sweden, but her work as a dentist has taken her from the top of the globe to the bottom, and everywhere in between.
Penelope's thirst for adventure began aged 18 on her first trip abroad as an au pair in Israel before she studied dentistry at Dundee University.
Career plan
"One of the things that attracted me to dentistry was the fact that you could travel with it," she says. "It's always been my plan to take my career around the world."
After graduating in 1991, Penelope completed her VDP year as an associate in an Aberdeen city centre practice. But it wasn't long before she gave in to her itchy feet. "I did a mixture of travel and work and that was when I first started to pick up on 'interesting' places to work - mostly by accident."
Her first overseas post was in Aboriginal settlements in the Australian outback, secured after she wrote a letter addressed simply to: "The Dentist, Thursday Island, Queensland." She explains: "There was no formal application process. I think they found my interest amusing and so gave me a chance.
"They would fly me in on a Monday with all the kit and leave me in one of the settlements in what felt like the middle of nowhere. I would treat patients in a fixed dental clinic based in a medical centre which often doubled as my accommodation. It was usually routine consultations, fillings and extractions but there was at least one occasion where I lost my bed for the night to an emergency admission.
"I'd usually be picked up again on the Friday but there was one weekend stay that involved fishing for baramundi near the Gulf of Carpentaria and some rather close encounters with impressively large saltwater crocodiles. It was exciting and gave me a taste for practising dentistry in a different way."
Doing things differently
So, how do 'in the field' dentistry and 'practice-based' dentistry compare?
"It's the challenge of arriving somewhere and all the skills you've learned, you carry with you. You have to be self-reliant and confident in your clinical skills and decision-making," Penelope says.
"After a while, dentistry can become about perfecting your technique. There are rarely any huge leaps forward. For me, the challenge is ensuring I provide high quality treatment and care wherever I go.
"When I came to work in Sweden, for instance, I was worried at first about being able to keep up with the quality that everyone else maintains here. Then I remember feeling pleasantly surprised by the consistency of my work and I was fine. Working in different places has made me appreciate the skills that I'd otherwise take for granted. Although communicating in Swedish remains a challenge!"
Into Antarctica
After Australia, Penelope returned to Scotland to undertake locum work in the Highlands and Islands before heading back to Israel for volunteer work as a dentist.
Then came Antarctica. After completing a Masters in Community Dental Health in 2001, Penelope successfully applied to work for the British Antarctic Survey (BAS) which is part of the National Environmental Research Council. She spent two years working there full-time based on the ship the RRS Ernest Shackleton, first for nine months then a second six-month posting. Patients there are mainly aged 25 to 35 and would often arrive at Penelope's treatment room by skidoo. Dental work consisted largely of routine check-ups, fillings, preventive treatments, dental health education and the occasional broken tooth – but often only after each patient had painstakingly removed several layers of bulky Antarctic warm weather gear in order to sit in the dental chair.
She says: "You work throughout the year ensuring that the scientists and support staff who will be based in the Antarctic are dentally fit. Training the over-wintering doctors on how to conduct emergency dentistry is another important part of the job. You also must make sure all the orders, supplies and equipment are on board before the ship sails from the UK."
One unique thing about this particular post – other than being able to watch the Emperor penguins in her free time – was working and living with her patients. "That was a completely different dynamic for me. If you place a questionable shade of composite, you then had to look at it over the breakfast table in the mess the next day," she says, laughing.
Penelope's work with BAS earned her the Polar Medal, presented to her by Princess Anne at Buckingham Palace in 2009, in recognition of her contribution to polar research.
Beyond the limits
Working in such remote and extreme environments has required Penelope to demonstrate more than just dental skills. "In the Antarctic, for instance, I had to learn how to assemble and wire together an X-ray machine and then take it apart again," she says. "You certainly broaden your horizons and any perceived limits around your capabilities."
Among the most memorable challenges she encountered in Antarctica were the occasions when she had to treat emergency patients who she didn't know and hadn't screened. She explains: "There were certainly cases where I was getting to the edge of my comfort zone and would have liked the reassurance of a colleague standing alongside me to check things over. But it wasn't available, so you just had to get on with it. Luckily, technology is a big help – I could email photographs and radiographs to colleagues and access support and advice so I still felt part of a network of professionals."
Travel sick
Travelling is very much in Penelope's make-up and she rarely feels home sick, always eager for the next adventure to begin. But no matter where she goes she always brings some favourite items including a "rather grotty" old insulated mug and a 1:50,000 Ordnance Survey map of Glen Coe. She says she is "drawn to wild places that are untouched by man" and loves to ski and hike.
For the last three years, Penelope has spent five weeks annually in Tristan da Cunha, a volcanic island situated 1,510 miles south of St Helena, the nearest land mass. It is the remotest inhabited island in the world and it takes 10 days to reach from St Helena by fishing boat. "When I was in Antarctica, I often stopped off at Ascension Island and loved it, so asked about opportunities for practising there. I contacted the locum on St Helena and they offered me Tristan da Cunha."
A unique island and culture, it has a population of just 267 people who share seven surnames that have changed little since Napoleonic times. Penelope and her daughter stay with the same family each year. "It's a unique place," she says. "It's amazing experiencing how islanders live."
What's next?
Of all the places she's been, Penelope says Antarctica stands out due to the stunning landscape. "You feel humbled to be in a completely unspoiled part of the planet," she says.
But there are always more places to be explored. "There are bits of Scotland I'm yet to get to, like Shetland and St Kilda. Also the Galapagos Islands. And Nepal. I'm studying for a diploma in Mountain Medicine and I'd like to work somewhere like that, with people who have a similar professional skill-set but also the same motivations in terms of experiencing wild places.
"I'm always thinking about where I can go next."
Rowan Morrison is a writer based in Edinburgh
PHOTO: Penelope (right) and friend Liz Homer near the British Antarctic Base.
This page was correct at the time of publication. Any guidance is intended as general guidance for members only. If you are a member and need specific advice relating to your own circumstances, please contact one of our advisers.
Read more from this issue of Insight Primary
SoundBite is published twice a year and distributed to MDDUS members in their final year of dental school and to those undertaking one or two years of postgraduate training throughout the UK. It provides a mix of articles on risk, dento-legal and regulatory matters as well as general features and profiles of interest to trainee dentists.
In this issue