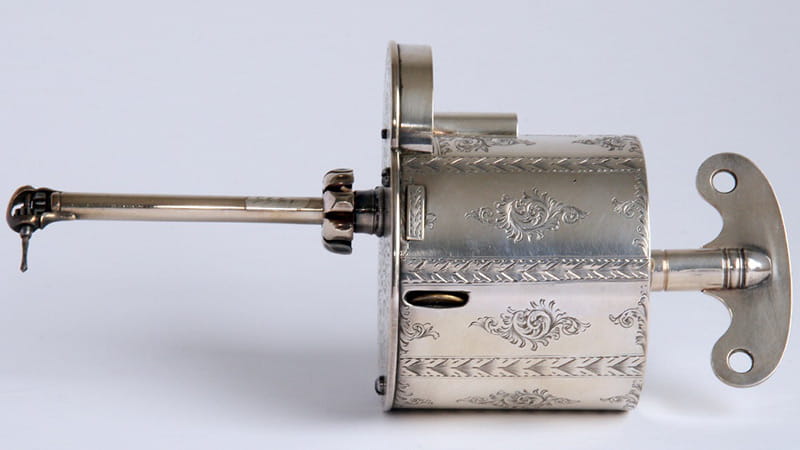 IT began in 1919 with a box of old dental instruments that had been stored under the bed of Lilian Lindsay, the first woman to qualify as a dentist in the UK. Since then, the collection at the BDA Museum has grown steadily and there are now around 25,000 items including dental instruments and equipment, furniture, photographs, archives, fine and decorative art.
Together they paint a colourful picture of the history of dentistry and the many contraptions and innovations that have developed over the years. Trainee dentists today might find it hard to believe that Dr Edward H Angle's Head Gear (below left) was ever used in orthodontics.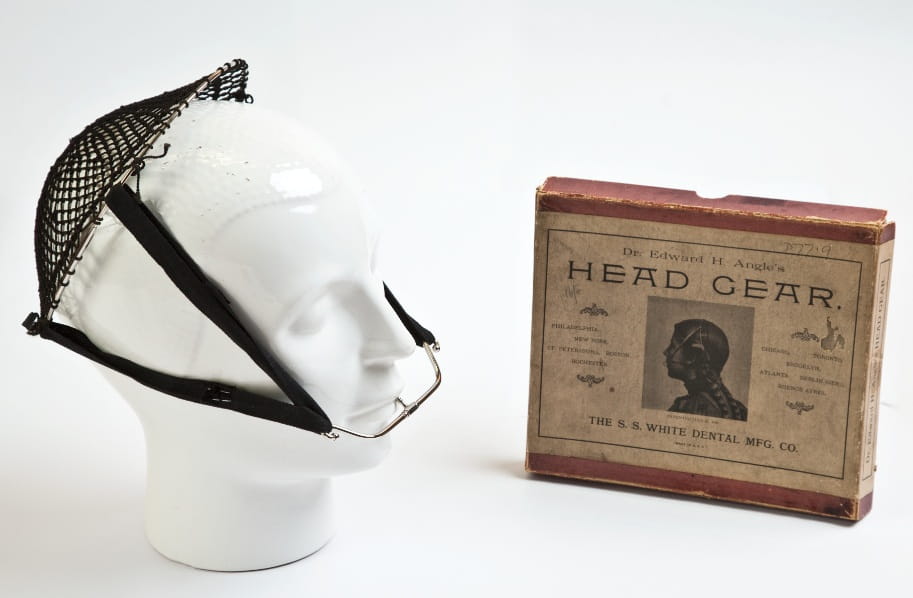 The cumbersome silk net cap sat on the back of the head and was laced to a metal band while the traction bar and contraction arch at the front of the mouth drew in protruding incisors. A far cry from today's near-invisible devices.
The British Dental Association (BDA) was founded in 1880 and is the professional association and trade union for UK dentists. The fact there is a BDA Museum comes as a surprise to many, but members have always been interested in the history of their profession.
Community reach
Though developed primarily for members, the museum opened its doors to the general public in 1967 when the BDA moved to its present headquarters in Wimpole Street, London. In autumn 2005 the museum was redisplayed with the aim of making it even more accessible to the public as well as dentists. Today the museum runs an active schools education programme, offers a number of benefit services to BDA members and is always looking at ways to increase access to its collections, including the use of QR Codes to engage smartphone users.
My role as Head of Museum Services is to lead the museum, develop its services and, with the rest of the team of staff and volunteers, organise an annual series of exhibitions. We take part in community and heritage events in London as well as the BDA Conference, whilst in 2011 we were at the Scottish Scientific Conference.
The museum is part of the London Museums of Health and Medicine group, which works to place the history and development of medicine and healthcare in its widest context. Coming from outside the world of dentistry, working at the museum has been an amazing experience and an incredibly educational one. I was surprised to learn it is a relatively young profession and that it was only the 1921 Dentists Act which finally stopped unqualified people entering the profession.
The museum's varied collection shows how much has changed and how much has stayed the same. A range of Victorian toothbrushes displayed alongside their modern descendants show that, despite technological advances, the basic design has not changed. And the same applies for many of the dental instruments. It may (or may not) be reassuring to trainee dentists that the basic designs of some tools of their trade are not greatly different to those used in 1881 by the first BDA president Sir John Tomes – although modern tools are unlikely to have carved ivory or bone handles.
Familiar story
The museum is primarily about the history of dental care but that does not mean it lacks contemporary meaning. Children's dental health is currently an issue of concern for dentists as recent research claims 18 per cent of parents said their children only brush their teeth once a day, if that! This problem isn't new and echoes concerns expressed in the late 19th and early 20th centuries. Back then, toothbrush clubs were started in schools and a programme of public dental hygiene promotion was launched. Oral hygiene education continues to this day, the museum's own schools programme is part of it, but perhaps it is time to create a modern version of the old toothbrush club?
The museum also tells the story of individual dentists who left their mark on history, including the rather unlucky George Harrington. In 1864 Harrington invented the first clockwork drill (main image, top)  and called it "Erado" (from the Latin meaning 'I Scrape Out'). Whilst it was a vast improvement on the hand drill, its hand-wound mechanism only ran for two minutes and it was heavy, noisy, vibrated too much and was awkward as it required both hands to operate. Harrington improved the design and in 1870 decided to take it to the US, then at the forefront of dental practice.
The story goes that whilst at sea, Harrington received a telegram saying American dentist James Morrison had just invented the foot pedal-powered treadle drill. Faster, quieter, needing only one hand to use and lasting as long as the dentist could pedal for, the treadle drill ended Harrington's design ambitions. Whilst this was good news for patients, it is impossible to look upon Harrington's drill and not feel a sense of loss that his design so quickly became a footnote in dental history.
The British Dental Association Museum is situated in the BDA offices at 64 Wimpole Street, London, W1G 8YS and is open Tuesdays and Thursdays 1pm to 4pm.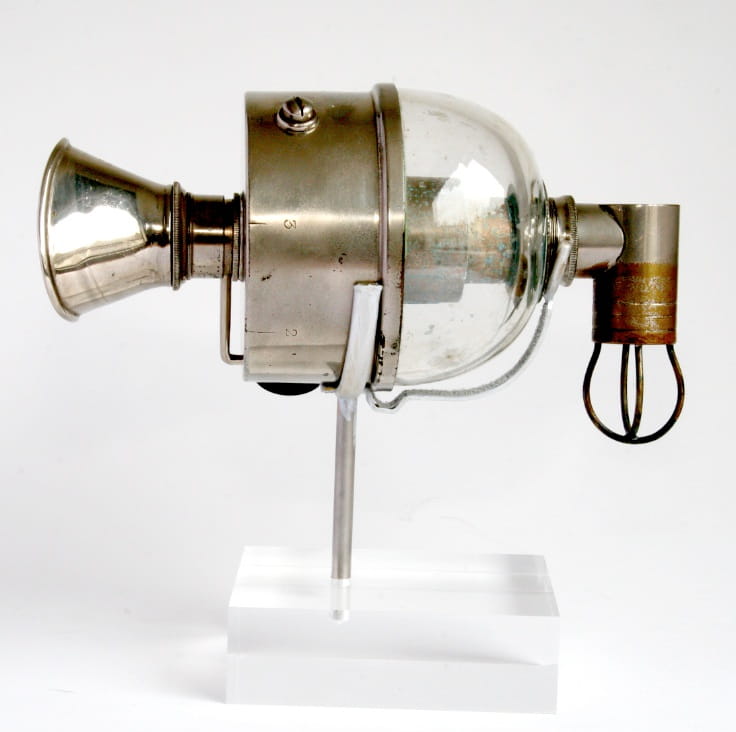 - Anaesthetic inhaler designed in 1877 by John Clover. It was the first device to regulate the amount of anaesthetic a patient inhaled.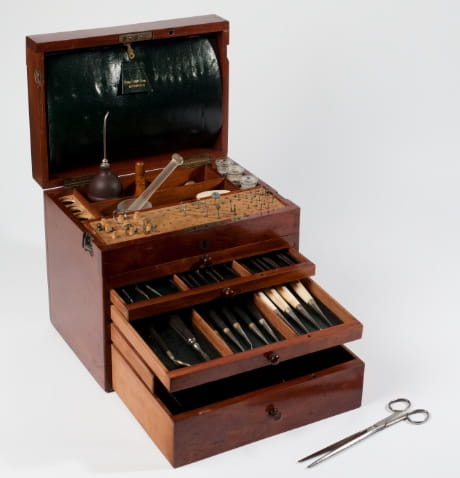 - A 19th century student dentist's instrument box with six leather-lined drawers. It cost 273 shillings in 1875, the equivalent of £1,000 today.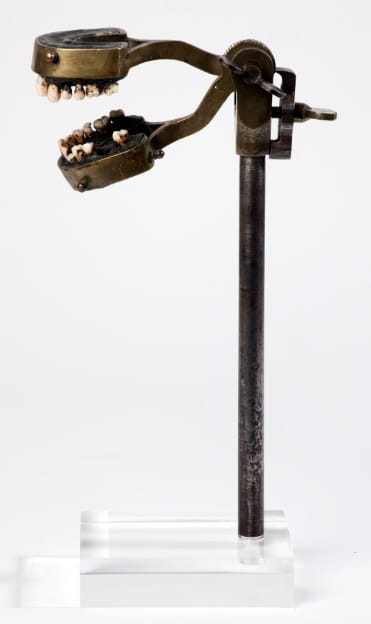 - A 19th century phantom head with 24 natural teeth
For more information, and to view our online collections, visit www.bda.org/museum
Jason Finch is Head of Museum Services at the BDA (providing maternity cover for Rachel Bairsto)
This page was correct at the time of publication. Any guidance is intended as general guidance for members only. If you are a member and need specific advice relating to your own circumstances, please contact one of our advisers.
Read more from this issue of Insight Primary
SoundBite is published twice a year and distributed to MDDUS members in their final year of dental school and to those undertaking one or two years of postgraduate training throughout the UK. It provides a mix of articles on risk, dento-legal and regulatory matters as well as general features and profiles of interest to trainee dentists.
In this issue