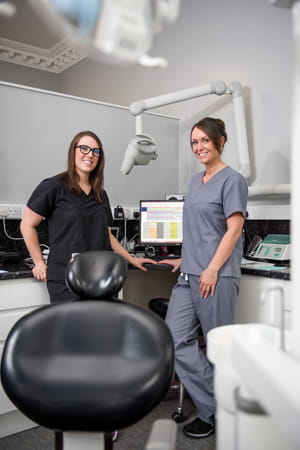 IN 2008, Leanne Branton opened a "squat" NHS dental practice in a former GP surgery in Edinburgh. Starting such a business from scratch would be a daunting prospect for any dentist but for a 27-year-old only five years out of university it seemed particularly audacious.
Leanne had been working as a part-time associate dentist at Optical Express but also doing sessions for the prison service and as a civilian dentist for the army.
"I had decided that I wanted to own a practice and just kind of rolled with the idea and it snowballed," she says. "I soon realised that I had the dental skills but very little management skills. It's an area I'd not done any training in; there's not an awful lot of it in dental school."
But it just so happened that help was close at hand. Leanne was then sharing a flat with her younger sister Aimi, who had a background in hospitality and retail management and at the time was running a nightclub. Together they hatched a business plan that was to evolve into Southside Dental Care – a mixed NHS and private practice which in 2016 was awarded Best Team, Best NHS Practice and Practice of the Year at the Dentistry Scotland Awards.
Leanne is the owner and sole trader of the practice which employs five associate dentists and six dental nurses and a hygienist. Aimi is practice manager.
I visited with the sisters recently at the practice which is located in a converted Victorian villa in the leafy Mayfield district of Edinburgh. Speaking nearly 10 years since opening they still seem genuinely amazed at what they've achieved.
"It was a steep learning curve," says Leanne.
"Very steep," echoes Aimi. "We were a bit ambitious because we opened our doors with three dentists and no pre-existing patient list. We did a lot of flyering, a lot of ground work in the six weeks leading up to the practice opening, building up the books and getting patients booked in and ready and waiting."
Managing the refurbishment of the building before opening was an even wider family enterprise involving their father – a chartered surveyor.
"It took six months to get the building in shape," says Leanne. "It was much harder in retrospect than it would have been to build from scratch. We had to respect a lot of the original features, but it does create a lovely clinic."
Having no experience running a dental practice, Aimi had to quickly get to grips with day-to-day issues such as implementing standard HR and health and safety policies, understanding NHS reimbursement and developing an ongoing marketing plan to name but a few.
"I had done policies in my previous job but this was all new. The BDA is a wonderful resource – and the NHS practice support manual."
Leanne adds: "We were also very fortunate to have advice from some of my previous employers who were actually very supportive, sharing policies and guidelines."
VISION
From the start Leanne and Aimi were determined to run a mixed NHS and private practice very much focused on quality patient care across the board.
Says Leanne: "I had the privilege of working in a really busy NHS practice as a VT and a learning associate. It was fantastic. Then I went into private dentistry – and enjoyed that as well. But I just felt there had to be a halfway point that at that time didn't really exist. It does now – and I think it is becoming much more common."
Aimi adds: "We offer the same level of service regardless of whether you are spending £10.88 on a scale and polish or £2,500 on an implant. We treat all our patients with the utmost respect and care. It's a lot more personal as well."
They attribute the steady growth in patient numbers to this emphasis on a quality personal service – building relationships with patients and focusing on the "patient journey" from first contact on the phone or via Facebook to walking through the door to dental examination and treatment to follow-up.
"I think that's why we've grown so quickly," says Leanne. "We spent a lot of time in the beginning forming these relationships with the patients. The fact that so many are still with us and that we are still growing reflects that."
The practice currently has over 9,500 patients on its list. In order to accommodate the demand they run three surgeries on two six-hour shifts: 8 to 2 and 2 to 8. "We are getting pretty tight now," Leanne admits.
In addition to standard care Southside Dental offers implant treatment with Leanne undertaking basic cases and a visiting implant surgeon handling the more complex ones. Two associates do facial aesthetics, marketed under the separate name of Southside Skin Clinic. The practice also offers a special service for nervous patients, including the option of conscious sedation for those with serious dental phobia.
DRIVE
Another unusual aspect of the practice is the fact it is almost entirely female. Leanne insists this is not by design but mainly because they see a much higher proportion of female applicants for training posts.
"It's unclear whether they are personally targeting the practice or just because now there's a greater number of female graduates. But in the seven years we have been training the ratio has hugely changed. And the females are very strong candidates. There's no doubt. They seem very driven."
It may also reflect the fact that Leanne and Aimi are clearly very driven – and yet in conversation there is none of the tension you might expect from siblings, both of them quick to laugh and constantly interrupting each other. So what about the pitfalls of working with family?
"Everybody asks that," replies Leanne. "But to be honest I wouldn't have it any other way. It works for us and it always has. We never saw it as an issue."
Aimi is quick to agree: "There's nobody I trust more than Leanne. Having clinical and admin sides we mesh well together; we kind of form that one unit."
"Trust is a huge issue," Leanne adds. "For example, going off on maternity as a practice owner is incredibly scary. Knowing that you are leaving it in the hands of someone you trust is fantastic."
QUALITY CARE
Whatever the formula, it is clearly working. Wining the three gongs at the 2016 Dentistry Scotland Awards was a total surprise, says Leanne. And last year they won another one for Practice of the Year at the 2017 Scottish Dental Awards.
"I think it comes down to the team," says Leanne. "That's the crux of it. We have a great team that have worked together for a long time and who have a wide variety of skills… We have a real focus on consistency of patient care. And I think we are constantly trying to push as well. That's a big thing. We're not complacent. We know we have to change to keep up with the times."
Leanne says they would like to expand the business, even though they are now struggling with limited space at the clinic. Both sisters also have young families which makes work-life balance much more of a challenge.
"But I am always looking at how we could grow this business and potentially open other clinics," says Leanne. "Because we do love it."
Aimi then laughs and adds: "We still have time. We're older but not finished yet! Maybe once the kids are at school."
Jim Killgore is managing editor of Practice Manager
This page was correct at the time of publication. Any guidance is intended as general guidance for members only. If you are a member and need specific advice relating to your own circumstances, please contact one of our advisers.
Read more from this issue of Practice Manager
Practice Manager is published twice yearly and distributed to MDDUS practice managers and others with management responsibility in dental and medical surgeries. It features articles on employment law, health and safety, risk as well as profiles of practices across the UK. Browse our current and back issues below.
In this issue