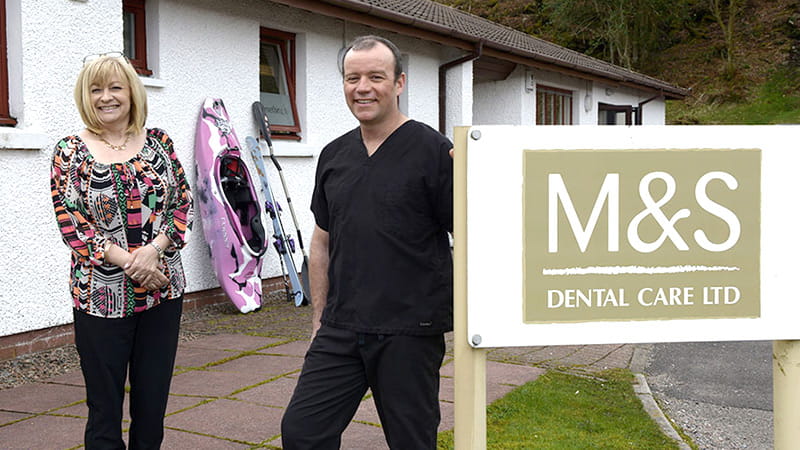 NOT many workplaces offer the possibility of knocking off early on a summer afternoon to climb a mountain – and in particular Britain's highest.
The Fort William surgery of M&S Dental Care lies only a few miles from the trailhead of the famous "Tourist Route", climbing to the 1,345 metre summit of Ben Nevis. The day I visit the mountain is shrouded in cloud and most of the tourists are clad in waterproofs slick with heavy rain.
I have come to chat with practice manager Jillian Bruce and Director Gregor Muir about how they run this distinctly atypical dental practice – remote and rural yet still one of Scotland's largest.
M&S Dental Care operates out of a former NHS health centre with a large staff of 32 including 11 clinicians – and runs a branch surgery in the small Highland village of Glencoe. The practice has a list of around 10,500 NHS-registered patients in addition to private work. It covers a wide geographical area drawing patients from as far as Oban 44 miles south all the way to Inverness 65 miles north, and also from the inner Hebrides including Skye and the smaller islands – Eigg, Muck, Rum.
"We are certainly the biggest practice in the Highlands and probably in the top 10 in Scotland," says Gregor.
WILD OUTDOORS
M&S Dental Care was established in 2001 when Gregor merged his smaller practice with another surgery in town run by dentist Kenneth Scoular. Gregor came to Fort William in 1998 having only just graduated from Glasgow University four years previous. He spotted an advert in the BDJ for a "small Highland practice" but already knew the area well, being a keen whitewater canoeist.
"I used to work in Milngavie and we did a lot of kayaking. On a Tuesday night in the summer we would jump in the car at half past four and drive up to Invergarry which is about 20 minutes north of here and go canoeing for two hours. That's what really dragged me up here."
A passion for outdoor pursuits unites many of the staff at M&S Dental – and Fort William is the ideal centre, on a narrow sea loch fringed with mountains. Here is some of the best hillwalking and mountaineering in Europe with Fort William being the northern terminus of the West Highland Way. The nearby Nevis Range offers skiing in winter and in the summer becomes a world class centre for mountain biking, each June hosting the UCI Mountain Bike World Cup.
TICKING OVER
Jillian Bruce's love of the area is perhaps less to do with extreme sports. One of her main passions is competing at dog shows with her five Tibetan Spaniels. She has lived in Fort William since age 13 and started working in a local practice at 17 as a dental nurse. In the intervening years she has also been employed by NHS Highland working in the local community dental service but has worked with Gregor and M&S Dental from the start.
"We have gone from two dentists, two nurses and one receptionist. It's been quite a learning curve."
Managing such a large practice over two sites in a location remote from any major city is a particular challenge and Jillian works with a patient liaison officer who also acts as a part-time practice manager.
"My job is to make sure the clinicians only have to deal with the patients. I handle 90 per cent of their paperwork," says Jillian. "I do the buying and negotiate contracts. I look at all the dental companies and decide what's the best deal. They all know I'm not faithful to any of them, regardless. If I can get a better deal elsewhere, I will."
Gregor adds: "We are fortunate to be big enough to have Jillian to keep things ticking over. NHS forms are becoming increasingly onerous. There are more rejections if you don't dot the right 'i' and cross the right 't'. Jillian picks all this up and it means we run as efficiently as possible."
Jillian also undertakes property management as the practice owns the building, part of which is leased out to a veterinary surgery. M&S Dental is particularly proud of its spacious premises which six years ago was a derelict health board building.
Before moving they operated out of a small surgery on the High Street. Says Gregor: "It was a wee totey practice. There were only four chairs and we had to work shifts, back to back – eight to two and two to eight."
The new surgery has eight dental suites and a dedicated two-room decontamination unit with spacious waiting areas and even an extra consulting room used part-time by an optician and a sports remedial massage therapist.
AVOIDING REFERRALS
Economy of scale has allowed M&S Dental to bring advantages to its patients otherwise not possible in such a remote area."One of the problems here is that the nearest referral centre is in Inverness," says Gregor. "So our philosophy is to try and do as much of the difficult treatment as we can in-house to save people having to make that 120-mile round trip."
"Our philosophy is to try and do as much of the difficult treatment as we can in-house"
The practice thus encourages its clinicians to pursue additional qualifications such as in oral surgery, orthodontics and implantology.
"Another problem is if something goes wrong here we are a long way from a hospital," says Gregor. "So we need to be able to follow-up on problems and manage any dental emergencies and general emergencies within a dental setting. This might include bleeding sockets, dental swelling, infections or trauma."
FINDING THE FIT
Recruiting the right staff is therefore crucial for M&S Dental. Not only are they keen on clinicians with an interest in developing their careers but also individuals who will fit in with the ethos of the practice and lifestyle of the area. Says Jillian: "For someone who likes arthouse cinema – a 120-mile round trip is a long way. And if you are into fashion and nightclubs… well it's more wellies and waterproofs here."
Dentist Ross Ellison first worked at the practice for a year as a VT in 2009. He then returned after working in a hospital at Dundee and in general practice in Aberdeen. "I had so many friends from dental school with horror stories about the practices that they worked in so I realised how well-run this practice is – everything operates smoothly and it's a nice environment. I always knew I wanted to come back eventually. So I kept in touch over the time I was away."
Ross has been encouraged to pursue an MSc in oral surgery and is now working on his dissertation. "I am not an oral surgeon but I have more skills than a general dentist. We basically assess patients and see whether it would be appropriate for me to provide the treatment or whether to refer them. Usually I can do the treatment – but we try to minimise the risk of anything going wrong and refer if in doubt."
Again this means the practice can help patients who might otherwise have to travel to a more distant treatment centre. Ross' desire to return was also a lifestyle choice with his love of the outdoors. Most weekends he and his partner Nadia Madour – who also works as an associate dentist at the practice – can be found mountain biking or hillwalking.
"After being here for a year and going back to the city it was a nobrainer in coming back at some point," says Ross.
Jillian also does not regret living further from a city, apart from a few drawbacks such as a less wide choice of restaurants. "I miss a really good Italian."
But there are compensations, she says. "Coming back from Glasgow there is part of the road when in the dark or at dusk you can see right up the Loch to the twinkling lights and you think, I'm nearly home."
Jim Killgore is an associate editor of MDDUS Practice Manager
PHOTOGRAPH: THE WRITE IMAGE
This page was correct at the time of publication. Any guidance is intended as general guidance for members only. If you are a member and need specific advice relating to your own circumstances, please contact one of our advisers.
Read more from this issue of Practice Manager
Practice Manager is published twice yearly and distributed to MDDUS practice managers and others with management responsibility in dental and medical surgeries. It features articles on employment law, health and safety, risk as well as profiles of practices across the UK. Browse our current and back issues below.
In this issue