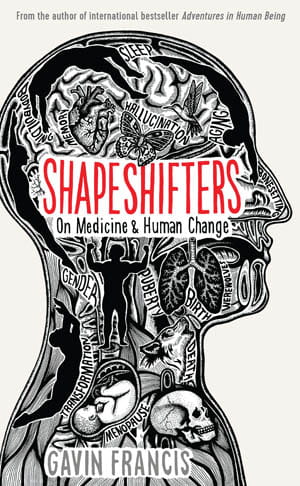 On medicine & human change
By Gavin Francis
Profile Books, hardcover, £16.99, 2018
Review by Greg Dollman, medical adviser, MDDUS
WITH the recent trend of superhero blockbusters hitting the big screen every few months, Gavin Francis' new offering, Shapeshifters: On Medicine & Human Change, might be mistaken for the next series of adventures, telling the fantastic stories of humans capable of marvellous feats: individuals able to change their appearance, become giants, regenerate, create alternative realities, and also make sense of it all. But wait; this is not a fairy tale about superhumans, rather a story about you and me.
In his latest exploration of what it is to be human, doctor and writer Francis declares that "to be alive is to be in perpetual metamorphosis", and that his book "is a celebration of dynamism and transformation in human life".
Francis chronicles our growth as humans, from conception to death. He reminds us of the wonder of human development and the perpetual change that is part of our lives, through a mix of personal stories from the frontline of medicine, vignettes from medical history, along with references to the classics. Francis retells the thoughts and theories of Ovid, Descartes and Nietzsche (to name a few), which are neatly tied into chapters setting out his memories of remarkable patients.
Lay readers will no doubt be fascinated by the broad range of patients and conditions that Francis has encountered. As doctors, we are able to add our own stories, which undoubtedly will cause us to marvel anew at the super powers within us all (and also to appreciate the wonder of our profession).
Francis delves into the roles that humans take on, both healthy and unhealthy, and the transformations that can and do occur within our bodies and minds. He looks at humankind's attempt to make sense of these changes, including the ageing and healing processes, the effects of hormones, the mysteries of the mind, as well as the differences between 'male' and 'female' (and now, more and more, the fluidity between them). He acknowledges the significant part played by the medical profession in understanding this omnipresent change around us, which allows humankind both to explore the potential our bodies allow us and to address the limits they impose on us.
Shapeshifters is a fantastical story of the marvel of being human. It is confirmation of what doctors are privileged enough to experience firsthand on a daily basis.
This page was correct at the time of publication. Any guidance is intended as general guidance for members only. If you are a member and need specific advice relating to your own circumstances, please contact one of our advisers.
Read more from this issue of Insight
Insight (formerly Summons) is published quarterly and distributed to all MDDUS members throughout the UK. It provides a mix of articles on risk, medico-legal and regulatory matters as well as general features and profiles of interest to our members. Browse all current and back issues below.
In this issue