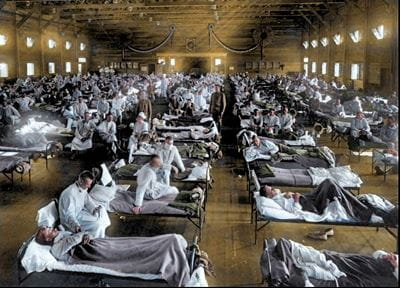 A WORLD awakens to a global pandemic, as cases of a new and poorly understood virus grow almost exponentially. There is confusion, mixed public health messages and a lack of international co-ordination and collaboration. Conspiracy theories about its origins start to circulate, and the headlines report that even the rich and famous are affected. Newspapers are full of complaints about the Government's slowness to take the disease and its impact seriously. Medical students are mobilised to assist in frontline hospital care. Social distancing measures are put in place and face masks become a normal sight on the streets. And the British prime minister contracts the virus.
However, this is not Boris Johnson, but David Lloyd-George and not 2020, but 1918. Evidence, if any were needed, that history does repeat itself and can offer lessons for those who choose to learn them.
UNKNOWN ENEMY
Today, in the midst of a new pandemic, we are inundated with graphs showing infection rates and death rates. On the nightly news there are coloured lines that soar and flatten, that compare and contrast, that dispute and justify. But, almost the same graphs, albeit hand-drawn, were produced in 1918-19. They tell the story of that other pandemic. They chart the weaknesses in their defences and record the successes and failures of different ploys used to "flatten the curve" a century ago.
The figures are stark. In 1918, as a world at war was at last seeing the possibility of an end to hostilities, a new enemy emerged – influenza. We still do not know where the new virus came from despite its common name of Spanish Flu, nor, despite decades of research, do we fully understand what made it so deadly. Over a two-year period, one third of the 1.5 billion global population were infected and somewhere between 50–100 million died—several times the number killed in the Great War. The death toll in the UK alone was almost a quarter of a million. One of the most striking things about that pandemic was the impact it had on apparently healthy young adults aged 20–30. Young men and women were often reported to be healthy at breakfast and dead by the evening.
HOLDING FIRM
Of course, the world in 1918 was very different to that of today. Despite a wealth of everyday experience, there was a much poorer understanding of infectious diseases. There were no antivirals, and even basic penicillin was still a decade away. Intensive care in hospitals was unknown and the mainstay of management was general supportive therapy. Today, we have much more in our acute medicine arsenal, but from a public health perspective the responses to the 1918–19 pandemic are not so different from current measures.
Schools, shops and theatres were closed. Social gatherings were limited, quarantines were put in place and face masks became a common sight. However, the unevenness of how these containment policies were applied and how erratically they were followed provides a useful lesson. For example, in the United States, different cities adopted very different approaches to the pandemic, and, even those that put in place strenuous measures to limit the spread of the disease, did so on different timescales.
Those cities, such as Seattle, that reacted quickly and held firm to their policies, were the ones to fare best, with the lowest numbers of influenza deaths. Those that responded well initially but relaxed their lockdowns as soon as cases dropped, such as Denver, would see subsequent new waves of infection. And those, such as Philadelphia, that delayed in putting any meaningful measures in place, and thus allowed the infection to take hold, saw the worst death rates of all.
HOSTILE REACTIONS
The politicians then also faced the same dilemmas that our policy makers do today. They had to balance public health concerns with the economic impact of a shutdown, and they had to deal with incomplete and often conflicting scientific advice along with growing public outcry over the consequences of their policies. A century ago, just as today, there were very vocal groups hostile to the strategies. Many flouted the preventive measures, with some calling them unnecessary and draconian and others expressing their outrage at the infringement of their personal liberties. Different administrations around the world followed different public health strategies with little, if any, co-ordinated effort and the global infection and death rates were equally variable.
Today, in a society with 24/7 news, we are acutely aware of how the complex story of a pandemic unfolds. New data informs as well as distorts the picture. Policies based on the latest information quickly become obsolete, and all the time we are expecting the best decisions to be made about our lives and our livelihoods.
UNTESTED TREATMENTS
In 1918-19, those having to deal with a disease they barely understood were eager to try any treatment that might work, irrespective of evidence. Interestingly, one of the main contenders was the anti-malarial drug quinine. In 2020, in another startling parallel, one of the main treatments that has been advocated, with equally little evidence, is the anti-malarial drug, hydroxychloroquine. The notion of evidence-based practice was not strong in 1918 and perhaps the dash to use untested treatments might be understandable. However, in 2020 it is nothing short of unforgivable. In a matter of weeks, the collective global research project has turned all its energies and resources towards discovering effective and safe treatments and tests as well as a vaccine for COVID-19. But already concerns are being raised about the speed, quality and ethics of some studies. We must ensure that the immediacy of the challenge is not used to justify poor research practices.
There are clearly lessons to be learned from history, but as the philosopher George Santayana famously said: "Those who cannot remember the past, are condemned to repeat it." Our collective memories may be dimmed by the passing years, but every line on those old graphs, despite their fading figures, represent men and women who lived and died during a pandemic a century ago. And their ghosts speak loudly and eloquently. Let us not give credence to the words of that other philosopher, Georg Wilhelm Friedrich Hegel who noted pessimistically that: "The only thing we learn from history is that we learn nothing from history."
Given the gravity of the situation we find ourselves in, perhaps it might do us well to try. History is an open book; the lessons are there if we choose to heed them.
SOURCES
Barry JM. The Great Influenza. Penguin, New York, 2005.
Taubenberger JK, Morens DM. Emerg Infect Dis. 2006; 12: 15–22.
Bristow NK. The Guardian, 29 April 2020.
Strochlic N, Champine RD. National Geographic, 27 March 2020.
Johnson B. The Spanish Flu Pandemic of 1918. www.historic-uk.com
Allan Gaw is a writer and educator in Scotland
PHOTO: MARY EVANS PICTURE LIBRARY
This page was correct at the time of publication. Any guidance is intended as general guidance for members only. If you are a member and need specific advice relating to your own circumstances, please contact one of our advisers.
Read more from this issue of Insight Secondary
Insight - Secondary is published quarterly and distributed to MDDUS members throughout the UK who work in secondary care. It provides a mix of articles on risk, medico-legal and regulatory matters as well as general features and profiles of interest to our members.
In this issue