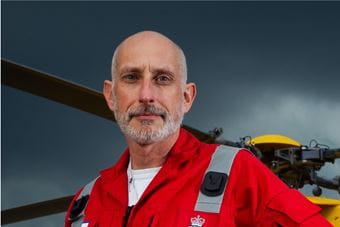 DR Stephen Hearns is an emergency medicine physician based in Glasgow. He was the lead consultant with Scotland's Emergency Medical Retrieval Service (EMRS) until 2019, providing critical care and safe transfer of patients from remote healthcare locations and at accident scenes by helicopter, plane or fast response vehicle. He is also author of a new book – Peak Performance Under Pressure. Jim Killgore spoke to him in late March, just as the UK was gearing up to face a peak in the coronavirus outbreak.
HOW WOULD YOU CHARACTERISE THE PRESSURE HEALTHCARE PROFESSIONALS NOW FACE WITH COVID-19?
It's absolutely unprecedented in peacetime – and there are a number of specific pressures on healthcare professionals. I think fatigue is the biggest one that could potentially compromise performance. That will come from the intensity of work, the duration/frequency of shifts, and reduced rest periods – especially in covering for ill colleagues.
Fatigue has numerous negative effects on our ability to perform – and a lot of research has been done on this, particularly in military contexts. Number one, it reduces our ability to take on board information and make accurate decisions, to consider options and to choose the right course of action. It also compromises our ability to communicate, which is very important in high-pressure situations, both in terms of verbal and nonverbal communication. When we're tired, our ability to pick up subtle facial expressions and changes in the tone of people's voices is reduced significantly – and also our ability to focus attention on what people are saying to us.
Fatigue also affects performance by reducing our ability to plan and innovate, which in the current situation is vital. Few healthcare professionals will have faced this type of challenge before and certainly not on this magnitude. Planning and innovating is really important, but when we're tired our ability to do that is compromised.
A fourth aspect is that, unfortunately, when we're fatigued, our insight into how we're performing decreases. Maybe we're not performing practical procedures quite so well but our awareness becomes reduced significantly so we don't know when to stop and rest, or ask for help.
IS HAVING POSSIBLY TO WORK IN DIFFERENT AREAS OF PRACTICE ALSO A FACTOR?
Having additional help in the current situation will certainly be beneficial in reducing the pressure on existing frontline healthcare staff but it's important that individuals drafted in are given roles they are comfortable with, and that we provide clear guidance and cognitive aids. We don't want them to feel excessively pressured or put into situations where the consequences of error could be significant. The way tasks and roles are delegated to those individuals, to ensure they perform well, is vital.
SOME CLINICIANS WILL BE UNUSED TO WORKING IN HIGH-PRESSURE SITUATIONS LIKE EMERGENCY MEDICINE OR CRITICAL CARE. WILL THIS BE A PROBLEM?
Yes, it already is. When we're dealing with a real-time situation we use a part of our short-term memory – called working memory – to store information, consider options and make decisions. We also use it to perform practical tasks. Unfortunately, the size of the working memory is very small. The volume of information that we are having to process about COVID-19 is considerable and is also very dynamic. Guidance and research evidence is changing on a daily basis – therefore cognitive overload is already an issue as we try to get up to speed on how we diagnose and manage these patients.
IS PERSONAL RISK A MAJOR FACTOR?
Pressure can be divided into two categories – intrinsic and extrinsic. Intrinsic pressure for a healthcare professional is that involved with making a diagnosis, deciding on a treatment, or planning a practical procedure. Extrinsic pressures are those that surround the job, such as the consequences of making a wrong decision or an error in carrying out a practical procedure, which could be catastrophic for both patient and doctor. But people will also be going into clinical shifts with a high degree of pressure coming from their personal life that is impossible to leave at the door.
Healthcare professionals – like anyone else – are naturally anxious about the risk of this disease to themselves and to their families. So all of those pressures will combine and potentially have harmful effects on personal performance.
HOW CAN THE NHS HELP EASE THESE PRESSURES?
There are a number of ways. To tackle fatigue, we need to ensure sustainable rostering. Many people are having to do extra shifts to cover for increased demand but also for colleagues off work unwell or looking after relatives. We have to consider that this situation is going to go on for months and to stay cognisant of the effect of working excessive hours for prolonged periods. I think it's vital to maintain rostering systems that allow sufficient rest periods.
I also think that, with such a dynamic situation, there need to be high-quality cognitive aids, both on a national level and in each department, that give people clear and – as much as possible – unambiguous guidance about diagnosis, treatment, etc. The final thing – and this is something my own board and emergency department have already put in place – is pre-emptive psychological help for staff, involving occupational psychologists to provide support with no stigma attached.
IS PRESSURE ALWAYS A BAD THING FOR CLINICIANS?
We all need pressure to perform well, to make the right decisions, to communicate, to lead a team. What happens physiologically is that, as pressure increases to a certain level, we get low-level release of cortisol and adrenalin and that acts to motivate us, to arouse us, to stimulate us and actually move us into a zone of high performance, or flow. Pressure at the right level is very positive in terms of performance.
But when pressure becomes excessive we move from that zone of flow to the zone of frazzle. That results from cognitive overload and a perception that what we face is insurmountable, i.e. our appraisal of the situation is that it poses a potential threat. That results in increased release of adrenalin and cortisol and pushes us into the zone of frazzle, or compromised performance.
It's an issue for us in helicopter retrieval and an issue for me in mountain rescue; the environment we're working in can really compromise our performance. Being cold, wet or it being windy, and also trying to operate and perform to a high level in a noisy vibrating aircraft – all of these add to the pressure. And if we are not prepared, if we are not used to working in these types of environments, then it will result in compromised patient care. It's easy to think of extreme situations an EM specialist might be involved in, but all doctors can feel overwhelmed and frazzled.
YOU SPEAK IN YOUR BOOK OF "OWNING THE PRESSURE". WHAT DO YOU MEAN BY THAT?
Pressure can be good but you need to take time to prepare your team when you have the opportunity, to minimise the impact of the pressure they are going to be under, especially with something like the COVID-19 situation. That is the idea of actively trying to own the pressure – because in high performance we need a degree of pressure, and if we can prepare in the cold light of day then we will stay in the zone of flow and avoid frazzle.
Jim Killgore is an editor at MDDUS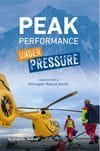 To order a copy of Peak Performance Under Pressure with a 20 per cent discount and free UK delivery for MDDUS members, go to www.classprofessional.co.uk and quote the discount code: MDDUSPEAK20. This offer is valid until 30 June 2020.
Check out further content and links from Stephen Hearns at www.CoreCognition.co.uk and on Twitter @StephenHearns1
This page was correct at the time of publication. Any guidance is intended as general guidance for members only. If you are a member and need specific advice relating to your own circumstances, please contact one of our advisers.
Read more from this issue of Insight Secondary
Insight - Secondary is published quarterly and distributed to MDDUS members throughout the UK who work in secondary care. It provides a mix of articles on risk, medico-legal and regulatory matters as well as general features and profiles of interest to our members.
In this issue