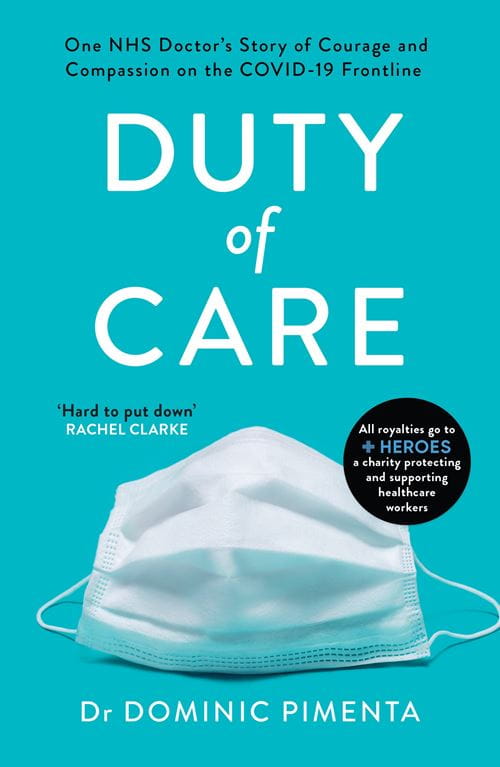 by Dr Dominic Pimenta
Welbeck Publishing, paperback, £8.99 2020
BUT it doesn't feel real."
Dominic Pimenta, like many healthcare workers, had a sense of impending doom earlier this year. Duty of care, his story of life on the Covid-19 frontline, reads like a screenplay for a disaster movie. But this was very real.
Even before lockdown, Pimenta's world had changed. As the rumours about Covid-19 spread and ensuing questions went unanswered, the cardiology registrar (and the NHS in which he worked) witnessed the start of what would very soon become an unwanted reality. Even a "normal day" with his family at the park did not feel real. For him, everything had already changed.
"In that moment, it feels easy to simply choose what to believe, and to ignore everything else."
Duty of care captures the frustration Pimenta and others in the front line felt at the seeming lack of action in response to a new medical emergency. He writes of being disheartened and infuriated at the bureaucratic and political barriers to keep NHS workers safe. His response? Set up a charity to "protect everything about NHS workers – their physical and mental health – now and long into the future". And so HEROES was born, now the Healthcare Workers' Foundation.
An early focus of this charity was the provision of PPE, in worryingly short supply for frontline staff even at the start of the pandemic. Healthcare workers still went about their jobs and sometimes working well outside their comfort zones. Pimenta writes: "I'm just doing the best I can, as is everyone around me, and we're all simply hoping it's enough."
He describes his experience of jamais vu, observing sights that he had known for years but no longer seemed to recognise. I think we can all relate to this altered sense of reality this year – but what we don't want is a sense of déjà vu. Pimenta's epilogue pulls no punches in his assessment of the government's response to Covid-19 and how we need to learn from it.
I found revisiting the "dark tunnel" of 2020 unsettling. Fortunately, the power of kindness and the human spirit always lights the way. Duty of care is testament to that.
All royalties from sales of the book will go to the Healthcare Workers' Foundation charity. The charity was "founded by NHS workers, for NHS workers" and states that: "We exist to support the welfare and wellbeing of those fighting to keep us healthy and safe during the Covid-19 crisis, and beyond." Find out more
This page was correct at the time of publication. Any guidance is intended as general guidance for members only. If you are a member and need specific advice relating to your own circumstances, please contact one of our advisers.
Read more from this issue of Insight Primary
Insight Primary is published quarterly and distributed to MDDUS members throughout the UK who work in primary care. It provides a mix of articles on risk, medico-legal and regulatory matters as well as general features and profiles of interest to our members.
In this issue