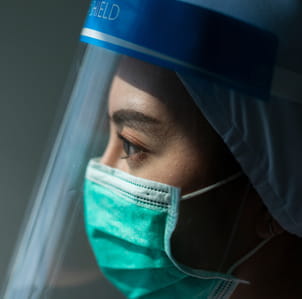 PROTECTIVE gowns, masks and visors have become synonymous with the Covid-19 pandemic, but as was quickly discovered by healthcare providers – PPE is not usually created with everyone in mind.
In amongst the many news articles raising concerns over supply shortages and poor quality items, reports emerged of female healthcare workers and those from minority ethnic backgrounds struggling to find personal protective equipment that actually fitted them.
There was talk of some having to pull masks too tight, while others had to roll up the sleeves of protective gowns. Even "small" sizes were too big for some staff members and stories circulated of informal adjustments having to be made - using tape or other methods to make items fit.
It was a challenge facing clinical teams across the country, but one in particular – at Guy's and St Thomas' NHS Foundation Trust – decided to take a proactive approach and launched their own research project.
Gathering evidence
The London-based team's study into gender and ethnicity PPE biases earned them a nomination at the 2021 BMJ Awards, for diversity and inclusion team of the year – a category proudly sponsored by MDDUS.
The team's work is thought to be one of few projects to formally investigate issues around gender and ethnicity biases in PPE. It discovered that problems in fitting PPE affected not only females, but also Black, Asian and minority ethnic (BAME) workers too.
In their awards entry form, the team explained: "At the start of the pandemic we were allocated respiratory PPE for our staff. However we noticed the masks were large and did not fit many of our staff members, even the small sizes were too large."
Amidst concerns over the safety of staff treating Covid patients, they set up a fit testing program, noting: "it quickly became evident that individuals from ethnic minorities, mixed races and female staff found it more difficult to find a mask that fit".
Digging deeper, the Guy's and St Thomas' team collected more than 1,400 workers' fit testing and demographic data as part of a quality improvement study.
As they observed staff wearing respiratory PPE, the problem "rapidly became evident" with most complaints coming from female and BAME staff. This, the team noted, was "particularly alarming as 77 per cent of NHS staff are female and approximately 20 to 40 per cent of staff (NHS England versus NHS London) are BAME ethnicity".
Ultimately, the team's research found that male and white healthcare workers were statistically more likely to achieve a successful fit test compared to their female and BAME colleagues.
Wider campaign
Concerns around the use of ill-fitting PPE for women and ethnic minorities have been raised more widely by healthcare leaders and campaigners. Reports have focused on increased risks of Covid infection as well as the increased incidence of skin sores and ulcers for clinicians who are forced to pull ill-fitting masks too tightly during long shifts.
Author and campaigner Caroline Criado-Perez, whose book Invisible Women addresses the "gender data gap" in global research, told the Guardian she has been inundated with messages from healthcare workers who could not find protective equipment to fit them.
"Respiratory protective equipment is designed for a male face, and if it doesn't fit it won't protect," she said.
"Because of a dearth of sex disaggregated data we don't know how many women are affected, but I am hearing on a daily basis from women in the NHS who say they can't get their masks to fit."
BMA consultants committee deputy chair Helen Fidler has also spoken out on the issue, saying: "PPE is too often neither personal nor protective for women. It doesn't work as it should, because the wearer is the 'wrong' gender".
Changes for the future
The changes introduced by the award-nominated Guy's and St Thomas' team offer inspiration to clinical leaders across the NHS. They committed to:
Provide all staff, regardless of ethnicity or gender, access to appropriately fitted respiratory PPE. Identify sizes and provide alternatives for those who cannot fit a traditional mask.
Use the data to guide procurement of further PPE.
Procure powered air purifying respirator (PAPR) hoods for staff with facial hair or head dresses. (They noted that a reliable tight seal cannot be achieved with facial hair or head dresses. Many staff have these for religious reasons and, they said, have been asked to shave facial hair/remove head coverings. Guy's and St Thomas' regarded this as discriminatory, and committed to providing an alternative.)
Create a "face panel" representative of the frontline healthcare workforce to guide future respiratory PPE design. (They noted that "research revealed that face masks are designed on a face panel of US Air Force volunteers in 1960s – mainly white males".)
These changes have translated into positive feedback from healthcare workers, Guy's and St Thomas' said, with staff commenting on "the confidence [good fitting] PPE gave them when looking after Covid-19 patients". There were also expressions of gratitude that "someone was doing something" to address issues of ill-fitting PPE, both now and in the future.
Winners were announced at a virtual ceremony that took place on 29 September 2021.
Diversity & Inclusion Team shortlist
- WINNER - Tackling Racism in Forensics East London NHS Foundation Trust
HEENW Trainee-led EDI Network Health Education England (North West)
Introduce, Align and Integrate Medway NHS Foundation Trust
Gender & Ethnicity PPE Biases Guy's & St Thomas' NHS Foundation Trust
Medicine Across Countries Ashford & St Peter's Hospitals NHS Trust Proudly sponsored by:
This page was correct at the time of publication. Any guidance is intended as general guidance for members only. If you are a member and need specific advice relating to your own circumstances, please contact one of our advisers.
Read more from this issue of Insight Dental
Insight - Dental is published quarterly and distributed to MDDUS members working in dental practice throughout the UK. It provides a mix of articles on risk, dento-legal and regulatory matters as well as general features and profiles of interest to dentists.
In this issue