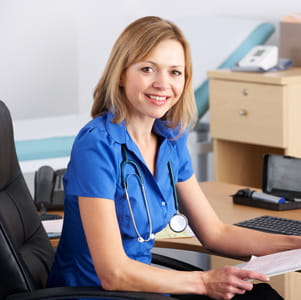 THEY are the new medical professionals on the block and hopes are high that physician associates (PAs) will play a key role in solving the UK's GP recruitment crisis.
But alongside the optimistic narrative of lightening GP workloads and improving continuity of care are fears they could be used as a low-cost replacement for doctors and nurses by employers who are struggling to balance budgets and fill rota gaps.
While PAs are well-established in the US healthcare system, they are still a relatively unknown quantity in the UK, where they are subject to voluntary rather than compulsory regulation.
In 2017 there were less than 600 qualified PAs in the UK, but this is expected to rise as high as 3,200 by 2020. An estimated 350 are currently working in primary and secondary care with another 550 in training. The Department of Health and Social Care (DHSC) and Health Education England (HEE) have said they want to see 1,000 PAs recruited to primary care roles by 2020. In Scotland, a 2013 pilot scheme saw the introduction of PAs into the secondary healthcare system, largely to carry out tasks that junior doctors do.
Who are they?
The Faculty of Physician Associates (FPA) at the Royal College of Physicians describes PAs as a new generalist healthcare professional that is medically trained, working alongside doctors and providing medical care as an integral part of the multidisciplinary team. It adds: "Physician associates are dependent practitioners working with a dedicated medical supervisor, but are able to work autonomously with appropriate support."
In the UK, PAs must complete a two-year postgraduate diploma. They must already have a degree in a life or healthcare science and health service work experience. Students must complete at least 1,600 hours of clinical training across a range of specialties such as community and general medicine, mental health, obstetrics and gynaecology, and paediatric services.
Complementary
One point that is made clear is that PAs are not doctors. Professor Steve Heys, course director of the first Scottish pilot scheme, put it bluntly when he told BBC Scotland: "They are not doctors on the cheap." The FPA also stresses that they are "complementary to GPs rather than a substitute."
This notion of debunking PAs as cheap replacements for GPs is highlighted in the FPA's An employer's guide to physician associates. In it, the Faculty warns it is "imperative" that PAs are not employed where an alternative healthcare professional such as a GP or practice nurse would be better suited.
The FPA explains: "PAs can fulfil an enabling role in general practice, taking on certain areas of workload, helping to free GPs [and other staff] to focus on the more complex patient cases.
"This does not mitigate the need to address the shortage of GPs or reduce the need for other practice staff. Instead PAs can help to broaden the capacity of the GP role and skill mix within the practice team to deliver patient care."
Clear plan
Another key concern lies in defining PAs' scope of practice. The FPA urges employers to write a clear job plan and says supervision from a GP is crucial, particularly for newly qualified PAs.
As the Faculty says in its guidance, the level of competence at which the PA can work will depend on their skills and experience, and that of their supervising GP. It reassures that "all PAs are trained to be aware of the level of their clinical competence, and to work within their limits accordingly."
The guide details the various jobs that PAs can do. It describes how they can assess, manage and treat patients with a variety of acute and chronic conditions, as well as offering rebooked appointments. PAs can triage patients, carry out telephone consultations, make referrals, and review and act on laboratory results. Many also carry out home visits or visit nursing and residential homes. Some offer specialised clinics following appropriate training, including family planning, baby checks, COPD, asthma, diabetes and anticoagulation. PAs are also able to teach and supervise students.
Registration
While there is still no formal statutory register for PAs, the FPA operates the Physician Associate Managed Voluntary Register (PAMVR). It "strongly encourages" all qualified PAs to join the register and all employing organisations to ensure their PAs are registered.
A registering body has not yet been chosen but both the General Medical Council (GMC) and the Health and Care Professions Council have expressed an interest. The GMC has also said that doctors should not be asked to subsidise the process.
Similarly, the Faculty states that PAs "must take out professional negligence insurance" from a medical defence organisation, or ensure they are covered under a general practice group arrangement.
So while there is much to be hopeful about the use of PAs in general practice, the success of this new healthcare professional will likely depend on whether employers are willing to commit the necessary time and resources to support them.
Joanne Curran is managing editor of GPST
Sources
This page was correct at the time of publication. Any guidance is intended as general guidance for members only. If you are a member and need specific advice relating to your own circumstances, please contact one of our advisers.
Read more from this issue of Insight Primary
GPST is published twice a year and distributed to MDDUS members in GP training throughout the UK. It provides a mix of articles on risk, medico-legal and regulatory matters as well as general features and profiles of interest to trainee GPs. Browse all current and back issues below.
In this issue