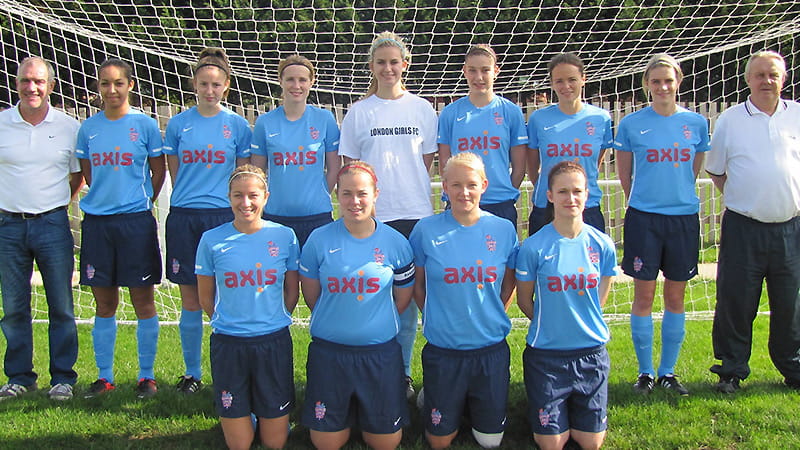 THERE can't be many GPs who can boast a football keepy-uppy record of more than 2,500 touches. But London-based Dr Jane Simpson is not like most GPs. Her skill at keeping a ball in the air without letting it hit the ground would be the envy of many players and is a result of her lifelong passion for the beautiful game.
Sport has played a central role in Jane's life for as long as she can remember. Growing up going to matches with her Sheffield United supporter Dad, she was kicking a ball around with her two football-mad brothers from a young age. "The sport I first remember playing was football," she says. "I started playing for a team aged eight and haven't really taken much time off since then."
Now 30, Jane – who plays centre midfield – says football has opened up many exciting opportunities. "As a teenager, I was particularly involved in playing and gained several FA coaching qualifications. This meant that, for a number of years, I could work part-time for the Millwall Community Scheme, going into schools to coach football in between studying for my A-levels. Coaching and playing football gives you an in-built discipline. As part of a team you are committed to training twice a week and playing on a Sunday so you need to take care of yourself and stay fit.
"Also, standing in front of 30 eight-year-old kids and making sure they have clear direction gives you a certain level of confidence!"
Jane played for the Millwall Lionesses from age nine until she was 18 and was also in the England under-16 training squad. She adds, modestly: "I was quite good at that point."
Science skills
Playing football was not the only skill Jane developed at secondary school, however. Showing an aptitude for science, she debated whether to study physiotherapy or medicine at university. "I was encouraged by teachers and family to take medicine – I think I made the best decision." She studied at Sheffield University – which allowed regular attendance at United matches – then returned to London for her foundation training.
Even during her studies Jane found time for football, opting to spend five years at Sheffield Wednesday whose women's team was better than United's (although the move wasn't so well-received by her United-mad family). It was while playing for Wednesday that she experienced one of her sporting career highlights. "We won the County Cup playing against one of the best teams in the country, the Doncaster Belles," she remembers. "They were the favourites but we pulled off a great performance to win 1-0. I scored the winning goal, which was a fantastic moment."
Completing her foundation training at Lewisham hospital, Jane initially planned to specialise in emergency medicine. For her medical elective, she went to South Africa for two months, working in the emergency department of a hospital in Cape Town. "That was the best experience of my medical career," she says. "I was 22, and went there on my own, not knowing anyone. I was working in quite a deprived hospital, with a real lack of equipment and very poorly patients presenting quite late with their medical conditions.
"This meant I saw things I would never have seen at home and I was also able to contribute in a way which, as a medical student in England, would not have been possible. South Africa is a great country, the people were amazing."
No to nightshift
Despite her love of A&E, Jane soon decided the work-life balance it presented wasn't for her. "I just couldn't see myself doing nightshift," she says. "I experienced many other areas of medicine when I was working in the hospital, but none of them really grabbed me. It was then I decided that general practice would give me a bit of everything, so I started my three years of GP training, qualifying in 2012."
Despite the hours being more favourable and the work being equally rewarding, Jane has found her role as a locum in south-east London also presents its challenges. "Working in A&E, a lot of the people are acute cases, so you have to act quickly, which draws on very different skills from GP – it's more practical skills which come into play, which I enjoy. In GP, you see more chronic illness and, being honest, I feel this specialty is much more challenging. Seeing 40 patients a day with different problems can be mentally and physically draining.
"What I very much enjoy about it, though, is the continuity of care, getting to know people and families."
Combining passions
After completing her specialty training, Jane took six months out and travelled to South East Asia - taking in Cambodia, Vietnam and Thailand - giving her time to think about where she wanted her medical career to go next. "I was already aware of the sports medicine and exercise masters at Queen Mary University, London, and applied as soon as I came back. It's a full-time course over one year, which started last September. I received a training bursary from Arthritis Research UK to help with the fees, which I am very grateful for.
"I am loving every second of the course as it brings together my lifelong love of sport with my medical career. The course at Queen Mary University is the longest standing of its kind in the UK, so the people who come to lecture are top quality. I'll be honest, it hasn't always been easy - the musculoskeletal part of the course in particular has been tricky, and also the research based aspect - it's a very evidence based course, but this has been very enlightening and encouraged me to look at things differently. In particular, I find the football medicine module very interesting, which is taken by the doctor for Arsenal."
Balancing her part-time work as a locum with study does not leave much time for playing sport, but that's not holding Jane back. "Football is the one sport I would play in the snow, wind or rain," she laughs. "I started playing again this year for a local team, the London Corinthians."
And just last week she began work as a doctor for Millwall FC Academy, an under-21s men's team in the English second league. "The job came about through the sports medicine and exercise course," she says. "So far it's just great, there are really experienced physios there so I know I will learn a lot, and I'm providing emergency pitch-side treatment, which means I'm there watching all their games."
As for the future, Jane hopes to continue as a part-time GP and, once she has finished her masters course, take up a clinical role at a football club.
She says: "Every GP is different and I imagine the majority will look for a specialty or something different they can do alongside their practice. It's definitely worth looking for graduate courses available in things you are interested in - you can study all sorts of subjects which could take your career in another direction entirely."
Link:
Rowan Morrison is a writer based in Edinburgh
This page was correct at the time of publication. Any guidance is intended as general guidance for members only. If you are a member and need specific advice relating to your own circumstances, please contact one of our advisers.
Read more from this issue of Insight Primary
GPST is published twice a year and distributed to MDDUS members in GP training throughout the UK. It provides a mix of articles on risk, medico-legal and regulatory matters as well as general features and profiles of interest to trainee GPs. Browse all current and back issues below.
In this issue