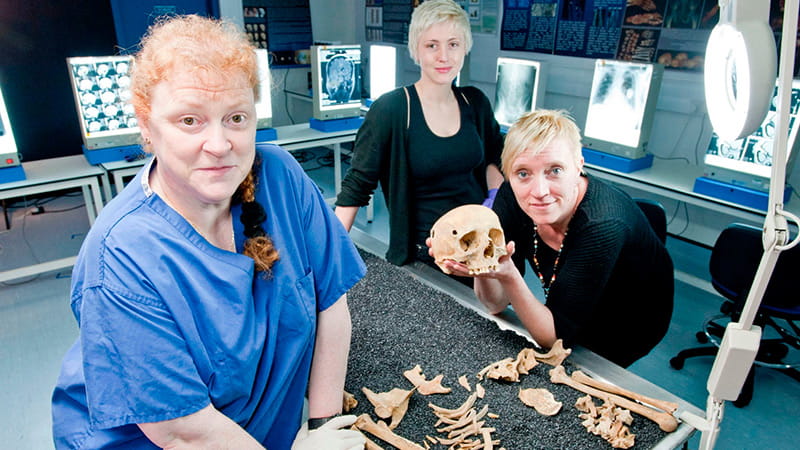 THE recent BBC2 series History Cold Case may have made Dundee Professor Sue Black something of a household name but she is no stranger to high-profile forensic investigation.
In 1999, Sue acted as the lead forensic anthropologist to a British team sent to identify victims of genocide in Kosovo. Her work helping to exhume and identify more than 1,000 bodies led to Slobodan Milosevic becoming the first head of state to stand trial for crimes against humanity. It also earned her an OBE.
In 2004, Sue travelled to Thailand in the wake of the Boxing Day tsunami and helped identify the British victims who were amongst the 200,000 dead. Her investigations in Iraq helped convict Saddam Hussein, while her work in the UK has also been instrumental in securing the convictions of serial killers such as Fred and Rosemary West as well as in child sex abuse cases.
She is currently director of the Centre for Anatomy and Human Identification at the University of Dundee and is a founder and director of the Centre for International Forensic Assistance. She is founder and past president of the British Association for Human Identification and adviser to the Home Office and Interpol on issues pertaining to forensic anthropology in disaster victim identification (DVI).
Apart from appearing in History Cold Case Sue has also worked in radio. She lives with her family near Aberdeen.
How did you get started in forensic anthropology and the field of human identification?
I went to university not knowing what I wanted to study other than something 'biological'. I found human anatomy utterly absorbing in terms of study and my fate was sealed in the discipline. However when it came to research I have a morbid fear of rodents and so any exploration in that realm was completely off limits. The only other thing available to me was the study of human bones - perfect! My first forensic case came during my PhD studies and at that point, I knew that was what i wanted to do.
What advice would you give to trainee doctors who are interested in your field of work?
Anatomy is a core subject for all medical and paramedical disciplines but the 'forensic' element gives you an added dimension of investigative skills, attention to detail, importance of accurate recording and of course never going beyond your sphere of experience. Any element of forensic medicine is good for trainee doctors as it develops a very useful set of skills that will serve them well in whatever aspect of medicine they may choose to specialise.
What are the best and worst things about your work?
The best is that you play your part in securing justice for victims. The worst is that you have to bear witness to the inhumanity that man bestows on his fellow man. It can be very sobering especially when working on genocide cases such as Kosovo or in much of the current work in which we are involved which is identification of perpetrators of child sexual abuse.
Which of your professional experiences is the most memorable?
Kosovo was unquestionably a turning point for me in my career. It was memorable for so many different reasons. We were still technically working in a war zone so security and cooperation with the military was a new dimension to my working environment. The heat and the lack of amenities that we take for granted - sanitation, electricity, running water - really tested ingenuity. The humanity of the survivors was an abiding memory.
How do you cope with witnessing what must be some very harrowing scenes of mass graves and murder?
You cope by arming yourself with clinical detachment. You focus on the work that you have to do, retrieval of evidence for courtroom purposes, and you do not deviate from that goal. if you take on the enormity of the suffering and inhumanity that you witness, then you cannot remain objective and in so doing you do not serve justice, you do not serve the victims and you do not serve the survivors.
What do you find most rewarding about your job?
The most rewarding element is in being able to identify a deceased person and return them to their families. Describe a typical working week. There is no such thing as a typical week - fortunately. I have a short attention span and get bored very easily. So part of a day might be taken up with teaching undergraduate or postgraduate students, I might be talking with Interpol about DVI training, I might be liaising with a police force about the remains of a dead body that has been found, I might be working on some research with my PhD students - and of course there is always administration and paperwork.
How did you get involved in TV work?
I don't know how I got involved but as anyone who knows me will tell you, it is not something that I enjoy. I don't enjoy the process and I certainly don't watch the end product.
Was it a challenge performing in front of the cameras for History Cold Case?
It isn't really a challenge but as I said, I have a short attention span and so get bored very quickly. I don't do well at being directed to say or do something and certainly not more than once. The History Cold Case production crew were very patient with me. Conversely, I love doing radio and especially live radio. There is no retake and you get the opportunity to tell a story in words. I am much happier there.
How has the current popular interest in forensics – with the spate of TV dramas – affected what you do?
Forensic awareness from the public affects us in a number of ways. A lot of students have unrealistic expectations of what studying will be like and some find it very challenging. Also our juries consider themselves to be more forensically aware than in the past and at times managing their expectations is also difficult.
How has the field of forensics changed in recent decades?
The field has changed quite dramatically from an amateur approach to more professional requirements. For many years, forensic anthropology was seen as the back door into forensic work but that is no longer the case. Regulation and legislation are ensuring, quite rightly, that formal training is much more rigorous and being able to 'break into' the field is no longer a matter of chance but requires formal processes.
What is the secret to your success?
You have to work hard and you have to work long hours and there must be no job that you are not prepared to do yourself. There is no room for an academic ego. There is no easy fix. What do you do in your spare time? Quite seriously, I don't have any spare time. When our daughter was nine years old she asked us if we had ever been on holiday. Bit of a wake up call. We did go on holiday, but I got so bored that I wrote the guts of a text book. I have known my husband since we were in school together and he is also a qualified anatomist - although he changed career path to become a finance director. We have three daughters 27, 16 and 14 and two grandchildren aged two and 10 months. We live in the north east of Scotland and are ridiculously old fashioned parents.
Interview by Joanne Curran, associate editor of publications
Second photo: Sue at work in her lab
This page was correct at the time of publication. Any guidance is intended as general guidance for members only. If you are a member and need specific advice relating to your own circumstances, please contact one of our advisers.
Read more from this issue of FYi
FYi is published twice a year and distributed to MDDUS members in Foundation Year 1 and Foundation Year 2 training programmes and final year medical students throughout the UK. It provides a mix of articles on risk, medico-legal and regulatory matters as well as general features and profiles of interest to trainee doctors. Browse all current and back issues below.
In this issue