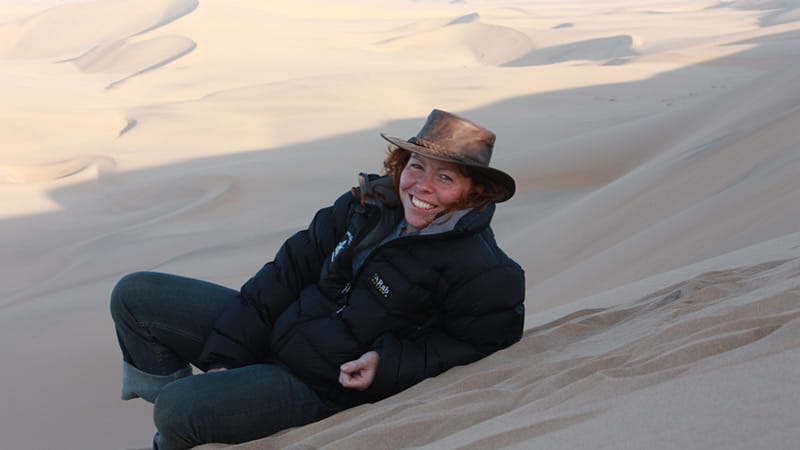 EXPEDITION Medicine is one of the leading providers of expedition and wilderness training for healthcare professionals and the organisation's new medical director is Dr Amy Hughes. Amy is currently a specialist registrar in pre-hospital medicine working for the Helicopter Emergency Medical Team (HEMS) in Kent and has been involved in expedition medicine for the last seven years.
How did you first get interested in expedition medicine? Towards the end of my first year as an SHO I was keen to spend a year away from hospital medicine but in a constructive manner. Having spent my elective with the rescue helicopter in New Zealand, I think I was craving a bit of adventure (haven't stopped!). I did a bit of research on the internet and spoke to a colleague of mine who was involved with a company (Across the Divide) that employed medics on all its charitable short expeditions. Later I enrolled on a course – expedition medicine – which provided an insight into a whole different, incredibly appealing and exciting side of medicine.
What was your first expedition? I went with a company called Blue Ventures on a static dive site working with volunteer divers and the local community in a remote part of Madagascar. They were happy to take someone who had a bit of travelling experience, six months emergency medicine and who was interested in the project. It was a superb starting point.
What has been your greatest challenge as a doctor on expedition? Every expedition comes with the potential for something catastrophic to happen, be it from an accident or from a pre-existing medical condition which is exacerbated… and in the remotest possible place! So pre-planning is absolutely essential – and that is often a huge challenge and responsibility. For me the toughest experience has been the medical and logistical co-ordination of an ultramarathon in the Namibia desert – 127km over 24 hours in heat up to 46 degrees with 30 runners. Anything can go wrong in such an extreme environment – medically, logistically, communications – and with such an incredibly extreme activity.
What medical conditions are common to expeditions? It depends on the environment. Diarrhoea and vomiting from poor sanitation and hand hygiene can be very prevalent. Hot weather tends to bring heat-related illnesses, skin conditions, fungal infections and tropical infections. In cold weather it's hypothermia, frost nip and frost bite. For endurance expeditions – dehydration, sodium imbalance, muscle injury are challenges. And of course there are the pre-existing problems, like asthma, or even withdrawal from alcohol!
Are there practical medical skills that every expedition doctor should perfect? Being a competent traveller is vital – not to be the one struggling at the back of the group or scared of the environment you are in. This is really important for developing trust in a team. In terms of practical medical skills, it's important to be able to provide a good accurate assessment of any patient who may need casevacing (casualty evacuation) as this can entail a huge amount of resources and time. If someone can be managed in camp effectively without further risking their health then this needs to be recognised. Other practical skills would include wound management, dressings, rash recognition, fracture and dislocation management, IV cannulation, splinting...
What is the most useful bit of kit for an expedition medic? Alcohol gel hand wash!
What can you expect to do and learn on an expedition medicine course? A course will usually encompass generic teaching from very experienced individuals on hot and cold weather expeditions, legal aspects, communications, group dynamics, security as well as small group practical sessions on pre-hospital wilderness care, navigation, rope skills, improvised stretchers, aviation, radio communications. We also offer specific courses on diving medicine (with practical), desert medicine, jungle and polar to name a few.
Are there qualifications available in expedition medicine? Yes – a large range from a masters in wilderness medicine, to diplomas in mountain medicine and tropical medicine or a masters in disaster medicine.
What opportunities are out there for doctors with an interest and expertise in expedition medicine? There are many opportunities – however taking up an opportunity can sometimes involve risk, deviating slightly from the 'normal' structured medical pathway and going slightly into the unknown. But the benefits are vast – not only in the people you meet, the countries visited and activities undertaken, but also in developing yourself as an individual and as a medic. Expedition medicine develops skills and attributes additional to (and often more beneficial than) clinical ones – team work, leadership, decision making, innovation, reliability, management, communication, education and teaching. The list can go on.
Where are you off to next? My next adventure after finishing the HEMS job I am doing at the moment is with Médecins Sans Frontières in April..... to a destination as yet unknown! To find out more about training opportunities at Expedition Medicine go to www.expeditionmedicine.co.uk
Interview by Jim Killgore, contributing editor
This page was correct at the time of publication. Any guidance is intended as general guidance for members only. If you are a member and need specific advice relating to your own circumstances, please contact one of our advisers.
Read more from this issue of FYi
FYi is published twice a year and distributed to MDDUS members in Foundation Year 1 and Foundation Year 2 training programmes and final year medical students throughout the UK. It provides a mix of articles on risk, medico-legal and regulatory matters as well as general features and profiles of interest to trainee doctors. Browse all current and back issues below.
In this issue