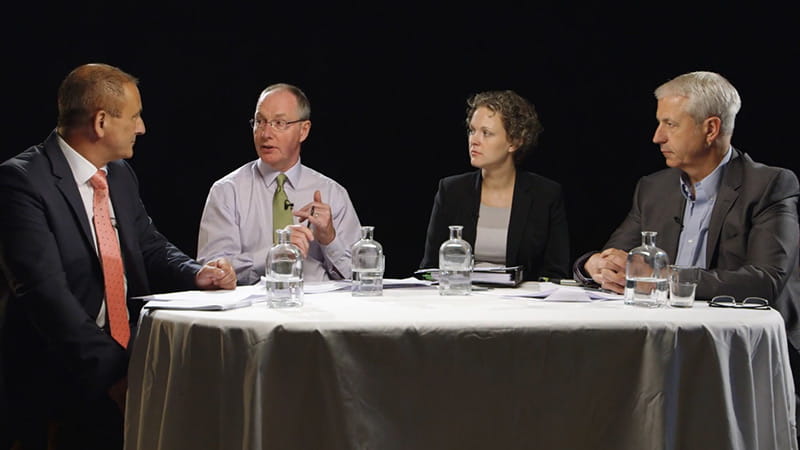 This month sees the release of the first of two MDDUS roundtable discussions centred on the risks associated with treating seriously ill children. This is a difficult area for doctors, and GPs in particular, as they will see several sick children in a surgery with common childhood illnesses, most of whom have no serious consequences.

Unfortunately, serious childhood illnesses often present with symptoms and signs that are similar to less serious ones. Early treatment can also have a major impact on outcomes, sometimes making the difference between near complete recovery and very serious disability or even death. These factors make cases involving children a particular concern.

The priority when dealing with these illnesses is to ensure appropriate early identification wherever possible.
Two types of case / two types of risk
Our first roundtable discussion centres on the timeline of a meningitis/meningococcal septicaemia case (case A) and highlights the limited windows of opportunity available in these types of cases to prevent harm.

Some conditions with a slowly progressing natural history also present a diagnostic challenge and our second roundtable (case X – coming soon) will focus on a particular example of this, highlighting the risks associated with shared care during infancy between GP practice and community nursing services.
Panel of experts
The details of the cases are explained by MDDUS medical and risk adviser Dr Gail Gilmartin and the roundtables are then chaired by Alan Frame, MDDUS risk adviser and host of our Risk Factor series of interviews.

The panel comprises a GP, a paediatrician and a barrister. They are:
Niall Cameron: GP partner
Niall has been a GP in the Govan area of Glasgow since 1986 and is a partner in a four-doctor practice which has a significant involvement in undergraduate and postgraduate teaching. He has been involved with appraisal since 2003 and is currently National Appraisal Adviser for Medical Appraisal in Scotland employed by NHS Education Scotland. Niall acts as a GP expert and is also interested in health inequalities, medical law and medical ethics.
Jack Beattie: Consultant paediatrician 
Jack is a recently retired consultant paediatrician who worked at Yorkhill Hospital with clinical responsibilities for urgent assessment of ill children, and child protection examinations.

He has a long history of expert witness work both in general paediatrics and child protection areas. He has been involved in civil clinical negligence claims, FAIs, Central Legal Office reports in cases where NHS indemnity applies and criminal trials for both the Crown and defence in child injury and murder cases. Jack also has a Masters in Medical Law, and is currently based at Edinburgh University School of Law writing a PhD on expert paediatric evidence in infant child protection cases.
Sarah Simcock: Barrister
Sarah practises in all aspects of clinical negligence, acting for both claimants and defendants. She regularly appears in cases in the High Court and county courts, drafts statements of case and advises in claims involving doctors, dentists and professionals from other related fields.

Discussion focusses on significant features within the cases, the adequacy of assessments and record-keeping by the clinicians involved, highlighting potential opportunities to avoid progression of the illness.
Tips for watching
Roundtable 1 is now available for members, along with a handy case timeline which can be printed and used as a helpful reference throughout the discussion.

We have also produced a glossary of some of the legal terms used.
Reflective guides 
MDDUS analysis of cases such as these has highlighted areas of risk which relate to complaints and claims. These can occur when practice has been of a good standard but some aspect of patient management has resulted in dissatisfaction, or concerns over poor care. Other cases arise where patient care has fallen short of expected standards. In all instances the care and management is scrutinised, with particular attention paid to records and other sources of proof of practice. This can include review of correspondence, statements and sometimes personal appraisal and learning materials.

Ultimately you might have to justify your actions and our reflective guides can assist in improving day-to-day practice, rebuttal of complaints or claims and ultimately minimise patient and medico-legal risk.
Comments and sharing good practice
As with all of our risk tools, we would welcome your comments and sharing of good practice on the roundtable discussion topics, both here and via our email risk@mddus.com
This page was correct at the time of publication. Any guidance is intended as general guidance for members only. If you are a member and need specific advice relating to your own circumstances, please contact one of our advisers.