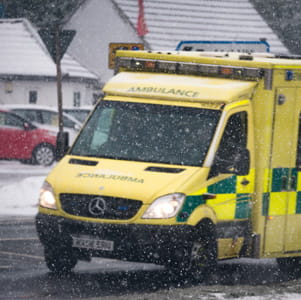 A PATIENT takes seriously ill in a GP surgery and an ambulance is urgently requested but is delayed for a prolonged period of time…
This scenario recently featured in the medical press. Delays in ambulance calls to practice premises can be very disruptive and probably stem from a belief that with the presence of medical staff and practice equipment this is not too risky. In addition it has been reported that the ambulance service may sometimes downgrade such calls.
MDDUS has also had a number of advice contacts regarding the best way to respond in this situation. Similar scenarios typically involve patients seen at home. A GP determines that a patient requires urgent transportation to hospital and, after calling for an ambulance, the doctor is left waiting with the patient, despite pressing clinical commitments elsewhere. Should the GP stay with the patient until the ambulance arrives? If not, what is a reasonable timeframe?
In all such situations the main determinant will be the patient's condition. Are they stable and being adequately managed in their current environment? Is there a risk of rapid deterioration?
These considerations require a complete assessment of the patient's condition as determined by a detailed history, examination and observations – all of which should be adequately documented. Are you reasonably confident of your working diagnosis? Can you to make a safe judgement about being able to leave the patient, especially at home?
Always consider how you would justify your decision if anything went wrong. Remember that good notes will help if you have to account for a particular course of action. Your choices may have to be balanced against the risk to other patients if you are urgently required elsewhere, especially with another ill patient needing review. Is there someone who can wait with the patient? This might be a suitably capable family member, carer or other health professional. Can you leave clear instructions with regard to what to do in the event of a deterioration and when to escalate to the ambulance service?
Should the patient's condition demand an expedited ambulance request, having the clinical information described above will help to emphasise the need. Clear clinical detail is also essential in challenging the downgrading of an ambulance request.
Ultimately patient safety is the priority and you might have to be imaginative in finding the best response to a particular emergency situation, for example is it appropriate to ask the patient themselves to call the ambulance so as to prevent delay? Again – always check that you can clearly explain your actions. Be careful to balance the pros and cons of prioritising one action over another. Being late for routine tasks is not usually justification for leaving a sick patient awaiting transport.
A practitioner may also find themselves in the unenviable position of having to provide supportive care to a patient waiting for an ambulance when there are limited resources to hand. Remember that you are very unlikely to be criticised for having done your utmost in the given circumstances to secure patient safety.
In terms of relevant guidance from the regulator, the GMC states:
"Make the care of your patient your first concern. Take prompt action if you think that patient safety, dignity or comfort is being compromised…
"Work with colleagues in the ways that best serve patients' interests…
"You are personally accountable for your professional practice and must always be prepared to justify your decisions and actions…
"You must contribute to the safe transfer of patients between healthcare providers…"
As mentioned at the outset, these situations appear to be occurring with greater frequency. It can therefore be helpful to discuss with colleagues the best approach. Talking through a theoretical "what if" scenario can help formulate a framework to enable a practitioner to react in a clinically appropriate way and within the limits of local resources.
Should a patient come to avoidable harm because of a delay or downgrading of an ambulance request, adequate records are key. Ensure that clinical notes are complete and include measured observations, such as temperature, pulse, BP and oxygen saturation. Keep a careful record of ambulance service contacts and the information exchanged. Remember to use clear unambiguous language when requesting an ambulance. After such an event it is important to carry out a significant event review and raise any concerns with the ambulance service.
ACTION POINTS
Consider a strategy for this type of event so that you have a plan of action.
Remember to always put patient safety above everything else.
Keep detailed notes (both clinical and administrative) regarding ambulance service contacts.
Consider liaising with local healthcare services/providers to minimise the risks associated with this problem.
Dr Gail Gilmartin is a medical and risk adviser at MDDUS
This page was correct at the time of publication. Any guidance is intended as general guidance for members only. If you are a member and need specific advice relating to your own circumstances, please contact one of our advisers.