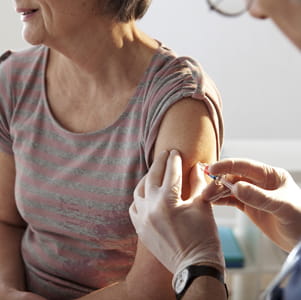 FLU season will soon be upon us and questions regarding healthcare assistants (HCAs) administering flu vaccinations are already being raised on a regular basis with the MDDUS advisory service.
Currently there is no specific list of appropriate tasks that HCAs can perform. It is a matter for the practice to decide what training and supervision is appropriate for their HCAs. The General Medical Council does offer the following advice regarding the delegation of clinical care: "When delegating care you must be satisfied that the person to whom you delegate has the knowledge, skills and experience to provide the relevant care or treatment; or that the person will be adequately supervised. When you delegate care you are still responsible for the overall management of the patient".
Many HCAs are well-trained and competent to administer vaccinations and this enables them to carry out the task of immunising patients. However, it is the prescribing of the vaccine, and the assessment of the patient prior to that, which may raise concerns and has led to confusion in some practices. Be clear that it is the prescriber who is ultimately responsible for adequate assessment of each patient.
PGD v PSD
The majority of flu vaccinations provided by the NHS are prescribed via patient group directives (PGDs). These are written instructions for the supply and/or administration of a named licensed medicine, for a defined clinical condition to groups of patients, who may not be individually identified before presentation for treatment. PGDs are not a form of prescribing but provide a legal framework for nurses and certain other registered healthcare professionals to administer a medicine directly to patients under a specified criteria, without the need to see a doctor or other qualified prescriber.
However, please note that HCAs may not administer drugs or provide treatment under a PGD. For an HCA to be involved in flu immunisations it must be via a patient specific directive (PSD). A PSD is a written instruction from an independent prescriber (doctor, dentist or independent nurse prescriber) to another healthcare professional, to supply and/or administer a medicine directly to a named patient or to several named patients.
PSDs are used once a patient has been assessed by a prescriber. This could be in the form of a written template, a prescription or a simple written or electronic instruction in the patient's notes. A PSD must state the name of the patient, the name and dose of the medicine to be administered, the name or initials of the authorising prescriber and confirm that the patient has been assessed on an individual basis. It would not be sufficient for a GP or nurse prescriber to review and sign a list of patients as being appropriate for vaccination by a HCA.
The key issue is the assessment of the patient, which should be contemporaneous to the administration of the vaccine. In this context, practices may also wish to refer to GMC guidance in paragraph 14 of the 2013 supplementary document Good practice in prescribing and managing medicines and devices. In this guidance the GMC states that in providing clinical care "you should prescribe drugs only when you have adequate knowledge of the patient's health and are satisfied that the drugs or treatment serve the patient's needs".
Ensuring compliance
So how might this be set up within the practice to allow HCAs to be involved in the flu vaccination programme? Practices across the country will run their programmes differently but here are a couple of ways that practices could utilise their HCAs and remain compliant with professional guidelines.
Opportunistic vaccination. A doctor or an independent nurse prescriber having assessed a patient in a consultation can issue a PSD and the patient can then be asked to see the HCA to have the vaccination administered.
Prearranged clinics. In this set-up an HCA may work in tandem with a prescriber who assesses the patient, with the HCA administering the vaccination. They may work in the same room or in a separate room close by. Patients could also be individually assessed contemporaneously and a clear PSD placed in each patient's records which would enable the HCA to administer vaccinations to these patients. Good practice dictates that the prescriber should include a start and finish date in the PSD to ensure it is acted on within an appropriate timeframe.
The practice should be confident that the HCA is trained and competent to complete the task, and any training and supervision that has taken place should be documented and kept on file.
Helen Ormiston is a practice adviser at MDDUS
This page was correct at the time of publication. Any guidance is intended as general guidance for members only. If you are a member and need specific advice relating to your own circumstances, please contact one of our advisers.