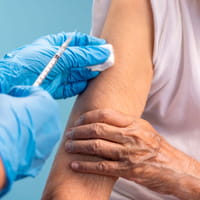 RISK of death involving Covid-19 has been found to be consistently lower for people who received two vaccinations compared to one or no vaccination, according to data published by the Office for National Statistics (ONS).
The ONS analysis of 51,281 deaths involving Covid-19 that occurred between 2 January and 2 July 2021 in England found that 640 (1.2 per cent) occurred in people who were fully vaccinated.
There were 256 "breakthrough deaths" between 2 January and 2 July 2021 – which occur in individuals having received both vaccine doses and a first positive PCR test at least 14 days after the second vaccination dose. Just over three-quarters (76.6 per cent) occurred in clinically extremely vulnerable patients compared to 74.5 per cent for other Covid-19 deaths and 69.7 per cent for non-Covid-19 deaths.
Julie Stanborough, from the ONS, said: "Our new analysis shows that, sadly, there have been deaths of people involving Covid-19 despite them being fully vaccinated.
"However, we've also found that the risk of a death involving Covid-19 is much lower among people who are fully vaccinated than those who are unvaccinated."
This page was correct at the time of publication. Any guidance is intended as general guidance for members only. If you are a member and need specific advice relating to your own circumstances, please contact one of our advisers.