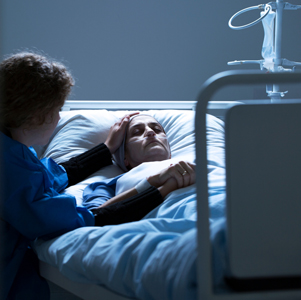 A SURVEY carried out by The Royal College of General Practitioners shows growing support among GPs for a change in the law on assisted dying.
In the member survey, 47 per cent of respondents said that the College should maintain its stance against assisted dying, but opposition among GPs to a change in the law has fallen from 77 per cent since a 2013 survey.
Support for a change in the law rose from five per cent in 2013 (with 18 per cent neutral) to 40 per cent in 2019, with 13 per cent either neutral or abstaining.
The RCGP has confirmed that it will remain opposed to changing the law given the result and the College has said it will not review its position on this issue for at least five years unless there are "significant developments".
Professor Martin Marshall, Chair of the RCGP, said: "Assisted dying is a controversial topic and this was reflected in the responses to our consultation. However, the highest proportion of respondents said that the College should continue to oppose a change in the law on assisted dying.
"The role of the College now is to ensure that patients receive the best possible palliative and end of life care, and to this end we are working with Marie Curie and others to support this."
The organisation Care Not Killing welcomed the RCGP decision. Chief executive Dr Gordon Macdonald, commented: "The current laws on assisted suicide and euthanasia exist to protect those who are sick, elderly, depressed or disabled from feeling obliged to end their lives. It protects those who have no voice against exploitation and coercion.
"We are pleased that the Royal College of General Practitioners recognise this and the dog whistle message that singling out the terminally ill and disabled people would send. As Paralympian Tanni Grey-Thompson has said, 'Legalising assisted suicide will only serve to reinforce deep seated prejudices that the lives of sick and disabled people aren't worth as much as other people's'."
Also responding to the RCGP's announcement was Sarah Wootton, Chief Executive of Dignity in Dying. She said: "This poll reveals an emphatic shift in views from 2013, with over half of GPs voting for the RCGP to drop its opposition to assisted dying.
"The RCP sensibly and pragmatically took the decision to drop their longstanding opposition in favour of neutrality, and there is no reason why the RCGP should not follow suit."
The BMA has also surveyed its members for views on physician-assisted dying and will report on the results in advance of its Annual Representative Meeting (ARM) in June of this year. The organisation is currently opposed to assisted dying in all forms.