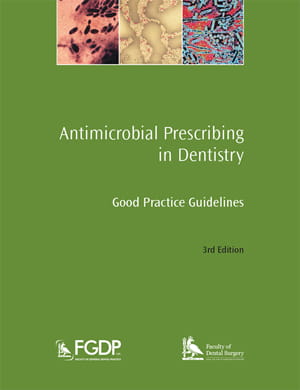 AN updated and expanded guide on antimicrobial prescribing in dentistry is now available free to download.
The third edition of Antimicrobial Prescribing in Dentistry – Good Practice Guidelines has been published by the Faculty of General Dental Practice UK (FGDP) and the Faculty of Dental Surgery of the Royal College of Surgeons of England (FDS). It updates the previous edition to reflect changes in the evidence base and covers a much wider range of conditions.
Antimicrobial resistance poses serious risks for global healthcare and particularly in patients undergoing major surgery, chemotherapy, organ or stem cell transplants. Every year, 25,000 people across Europe and 700,000 worldwide die from antibiotic-resistant infections, and the UK government predicts the annual global toll could be 10 million by 2050. Dentists prescribe an estimated 10 per cent of all oral antimicrobials administered in England.
Prudent prescribing of antimicrobials can slow down the further development of antimicrobial resistance, and the new guidance offers clear guidelines on when to prescribe, what to prescribe, for how long and at what dosage.
Dr Nick Palmer, editor of the guidelines, said: "Antimicrobials can be an important adjunctive therapy in treating oral infection, but side effects, potential adverse reactions and the growing threat of antimicrobial resistance mean they should be prescribed judiciously. On behalf of the guideline development group, I hope dentists in all settings will find Antimicrobial Prescribing in Dentistry a useful aid to appropriate prescribing in their everyday practice."
Antimicrobial Prescribing in Dentistry – Good Practice Guidelines is available free to download in PDF format at FDS Clinical Guidelines. Print copies can be purchased at the FGDP online shop.
Dr Nick Palmer has also written a blog about the threat of antimicrobial resistance, and how the new guidance can help dentists slow its growth: AMR: a greater threat to public health than COVID.
This page was correct at the time of publication. Any guidance is intended as general guidance for members only. If you are a member and need specific advice relating to your own circumstances, please contact one of our advisers.