THE UK has been ranked at the bottom of a global league table on how well schools educate children about their oral health.
Findings from a new YouGov survey published by the Oral Health Foundation reveal that less than one in three (29 per cent) British children aged between five and 16 are given lessons about the importance of good oral care. The Oral Health Foundation says this research highlights how far UK schools are falling behind when it comes to teaching young children about looking after the health of their mouth.
Mexico tops the global list, where more than nine in ten (93 per cent) school children are being taught about the importance of oral health. The UK lags significantly behind the United States (53 per cent), Germany (69 per cent), China (77 per cent), Brazil and India (91 per cent).
Further findings from the survey revealed that nearly half (49 per cent) of British parents "didn't know" how often their child's school gave lessons on the importance of good oral care compared to only one per cent in Mexico.
Dr Nigel Carter OBE, chief executive of the Oral Health Foundation, says the results of the survey further reinforce the need for a more hands-on approach from the government. "The news that the UK is at the bottom of the heap when it comes to oral health education is extremely disappointing but is sadly not a surprise.
"The government continues to ignore the importance of oral hygiene for a young person's overall wellbeing. Oral health is absent in the school curriculum and our children are suffering as a result."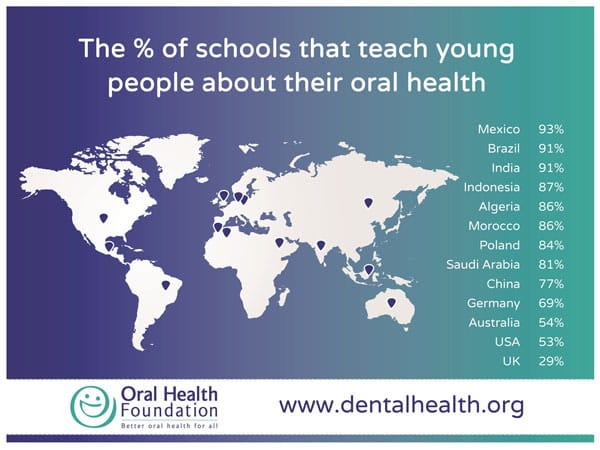 This page was correct at the time of publication. Any guidance is intended as general guidance for members only. If you are a member and need specific advice relating to your own circumstances, please contact one of our advisers.