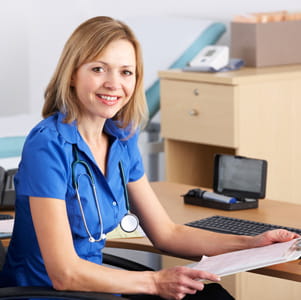 GP practices in England will be given funding for 20,000 health professionals to help relieve workload pressures as part of a new multi-billion pound contract deal.
After months of discussions, NHS England and doctors' leaders have agreed a new five-year GP contract worth £2.8 billion that has been hailed as "the biggest boost to primary care in 15 years".
Under the deal, the workforce will be expanded by over 20,000 people to include physician associates, practice-based physiotherapists and paramedics. It is hoped this will both improve the patient experience, ensuring they are seen by the right professional at the right time, and help GPs manage their workloads.
Another key change will be the formation of primary care networks in which practices will work together to provide care to patients across a wider geographic area.
The contract also delivers a state-backed indemnity scheme (SBIS) for all GPs, meaning family doctors will be brought in line with their hospital colleagues, and no longer have to personally fund clinical negligence cover. It has been confirmed that SBIS will not provide an advice and support service for GPs, or assistance with coroner's inquests, General Medical Council hearings and disciplinary investigations.
Investment will also be made in technology to give patients increased access to digital services including online appointment booking, access to electronic patient records and video consultations. In addition, £20 million has been set aside to cover the costs of subject access requests.
BMA GP committee chair Dr Richard Vautrey said: "This package sets us on the road to rebuilding not only general practice but also the wider primary health care team; delivering an expanded workforce embedded within practices and giving GPs a leadership role in bringing together the community healthcare team.
"These changes present a real opportunity to demonstrate that GPs will lead the development of a more resilient community-based health service for the benefit of our patients for years to come."
NHS England chief executive Simon Stevens said: "It represents the biggest boost to general practice in more than 15 years, giving patients more convenient services at their local GP surgery while breaking down the divide between family doctors and community health services."
The new contract was welcomed by RCGP Chair Professor Helen Stokes-Lampard who said she hoped it would mean that "we can finally turn a corner towards making general practice sustainable for the future." But she called on NHS England to ensure their forthcoming workforce strategy would deliver "viable measures to continue recruitment efforts into general practice".
Find out more about the contract here
This page was correct at the time of publication. Any guidance is intended as general guidance for members only. If you are a member and need specific advice relating to your own circumstances, please contact one of our advisers.