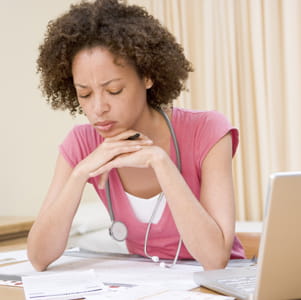 DOCTORS are increasingly cutting back on clinical hours to reduce stress, new figures from the General Medical Council show.
More than a third of UK GPs (36 per cent) have reduced their hours in the past year, with almost half (45 per cent) now working less than full time.
And where, traditionally, reduced hours were chosen by female GPs, nearly 80 per cent of male GPs aged between 30 and 49 reported they are considering reducing their hours in 2020.
The figures emerged in the GMC's report The state of medical education and practice in the UK 2019.
It showed a shift away from traditional career and training paths, as doctors seek a healthier work-life balance. Career choices balancing wellbeing with work have become the norm and may signal a "new reality", the regulator said.
Among notable trends is the rise in the number of doctors choosing to spend time working as a locum, practising medicine abroad, or even taking a year out, rather than going straight into specialty or GP training after the completion of their initial training.
Some did so because they were unable to go into their preferred specialty training straight away. But for many the pressures of working in stretched services was cited as a key factor.
GMC chief executive Charlie Massey said: "That doctors are making choices for a better work-life balance and career development is a new reality which health services cannot ignore.
"Establishing a sustainable workforce and encouraging supply, particularly of expert generalists who can spread the burden in primary care, is vital."
Chair of the Royal College of GPs Professor Martin Marshall said he wasn't surprised more GPs were reducing or planning to reduce clinical working hours, and said they should not be criticised for it.
"Working 'full-time' in general practice is simply not doable for many, and this is causing GPs to burn out, or leave the profession earlier than they planned to because they feel they cannot guarantee safe standards of care for their patients. It makes sense that GPs are making choices about their career to safeguard against this."
MDDUS head of medical division Dr John Holden said the trend towards reduced or more flexible hours means doctors – particularly GPs – must be more aware of risk management.
He said: "Adopting a more flexible approach will mean that practices should prioritise systems that ensure continuity of communication in primary care, especially in managing 'handovers' of patient care between GPs or in ensuring timely follow through when making referrals."
This page was correct at the time of publication. Any guidance is intended as general guidance for members only. If you are a member and need specific advice relating to your own circumstances, please contact one of our advisers.